Bed Bath & Beyond announces $300 mln stock offering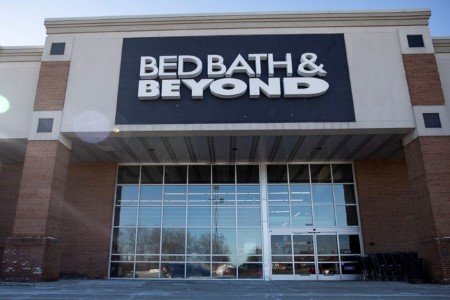 March 30 (Reuters) - Bed Bath & Beyond Inc BBBY.O said on Thursday it has reached an agreement with investment bank B Riley to sell $300 million of its shares, as the struggling retailer looks to raise equity.
The home goods retailer added it was terminating its previous public equity offering and all outstanding warrants for Series A Convertible Preferred Stock made in February.
The company had planned to raise around $1 billion through the offering of preferred stock and warrants in a last-minute attempt to ditch bankruptcy, and had so far raised $360 million through the complex deal.
On March 20, Bed Bath's stock dropped 21% to close at 81 cents after the company's announcement that it was seeking shareholder approval for a reverse stock split.
Bed Bath's stock has remained under $1 since then, leaving the home goods retailer at risk of losing additional funding from hedge fund Hudson Bay Capital Management, a pivotal investor.
The company expects to use the net proceeds from the offering made on Thursday to enable its strategic initiatives in fiscal 2023, such as investing in merchandise inventory, increasing store footprint and realigning cost structure.
Separately, Bed Bath said it expects fourth-quarter comparable sales to decline in the 40% to 50% range, compared with analysts' estimates of a 26.3% drop, according to Refinitiv data.
Shares of the company fell about 10% in early trade on Thursday as the company expects demand to dwindle after its merchandising strategy to sell more store-branded products flopped.
The retailer added it also expects operating losses to continue and fourth-quarter net sales to be about $1.2 billion, compared with estimates of $1.43 billion.
Reporting by Ananya Mariam Rajesh in Bengaluru; Editing by Krishna Chandra Eluri