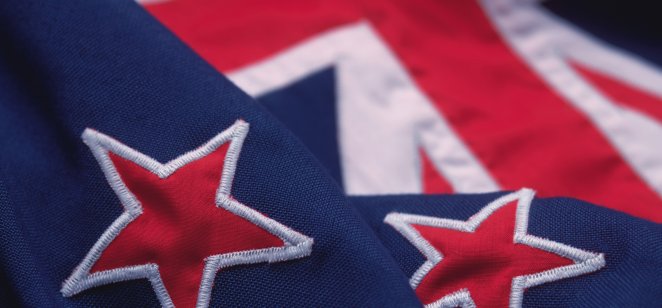 Content
Yesterday's positive US CPI print helped blast the commodity-heavy NZD 2% higher. If a Reserve Bank of New Zealand policy meeting next Wednesday hikes rates by another 0.50%, might NZD surge again?
The picture's highly nuanced given that markets have more or less priced in a half point bump.
ING's Francesco Pesole says a possible lowered rate path projection is key as RBNZ is increasingly seen as a lab test case for other central banks, increasingly synchronised with their lever pulling – Japan apart.
What is your sentiment on NZD/USD?
Vote to see Traders sentiment!
Case for a RBNZ rate rise?
New Zealand CPI numbers for 2Q landed after the July RBNZ 50bp hike and saw another surge, from 6.9% to 7.3%.
There was also a surprise leap in wage growth in the same quarter – 2.3% quarter-on-quarter. So given that the RBNZ narrative is so highly focused on fighting inflation, another half-point move is more or less priced in.
But the risk of a lower revision in forward rate projections next week could be rising – that's key to NZD.
"The RBNZ," says Pesole, "is currently forecasting a terminal rate of around 4% by mid-2023, which is starting to look less realistic. "We may see 25bp or 50bp being trimmed off the terminal rate projections and/or rate cuts being added sometime in 2023, in what would be a de-facto dovish shift."
But enduring inflation and wage pressures will keep the case for more hikes rather more alive.
Brief tech NZD/USD teardown:
Price action of the last two sessions for NZD/USD breached the 50-day moving average's dynamic resistance at 0.627 says Capital FX analyst Piero Cingari, with the Kiwi dollar extending to 0.645.
NZD/USD hasn't traded above 50-dma since early April he says. "Additional evidence of positive momentum can be seen in the MACD, which has broken above the zero line, as well as in the 14-day RSI, which is approaching overbought conditions. The last time the NZD/USD RSI was this high was on March 23".
Consider:
The level of 0.658 (June high) he says "represents the next area of resistance".
A breach of this barrier "would pave the way for an assault on the 200-day moving average at 0.663".
This is when, he says, "we then might expect some profit-taking, sparking a pullback".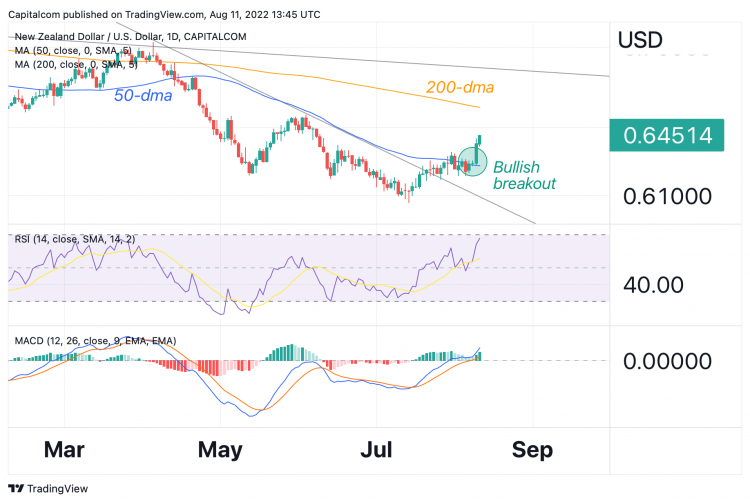 Meanwhile heavy house price falls and an economy tightly tied to the Chinese slowdown – New Zealand is the second most dependent economy within the G10 on Chinese exports – is all doing its job in shattering optimism in the economy.
Confidence kicking
Trading Economics says New Zealand's consumer confidence index sank to 78.7 in the second quarter of 2022 compared to 92.1 from the previous period – the lowest reading ever recorded "reflecting growing pessimism around the economic landscape".
| | |
| --- | --- |
| Long position overnight fee | 0.0013% |
| Short position overnight fee | -0.0038% |
| Overnight fee time | 21:00 (UTC) |
| Spread | 0.040 |
| | |
| --- | --- |
| Long position overnight fee | -0.0043% |
| Short position overnight fee | 0.0003% |
| Overnight fee time | 21:00 (UTC) |
| Spread | 0.00050 |
| | |
| --- | --- |
| Long position overnight fee | -0.0033% |
| Short position overnight fee | -0.0015% |
| Overnight fee time | 21:00 (UTC) |
| Spread | 0.00024 |
| | |
| --- | --- |
| Long position overnight fee | -0.0090% |
| Short position overnight fee | 0.0026% |
| Overnight fee time | 21:00 (UTC) |
| Spread | 0.00024 |
For now, NZD/USD may come under renewed downside pressure ahead of the August RBNZ meeting thinks ING.
"While the Kiwi dollar can continue to count on the most attractive carry in the G10, we suspect more instability in global risk sentiment may delay any benefits for high-yielding currencies to 4Q or the start of 2023."
NZD/USD could sink back to 0.62 by the end of this quarter, "before starting to turn higher later in the year and touch 0.64 by year-end". However not all agree. Economists at ANZ are reportedly predicting a gradual NZD appreciation in the coming months if – a big if – the cost of US borrowing fades.
NZD super-sensitive to USD
While yesterday's softer US CPI print encouraged global asset risk – the S&P surged to its highest level in three months – a top US Federal Reserve official, Mary Daly, has warned it's premature for the Fed to "declare victory" against inflation, month-to-month or otherwise.
Speaking to the FT, Daly didn't rule out a 0.75% rate hike next month. Key for the Fed is core inflation, stripped of the more mercurial price pressures such as energy and food. US services inflation currently is seeing little sign of a reliable slow down here.
What gets less attention is the Fed's strategy on quantitive tightening (QT). To really hammer inflation the Fed has to shrink the balance sheet which feeds into future rate hikes, thought to be worth between 0.5 and 1%.
But QT is very much an unknown science given the long-term nature of its goal – combating the global money-printing mania built to fend off not just one crisis but three: the 2008 financial meltdown, a global pandemic and now raging inflation.
Lunchtime today NZD was trading at 0.6426 while GBP/NZD was at 1.8964 down 0.55% since the last trading session. In the last four weeks GBP/NZD is down 2.2% and 3.8% lower over the year.
Further reading