New European energy path: What's been unveiled in Brussels?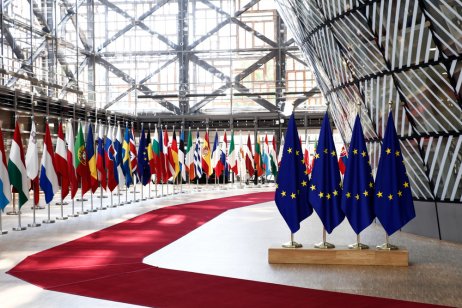 Moving away from Russian commodities was never going to be an easy task, but nevertheless EU leaders met in Brussels on Thursday and Friday to tackle the challenge and deal with soaring energy prices as the Ukraine crisis continues.
Among the announcements from Brussels, US President Joe Biden unveiled a landmark deal with the EU on Friday to deliver an additional 15 billion cubic metres (bcm) of liquified natural gas (LNG) this year. Bcm is the unit for natural gas or regasified LNG.
The US will also increase its supplies to the bloc over the coming years as it tries to move away from its heavy dependence on Russian commodities.
As previously reported by Capital.com, Europe currently imports nearly 80% of its pipeline gas from Russia and 15% of its LNG supplies, as well as 25% of its crude-oil needs, so a smooth transition is needed to avoid an existential threat to the functioning of European economies.
However, Laura Page, senior LNG analyst at KPLER, discussed the plan with Capital.com and pointed out after the announcement that the US–EU deal will be a drop in the ocean and certainly won't be enough to fill the Russian gas void.
US–EU LNG agreement
European Commission (EC) President Ursula von der Leyen described the deal between the EU and US as "a new chapter" in their energy partnership.
"The US will support Europe's energy security and independence from Russia with a commitment to provide us with an additional 15bcm of LNG this year. In Europe, we will work to ensure stable demand for additional US LNG until at least 2030," she said in a statement on Friday.
President Biden said additional US LNG supply would amount to 50bcm.
What is your sentiment on Natural Gas?
Vote to see Traders sentiment!
LNG analyst's comments: 'doable, but not enough'
Page said in an interview with Capital.com that the 15bcm is doable as the US has exported a lot more cargoes to Europe over the past three months of this year.
She also noted that there is more capacity for the additional US exports: "We have slowing demand in Asia so that should free up cargoes to go to Europe this year too."
But, she added, when you look at what Europe wants to achieve this year with LNG increases, it is clearly not enough: "Europe wants to increase gas imports by 15bcm this year and reduce its Russian gas dependence. However, where is the rest that's needed going to come from? The US is the only place that we see capacity growth this year."
She further noted that the 155 bcm figure is the total amount of Russian gas (pipe and LNG) imported into the 27 EU member states. "If you look at it, 155bcm of Russian gas was imported to Europe last year –15bcm of [compared to] 155bcm is not a great deal, so I kind of see it as a drop in the ocean," she said.
However, Page was optimistic that the 15bcm could be exceeded because, she noted, in 2021 there were a lot of cargoes heading to Asia and South America as demand was strong, and less so into Europe.
"So when you think about where prices are, Europe at the moment is at a premium to where Asian prices are – and if you factor in shipping costs, LNG should be going to Europe. In conclusion, the deal is doable, but it is not enough to replace Russian gas," Page said.
Divisions over tackling high energy prices
On Friday, EU leaders also discussed what to do about the soaring cost of energy and its impact on citizens and businesses, with leaders still divided over which action to take - including whether to ban Russian oil and gas imports.
Spain supported the idea of capping energy prices for consumers, while Belgium was of the view that EU countries should buy gas together and put a handbrake on prices in place when they are too high.
Greece, Portugal, France and Poland were also in favour of the proposed changes, while Slovenia's prime minister, Janez Jansa, said all countries supported the idea of joint gas purchases to tame the prices.
However, Germany and the Netherlands argued against the proposal to intervene with energy prices, and were both of the view that when prices are high, there was no silver bullet apart from reducing demand or supply. Instead, the two countries want to speed up renewable energy sources and adopt the EU's legislative package to cut carbon emissions.
Germany and the Netherlands further argued that overhauling the current market could threaten Europe's energy security.
Another point of discussion raised by Italy was the idea of setting up an energy fund to help EU countries move away from Russian commodities, an idea that France also supports.
Energy and nuclear facilities
Over the course of discussions, on Thursday the EU Council welcomed the recent synchronisation of the Ukrainian and Moldovan electricity grids with the EU grid.
The EC said the move has helped Ukraine to keep their electricity system stable, homes warm and lights on "during these dark times", also noting it as a historic milestone for the EU–Ukraine relationship.
"The EU will continue to support Ukraine in the energy sector by ensuring the reverse flows of gas to the country and the delivery of energy supplies that are badly needed. We are also looking forward to the time when we can continue our excellent cooperation on the green transition and market reforms," an earlier EC press release said.
European leaders also stated on Thursday that the safety of Ukrainian nuclear facilities must be ensured, including support from the International Atomic Energy Agency (IAEA).
It follows a video statement from IAEA director general Rafael Mariano Grossi on Wednesday, in which he said they stand ready to send experts and equipment to Ukraine to help ensure the safety and security of its nuclear facilities.