Netflix vs Disney: The media battle that neither NFLX nor DIS is winning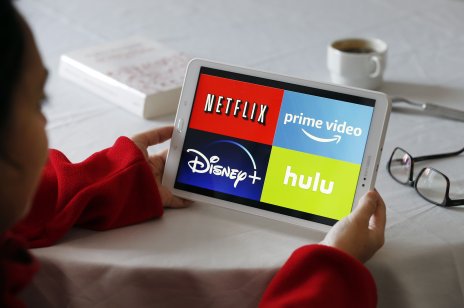 Netflix (NFLX) vs Disney (DIS) - is this the media battle that neither side is winning?.
Lockdown restrictions boosted audiences, pushing these shares higher in the boom post March 2020. Forgive the pun, but the picture has changed somewhat since then.
The media giants have spent billions of dollars on streaming content but viewing options have multiplied while living costs have soared. The result has been consumers on tight budgets "churning", or switching between subscription services.
Both Disney and Netflix have been in the wars in 2022. Earlier this week, Capital.com reported on Netflix's new cut-price advertising-led subscription tier – which was meant to be its saviour.
The theory was it would bring in more subscribers and help to retain existing ones who were thinking about leaving because they could no longer afford the standard service.
But early reports suggest take-up has been disappointing, sending the Netflix share price down further – down over 10% this week (and the stock is down 52% over the year).
Disney share price chart
Since reaching an all-time high closing price in March 2021, Disney stock has markedly fallen to below its pre-pandemic level.
The stock is currently priced at just over $82 – it is down almost 8% over the week and 42% over the year – this time in 2021 it was around $151.
Disney is facing headwinds such as fourth-quarter earnings that fell short of analysts' expectations and a period of recession, which may lead to consumers cutting down on non-essential spending such as entertainment.
Is there likely to be any good news for Netflix and Disney in 2023?
Ben Yearsley, investment consultant at Fairview Investing thinks there are tough times ahead but believes Disney is better equipped to deal with them.
"They are very different businesses and ultimately out of the two, Disney will probably be the winner as it is much more diversified (ie theme parks) and not just a streaming business."
He adds: "There are probably too many streaming platforms and at some point there will be consolidation down to three or four maximum. Consumers won't subscribe to all of Disney, Netflix, Prime, Hulu, Paramount+ etc Content is king and Disney has an unrivalled catalogue."
What is your sentiment on DIS?
Vote to see Traders sentiment!
Questions to answer
Matt Britzman, Equity Analyst at Hargreaves Lansdown believes both Netflix and Disney enter 2023 with a host of questions left to answer.
"Disney's said goodbye to it's now former CEO, with Bob Iger returning to the helm while a search goes on for a long-term replacement. Making progress toward profitability for Disney+ will be a key priority next year, given the losses are still mammoth despite some impressive subscriber growth.
Britzman expects to see subscriber growth temper from here, as low hanging fruit's already been snapped up and adding new users is becoming ever harder. But he agrees with Yearsley that Disney has the luxury of a wider business that's able to front the bill for investment into the steaming service.
As for Netflix, it is very much already in the mature stage with respect to subscriber growth and has significant challenges of its own to overcome, Britzman explains.
"Recent news that the ad-based business hasn't been as well received as hoped, will put added pressure on the business as we move into next year, given this strategy is key to generating additional revenue from advertisers looking to connect with the company's viewer base".
He adds: "The battle to win over eyeballs into 2023 will rage on, and subscription prices will be watched closely by consumers - especially as they face mounting costs pressures coming from all angles."
Major merger activity?
Russ Mould, investment director at AJ Bell suggests M&A might change the landscape even more – with Netflix possibly being a major beneficiary.
"Among the big stocks to have troubled investors this year are Microsoft (MSFT), which is down 28%, and Netflix, which is trading 52% lower versus the start of 2022. There is now speculation that the two of them might like to get into bed together."
Mould points out that Netflix wants to offer a comprehensive streaming service for games while Microsoft has the content and wants to reach a bigger audience. Strategically the two companies could be a good fit but culturally they may be worlds apart.
"The chatter about a tie-up looks more like fantasy M&A rather than a credible story and one can imagine that it would be a tough sell to convince many Microsoft shareholders that they should own a content platform that by its own admission is finding it harder to sustain previously strong growth levels," Mould says.