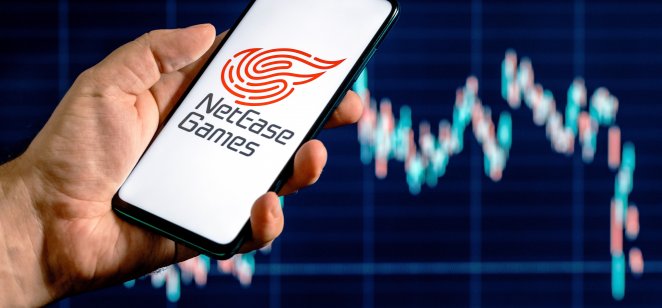 The growing popularity of online games in China has triggered a new regulatory drive on the industry. According to the online gaming market report 2021, the Chinese market will reach $86bn by 2027.
China-based video game developer NetEase is the second-largest mobile game company in the country, after Tencent. Shares in gaming giants plunged after Chinese regulators reminded the companies about the restrictions.
NetEase is listed on the Nasdaq and Hong Kong stock exchanges. While NetEase derives nearly three-quarters of total revenue from its core online gaming business, the company also owns Cloud Village, a leading music streaming service in China, and a majority shareholding in US-listed education tech provider Youdao.
NetEase stock has fallen over 32%, as of Wednesday's close, from a record high of $134.33 in early February. In this article, we will look at NetEase's share price performance so far in 2021, and view analysts' NetEase stock prediction for the rest of the year and beyond.
Beijing's regulatory blitz
Since February, NetEase has seen gains in only two months as a regulatory drive picked up pace in China. July was the worst month for NetEase shares in over two years – shares slumped 11.3% as Beijing made moves to curb the time spent on video games by young students.
Gaming stock across Asia tumbled as state-affiliated media branded video games "spiritual opium" and "electronic drugs".
On 8 September 2021, regulators told gaming companies in China to end their focus on profits and prevent minors from falling victim to online game addiction.
Beijing also took a radical step by ordering after-school tutoring companies to go non-profit and barred them from listing on the stock market.
Prospects of NetEase's unit Youdao were directly impacted due to the regulation.
Cultural revolution
President Xi Jinping is laying down the foundations for China's next phase of growth through a series of new corporate regulations, which aim to trigger a "Cultural Revolution".
State-affiliated media have turned up the rhetoric by calling the younger generation to be more productive.
"The socialist successor of the new era does not attend after-school tutoring, does not play video games, does not chase celebrities," read a satirical internet post, which was shared widely before it was censored,
as reported by Bloomberg
.
China went on to introduce new regulations for the gaming sector, limiting minors from playing video games on weekends to one hour a day.
State-affiliated Xinhua news said on Thursday
, "A platform for preventing online game addiction among minors will be launched to accept and process relevant clues, and companies failing to follow the requirements will be stringently punished."
The main rationale behind ordering after-school tutoring companies to go non-profit was to stem China's declining birth rate, which has deeply concerned officials in Beijing.
Economists agree that surging costs in education, healthcare and housing are the main reasons behind Chinese adults opting not to have a child.
In its latest quarterly report, NetEase said Youdao's business, financial condition and corporate structure "are expected to be materially affected in future periods", and that "the magnitude of the impact remains uncertain at this time".
For full year 2020, Youdao contributed about 4% of total revenues. Youdao's full year revenue contribution had surged over 140% in 2020 from a year ago.
Will NetEase weather the regulatory storm?
Gaming companies, including Tencent Holdings and NetEase, have complied with regulatory orders from Beijing, implementing measures to block loopholes that minors may use to access gaming.
Nomura noted that in the recent 8 September meeting between gaming companies and Chinese regulators "no new regulations/requirements were raised".
"In the collective talk, regulators also urged game companies to strengthen self-regulation on game content and strictly enforce various rules set by regulators to ensure a healthy game content, free of violent or pornographic elements or over-monetisation features. Game companies are not new to such content related requirements," Nomura added.
Jialong Shi and Thomas Shen, research analysts at Nomura, said restrictions on minors' playing time could temporarily affect user traffic for games but should have limited financial impact on game operators.
"On the potential impact of the recent regulation to curb minors' playtime, the expert estimates minors represent 15-20% of total players and contribute less than 10% of the gross billing for the online game industry in China," they said in a note based on an interview with an online game expert.
"Times have been rough for narrow-moat NetEase, but it's not likely to get much worse," Ivan Su, senior equity analyst at Morningstar, said in an analyst note.
As for NetEase's education tech unit, "Youdao (online education provider) makes up a negligible 0.7% of group valuation," said Su.
Potential of upcoming gaming titles
NetEase's mobile game Harry Potter: Magic Awakened, co-developed with Warner Bros. Interactive Entertainment, was released on 9 September. Analysts at Jefferies said the game will strengthen its brand and genre diversification.
"Overseas, we expect it to increase in revenue contribution from about 10% of total gaming revenue in 2021 to 15% in 2022," said Thomas Chong, Melody Chan and Zoey Zong, equity analysts at Jefferies.
Nomura said that China's gaming watchdog, the National Press and Publication Administration (NPPA), has raised the bar for the quality of new games eligible for approval.
"We think this trend is positive for big game developers like Tencent and NetEase which are more capable of putting out high-quality new titles," said Nomura's Shi and Shen.
"We consider NetEase to pursue game portfolio strategy and look for long-term value, instead of short-term monetisation," Jefferies said in a note.
Netease stock news and analysis: recent quarter performance
NetEase earnings report for second quarter showed net revenues of $3.2bn, up 13% from a year ago.
The company said online game services net revenues rose 5.1% year-on-year to $2.3bn. Quarterly Net revenues from Youdao more than doubled to $200.3m.
Quarterly net income attributable slumped over 20% from a year ago due to an increase in operating expenses.
The company said quarterly total operating expenses jumped 32% year-on-year and amounted to about 36% of total net revenues, June quarter results showed.
A dividend of $0.0480 a share and $0.2400 for American depositary shares (ADS) was declared for the second quarter.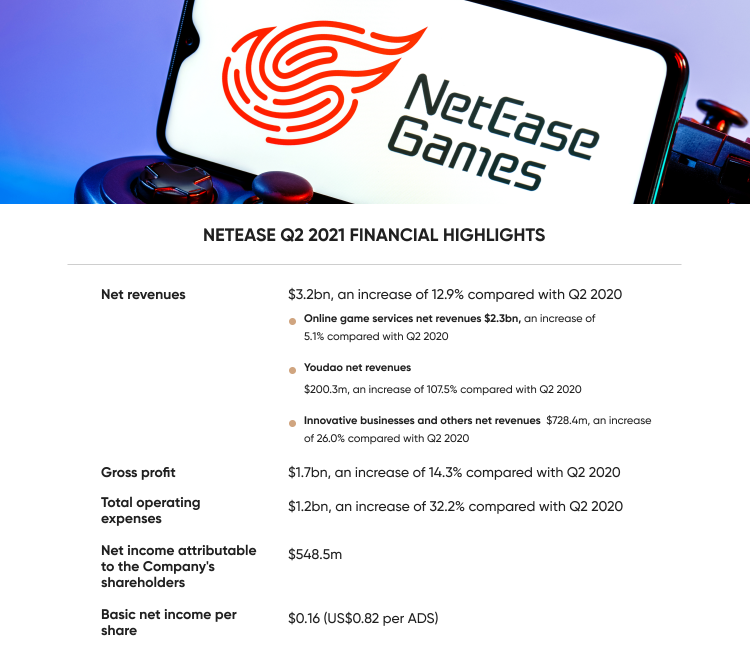 Fundamental analysis
Full year net revenues rose about 24% to $11.29bn in 2020 from a year ago, while full year net income from continuing operations attributable fell 9% to $1.85bn.
Full year net revenues from online game services grew over 17% to $8.37bn, with mobile games accounting for over 70% of net revenue.
For the full year 2020, NetEase's education tech unit Youdao contributed about 4% of total revenues.
As of December 31, 2020, the company's total cash and cash equivalents, current and non-current time deposits and short-term investments balance totalled $15.34bn.
"Thanks to its strong net cash position and strong operating cash flow that amounted to 137% of net income in 2020, we think the firm should have no problem funding its gaming business and innovative businesses," said the aforementioned Su in an analyst note.
"We think NetEase's capital structure is conservative but not uncommon among Chinese Internet firms, given that the company needs to have abundant cash on hand to quickly seize opportunities in the fast-changing Internet industry and give it a leg up on competition," Su added.
NetEase technical analysis
Beijing regulatory drive has been the main reason behind the weakness in NetEase's share prices for much of 2021.
As of Wednesday's close, US-listed shares of NetEase have lost 6.2% in 2021. Its gaming rival Tencent Holdings has lost over 8% over the same period.
Nasdaq-listed shares of NetEase have fallen over 32% from an all-time high of $134.33 made in early February.
On 9 September, Hong Kong-listed shares of NetEase plunged 7.7% on news that Chinese regulators told gaming companies to not focus on profits.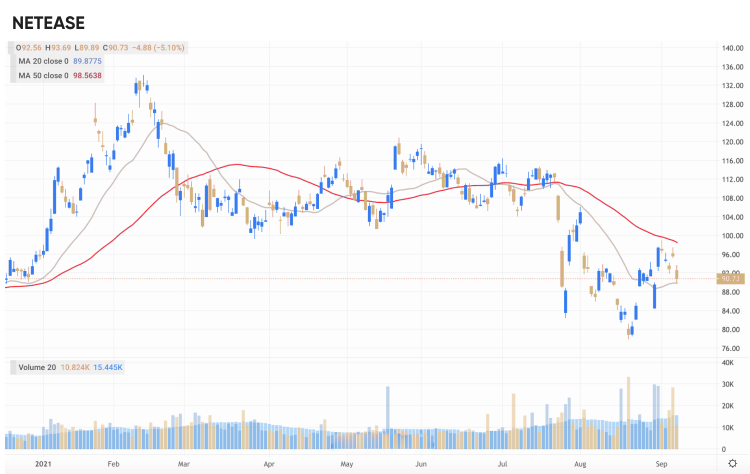 Netease stock forecast: analysts sentiment
Is NetEase stock buy or sell? Nine of 10 analysts rate NetEase stock a "buy" or "overweight", one rates it "hold" or "neutral", according to benzinga.com.
Morningstar increased NetEase's fair value estimate to $139 a share for its US-listed shares.
"While games will remain NetEase's core cash flow driver, we think the firm's investments in other areas (music streaming, online education, e-commerce) also offer long-term potential. Cloud Village, the group's music streaming arm, had 181 million monthly active users at the end of 2020 and will pursue an independent public listing in Hong Kong. Youdao is the group's attempt at cracking the online education market, but recent regulatory changes in China add uncertainty to this business model," said Su.
Analysts at Jefferies maintained their 'buy' rating for NetEase in their latest stock report. They set price targets of $122 for NetEase's US-listed shares and HKD189 for Hong Kong-listed shares.
"We view market concerns on the impact of minors protection is overdone as it represents less than 1% of game grossing and single digits of the gamer base," Jefferies said in the 1 September note.
Nomura analysts also maintained 'buy' ratings for NetEase stock. They set a price target of HKD195 ($25.07) for the company's Hong Kong-listed shares, which represents an upside of nearly 30% from Wednesday's close of HKD150.5 ($19.35).
"Following NetEase's (NTES) stronger 2Q results , we reiterate our bullish call on the stock backed by near-term catalysts around the two promising new titles, i.e. Naraka Bladepoint (NB) and Harry Potter (HP). NTES announced an increase in the size of its share buyback program from the original $2bn to $3bn and has repurchased $0.7bn worth shares year-to-date," Nomura said.
FAQ:
Is NetEase a good stock to buy?

US-listed NetEase shares have fallen over 6% in 2021, as of Wednesday's close. The stock peaked in early 2021, hitting a record-high of $134.33 on 11 February, 2021. The stock has gained only in two months since February, hurt by the ongoing regulatory crackdown by Beijing on China's private sector.
Will NetEase stock price go up?

Nine of 10 analysts rate NetEase stock a "buy" or "overweight", one rate it "hold" or "neutral", according to benzinga.com. Morningstar increased NetEase's fair value estimate to $139 per share for its US-listed shares.