NervGen (NGEN): New Alzheimer drug could have 'blockbuster potential'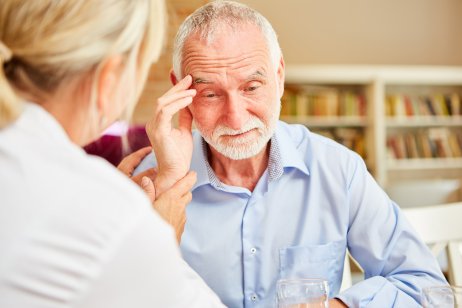 Canadian clinical-stage biotech company, NervGen Pharma has enjoyed some positive results over the last few years. With a revolutionary drug that could reverse the damage caused by Alzheimer's disease, the company is certainly growing and has some ambitious plans. Since its initial public offering (IPO) in March 2019, the company's share price has grown by more than 84.67%.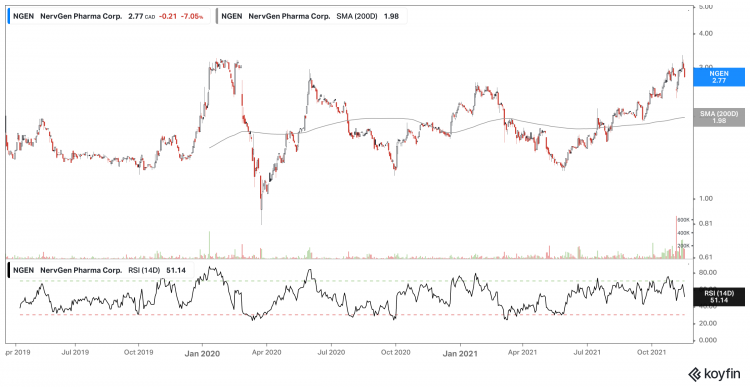 NervGen shares since launch – Image: Koyfin
Capital.com caught up with NervGen's CEO, Paul Brennan to discuss current successes and future for growth.
What country markets are key for NervGen right now?
The US is a key market for NervGen, right now. We see huge potential in this region. Europe and then Japan are also central to our strategy.
You were listed in 2019, how has IPO aided you strategically?
Biotech drug development is a capital-intensive business. Our original investors and Series A round came out of a collection of high-net-worth individuals in Canada who were very familiar with the dynamics of the TSX Venture Exchange.
The IPO has allowed NervGen to continue its financings from our original base of investors, and from like-minded individuals throughout the continent.
What did NGEN use the IPO money for and how did the investment help the business?
The money from the IPO, and follow-on financings have been used to advance NVG-291 – a nerve repair therapy for multiple sclerosis (MS) – into Phase 1 clinical trials and to support the company as a public entity. The development work includes learning how to manufacture NVG-291 at scale, manufacturing the product for studies, performing the necessary preclinical studies to satisfy the requirements of the FDA and performing the Phase 1 studies in healthy subjects.
Which areas are key for you right now and why?
Our technology has broad potential to be used anytime there is nerve damage, whether it is a result of an acute injury or disease, such as spinal cord injury, stroke, or TBI [traumatic brain injury], or because of a chronic neurodegenerative disease, such as multiple sclerosis (MS), ALS [Amyotrophic lateral sclerosis] or Alzheimer's. As a small company, we can't develop our lead product for all its potential indications, so we've decided to focus on three: spinal cord injury, MS, and Alzheimer's. We've chosen these indications based on a combination of factors including the weight of scientific evidence, degree of unmet medical need, ease of clinical trials and investor sentiment.
Why is Alzheimer's an area to watch right now?
There are a lot of changes going on in the Alzheimer's disease market now, particularly because of the recent approval by the US Food and Drug Administration [FDA] of Aduhelm, a drug created by the pharma company Biogen to treat Alzheimer's.

As background, prior to the approval of Aduhlem, the only approved therapies treated day-to-day symptoms, and would not halt the progression of the disease. The Aduhlem approval was very controversial, as it was based on retrospective analysis (and not prospective as normally required by the FDA).
However controversial, the approval of Aduhelm demonstrated the demand for a new therapy in the Alzheimer's space and the huge market potential for the disease. On the day that Biogen gained approval for Aduhelm (which was not expected) their market cap jumped $16 billion. And in the wake of the Aduhlem approval valuations for companies in the Alzheimer's space have soared.
Having placed the spotlight on Alzheimer's, we also believe that if the results from our preclinical trials translate to humans that our product will be disruptive to the spinal cord injury and multiple sclerosis markets.
What are your future plans for growth?
NervGen's lead product, NVG-291 is currently in Phase 1 clinical trials. We plan to grow the company as we progress through Phase 2 and then Phase 3 clinical trials and ultimately through approval and marketing.
What does the future of the industry look like for you?
Excellent. If anything, the Covid-19 era has shown the importance of a healthy biotech and pharma ecosystem, and the value of medical research. Through the pandemic support for medical research-based companies has been generally strong, and I expect this to continue.
What are your future forecasts for revenue and profit?
As an early-stage biotech company, we don't provide forecasts because of the uncertainty related to late-stage development. However, the markets that NervGen is targeting have significant unmet needs. If the results from preclinical studies in spinal cord injury and MS translate through to clinical studies, NVG-291 will have blockbuster potential. For Alzheimer's disease, a new therapy that is effective at repairing the damage that has occurred because of the progression of the disease has the potential to be amongst the world's largest selling pharmaceutical products.
Are there any other developments on the horizon that you can tell us about?
Presenting preclinical data in stroke, chronic spinal cord injury and Alzheimer's disease models; all of which could represent completely new treatment paradigms
Updates on the progress of the multiple ascending (MAD) portion of our ongoing Phase 1 study
Removal of the ongoing partial clinical hold, initiation of Phase 1 bridging studies and reporting of results on bridging studies
Initiation of Phase 1b/2 study in Alzheimer's disease
Initiation of Phase 2 study in MS
Initiation of Phase 1b/2 study in spinal cord injury
Awarding of non-dilutive grants to support our research activities, which if successful could come from the US DoD [Department of Defense] or from private sources.
Read more:Biogen Q3 results beat estimates, ups full-year forecast