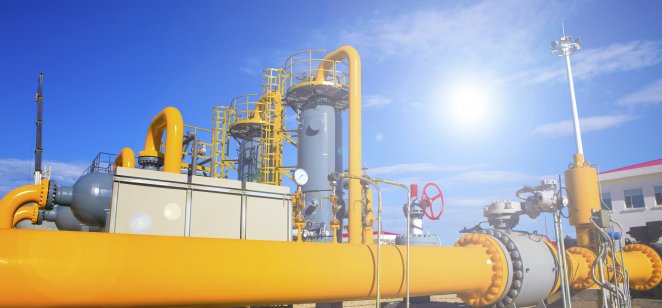 Amid tightening natural gas inventories after Russia's invasion of Ukraine, future prices continue to inch up as storage levels dip.
April contracts were up more than 4.5% Thursday to a healthy $5.45 per million British thermal units (MMBtu).
After the US Energy Information Administration released data for the week ending 18 March, users withdrew 52 billion cubic feet from storage, a surprise to industry watchers who predicted a larger withdrawal and decreased prices.
"Although prices sold down in anticipation of this smaller-than-average withdrawal, the actual, bearish number has done little to slow down further price increases," said Shomik Sen, a data analyst for Gelber and Associates.
Inventories falling
US outright storage fell slightly below 1.39 Tcf last week. The next storage report should show the first net injection of the spring, one week earlier than normal, he said. The industry believes it's busy season, winter is over, and spring-like weather is descending on North America.

"However, a return to cooler weather going into April will result in an offsetting, similar-sized withdrawal in the following week and will even hamper the subsequent storage injection appearing April 8," he warned. "In effect, storage injections will not begin to chip away the current deficit until at least mid-April, justifying current pressure on the forward curve."
Russia's Gazprom's demand that payments be made in roubles to keep natural gas flowing is deepening the economic standoff with the West while calling into question whether it can meet existing contractual supply obligations. Gazprom is a major supplier of natural gas to Western Europe.
Payment in roubles
It also raises legal questions, said Eli Ruben, an energy analyst for EBW Analytics.
"While Russia creates a new mechanism to accept payment via roubles over the next week, legal experts noted that the change in payment terms constitutes a renegotiation of the contract writ large. Germany immediately stated that change put Gazprom in breach of contract while Italy feared supporting the rouble and weakening the sanctions regime. Mechanical payments in roubles could also be challenging under existing sanctions," he said in a note to clients.
The demand comes after the company building the Nord Stream 2 pipeline, linking millions of cubic feet of natural gas between Russia and Europe, filed for bankruptcy days after the 24 February Russian invasion of Ukraine.
Crude oil futures down
West Texas Intermediate futures were down to $113.30 a barrel Thursday afternoon, after opening at $114.47.
What is your sentiment on Natural Gas?
Vote to see Traders sentiment!
Analysts said that over the past few weeks forecasting in the current environment is challenging and often all over the board.
Morgan Stanley believes an embargo on Russian production will drop current output by 1 million barrels a day, saying around Q3 a barrel should trade for about $120 and stay above $100 a barrel until the summer.
However, $120 a barrel is on the low end of the trading scale, said two top traders, if Russia's war on Ukraine sends the global energy markets into a tailspin.
Respected energy market traders Pierre Andurand and Doug King foretell a market smacked by a supply shock stemming from the war.
"Wakey, wakey. We are not going back to normal business in a few months," Andurand, a hedge-fund boss who specialises in energy, told The Financial Times Commodities Global Summit in Lausanne, Switzerland, according to the paper.
Read more