Elon Musk Twitter takeover date and details in full: When will Delaware Chancery Court deliver TWTR verdict?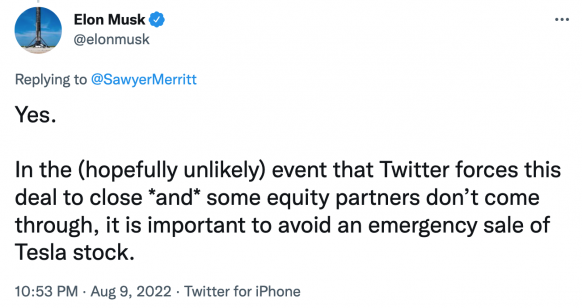 Chancellor Kathaleen McCormick, a Delaware judge noted for previously ordering potential buyers to settle on deals they were attempting to drop, will soon rule on whether Elon Musk should be forced to buy Twitter (TWTR).
The social media platform has asked McCormick to force Musk to finish the deal.
Twitter's share price has fallen sharply over the last year but has often spiked during individual sessions in response to tweets made by potential buyer and Tesla (TSLA) CEO Elon Musk – who this week reported selling about $6bn worth of Tesla shares as a backstop against a loss in court.
What is your sentiment on TSLA?
Vote to see Traders sentiment!
Twitter (TWTR) stock price
Expect judge's ruling in October
In an interview with Capital.com, Edward Moya, senior market analyst at OANDA in New York said, "The Delaware judge has eyed an October trial, which means Musk may want to expedite any offers to go back on his promise to buy Twitter."
"Deal activity is also drying up and Twitter's legal fight with Musk will probably suggest breakup fees might go up, given all the attention the Twitter and Musk saga has drawn," he continued. "I'm not sure if the deal will get done, but it looks like Twitter has a strong contract."
Rundown: The Musk + Twitter deal
In April, Twitter announced it had entered into a definitive agreement to be acquired by an entity wholly owned by Musk for approximately $44bn. Upon completion of the transaction, Twitter would become a privately held company.
The deal began to show signs of problems as early as May when Musk threatened to terminate the deal over the platform's amount of spam or fake accounts, and then again in June, when Musk claimed a "clear material breach" of the merger agreement.
Musk sells Tesla shares in case of a loss in court
Musk has reported the sale of about $6.88bn worth of Tesla shares in a move he stated was to avoid a hasty sale of shares in the event of a ruling that forces him to proceed with the deal.
On Tuesday 9 August, Musk filed with the US Securities and Exchange Commission a series of six "Form 4" disclosures of stock sales totalling about 7.9 million shares between the Friday the 5th and Tuesday the 9th.
Even after the sale, Musk remains owner of more than 155 million Tesla shares, the forms indicate.
Later the same day, Musk commented on a tweet about the disclosures, confirming that he has stopped selling and that the stock sales were raising money against the possibility of a negative outcome.
"In the (hopefully unlikely) event that Twitter forces this deal to close *and* some equity partners don't come through, it is important to avoid an emergency sale of Tesla stock," Musk wrote.
The McCormick + Musk connection
Chancellor McCormick is also presiding over a case involving Musk's electric vehicle manufacturing giant Tesla. In this case, some Tesla shareholders allege that the board violated its fiduciary duties after awarding Musk a $56bn compensation package in 2018.
That trial is also scheduled for October.
Who is Chancellor Kathaleen McCormick?
In 2018, Chancellor McCormick joined the Court of Chancery following its expansion from five to seven members.
She was named chancellor in 2021, becoming the first woman to lead the court in its 230-year history.
FAQs
Can Elon Musk get out of buying Twitter?

It depends on Chancellor Kathaleen McCormick's ruling. If she allows Elon Musk out of the deal, he will not have to make the purchase.
Why did Musk pull out of Twitter deal?

Elon Musk cited a variety of reasons for terminating the deal to buy Twitter, including the platform's amount of spam or fake accounts, claiming that Twitter was breaching the sale agreement.
How much did Musk offer for Twitter?

Elon Musk offered to buy Twitter for $54.20 a share, totalling approximately $44bn.
How much will Musk pay for Twitter?

Should Chancellor Kathaleen McCormick rule in favor of Twitter and force the purchase, Musk and any equity partners will likely be required to pay the agreed amount of approximately $44bn.