Musk Twitter deal termination threat latest blow for stock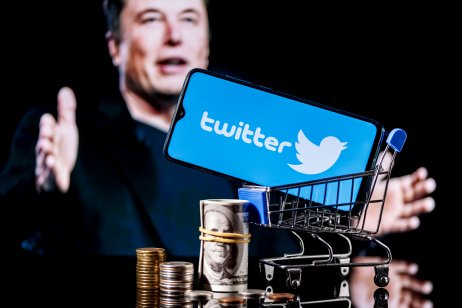 Twitter (TWTR) stock fell on Monday, amid a broader tech rally, after Tesla (TSLA) CEO Elon Musk threatened to terminate his $44bn (£35.1bn) takeover of the company over what he claimed was a "clear material breach" of the merger agreement. Musk claims, in addition to his own statistical analysis, more information is needed to facilitate the debt financing aspect of the multifaceted buyout.
Twitter (NYSE: TWTR) premarket trading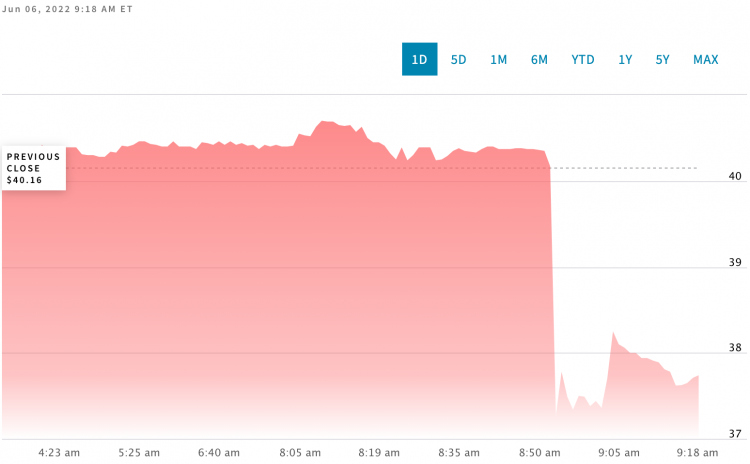 Musk threat to terminate deal sent Twitter stock tumbling - Photo: Nasdaq
Filed as an attachment in an amended Form 13D filing with the US Securities and Exchange Commission, Musk said repeated attempts to access additional data regarding fake or spam accounts has led to "an attempt to obfuscate and confuse the issue." Musk claims in a letter to Twitter Chief Legal Officer Vijaya Gadde, he made written requests for specific undisclosed data on 9, 25, and 31 May and failure to provide it would prevent "Musk's efforts to secure the debt financing necessary to consummate the transaction."
Twitter stock fell 7.63% to $37.27 per share in pre-market trading but rebounded to open Monday at $38.16 per share. Twitter traded as low as $37.91 in early NYSE trading.
What is your sentiment on TSLA?
Vote to see Traders sentiment!
Twitter Inc. (NYSE: TWTR) price chart
"Our view; Musk looking to walk away from deal," tweeted Wedbush Securities analyst Dan Ives. "Musk accused Twitter of 'resisting and thwarting' his right to information about fake accounts on the platform, calling it a 'clear material breach" of the terms of their merger agreement."
"This is a clear material breach of Twitter's obligations under the merger agreement and Mr. Musk reserves all rights resulting therefrom, including his right not to consummate the transaction and his right to terminate the merger agreement," Musk's letter to Gadde concludes.
Musk's 13D filing comes after Twitter filed a Form 14A filing on Friday announcing the merger agreement had cleared a regulatory hurdle after the review period mandated under the Hart-Scott-Rodino Antitrust Improvements Act of 1976 expired at 11:59p.m. (UTC -5) on 2 June.
Removes 'overhang' on Tesla stock
Ives added as the market discounts the odds of Musk's Twitter acquisition, it boosts Tesla stock. "Helps remove a major overhang on Tesla," Ives added. "Speaks to our thesis over past few weeks that spam/bot issue was going to be the 'material breach' cited by Musk to try to get out of [Twitter] deal" paying only a $1bn breakup fee.
"Usually, breakup fees are pretty tough to get out from, but that doesn't mean it's impossible or Elon won't try," said tastyworks CEO Scott Sheridan. "For shareholders, I'm not sure this deal falling apart is a bad thing. I think the stock is probably in play now and may have other potential suitors. There is also the opportunity Twitter makes changes that ultimately unlock shareholder value."
Tesla Inc. (Nasdaq: TSLA)
"As for Tesla shareholders, I think the deal not going through is a good thing," added Sheridan. "This leaves Elon focused on current endeavors and removes any risk of him getting distracted by, what would be, a major investment"
Tesla stock traded up to 4.39% higher on Monday, reaching as high as $734.59 compared with Friday's $703.64 closing share price. Tesla stock trades on the Nasdaq exchange under the ticker TSLA.