Motorpoint sees profits soar 30% in used car boom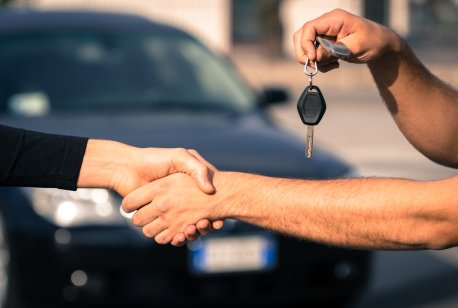 Used vehicle seller Motorpoint has revealed pre-tax profits soared 30% to more than £13m in the first half of the year.
In a trading update, the UK's leading independent omnichannel vehicle retailer reported revenues also grew 57% due to the continued strong consumer demand for used vehicles.
However, the Derby-based group warned of ongoing uncertainty in the market, with vehicle supply shortages and the potential for further disruption from Covid-19.
The upbeat statement saw Motorpoint's share price rise 5% to 374p by early afternoon in London trading.
Market outperformance
The group said online retail sales increased around 53%, reflecting continued progress in its transformation to a digitally-led business.
It also noted that sales growth slowed from June due to the reduced supply of vehicles, following record trading levels in April and May.
"The Society of Motor Manufacturers and Traders (SMMT) reported second quarter market growth of 109%, versus same period 2020," the group said. "Motorpoint significantly outperformed this, with growth of 242%."
Record revenues
Chief executive Mark Carpenter said its omnichannel proposition has excelled since garages fully reopened in April after the coronavirus lockdowns.
"With record revenues, employee engagement and customer service across the group, Motorpoint continues to be the leading independent used vehicle retailer in the UK," he said.
Carpenter insisted the business continues to be "agile and agnostic", allowing it to take advantage of strategic opportunities such as the transition to e-commerce.
"We are firmly fixed on significant growth targets and the investments made to date in technology and marketing will continue to grow to realise our goal of doubling revenues in the medium term," he added.
Strong momentum
Sanjay Vidyarthi, an analyst at Liberum, has a 'buy' recommendation on the stock and believes the trading update shows strong momentum.
In a broker note sent to Capital.com, he pointed out the performance was achieved despite "widely-flagged" used car supply constraints and the significant investment in technology and marketing to support its growth ambitions.
"The prize here is an agile omnichannel model capable of doubling sales full-year 2020-2024E profitably and with strong cash generation," he said.
Uncertainty persists
While Motorpoint expects trading to be in line with expectations for the full-year, it did highlight uncertainties that persist in the market.
These included the well-documented vehicle supply shortage, the potential for further disruption from Covid-19, and downward press on used vehicle margins as the supply shortage gradually eases.
However, it said the group was "well-placed to deal with these uncertain potential headwinds" and invest further in growth.
Reduced supply
Due to the reduced supply of vehicles in the market, Motorpoint expanded its offering from the core market of vehicles under three-years-old, to include those up to four-years-old.
"We quickly gained a 1.4% share of this market, again showing our agility to successfully adapt at pace to changing market conditions," Motorpoint said in the statement.
Auction4Cars.com revenue increased 38% against the first half last year, despite the group selling more vehicles through the retail sales channel instead of feeding them to the Auction4Cars.com platform.
Strategy update
Motorpoint also highlighted the launch of its service buying cars directly from consumers in July, which is increasing the supply of vehicles.
"Our new branch in Manchester opened successfully on 1 October 2021, which followed the new preparation centre in Motherwell in August," the company stated.
In addition to the recently announced Maidstone branch, it has also secured a new site in Milton Keynes, while further branches remain under negotiation.
The group expects to announce its interim results for the half year ended 30 September 2021 on 25 November
Read more: Pendragon share price rises amid strong Q3 result