Mid-day: US shares mixed Wednesday as Treasury yields cool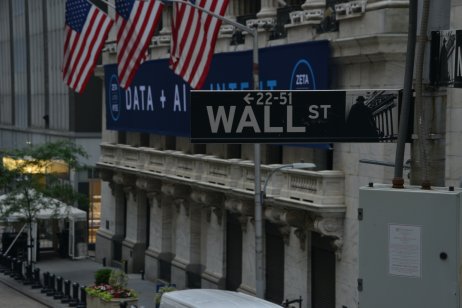 Major US benchmarks are trading up and down on Wednesday after yesterday's big fall and spiking Treasury yields.
By noon EDT, the Dow Jones Industrial Average was up 160 points or 0.5%, the S&P 500 was 0.4% higher, while the Nasdaq Composite was down 0.6%.
On Tuesday, the Nasdaq Composite fell 2.83% to 14,546.68, posting its worst day since March, while the S&P 500 lost 2.04% and the Dow Jones Industrial Average lost 569.38 points, or 1.63%.
For September, the Dow and S&P are now down 3%, and the Nasdaq is down over 4.5%.
Treasury yields cool
Following yesterday's high mark in three months, the 10-year Treasury yield is trading near 1.5% on Wednesday after hitting 1.567% during yesterday's session.
The Treasury yield spiked in early trading Tuesday as investors trusted the US Federal Reserve would limit its emergency bond-buying stimulus as inflation rises.
Wednesday gains and losses
Shares for Apple were up by 1.5% and shares for Facebook were 0.7% better.
Shares for Micron sank almost 2% following the company's missed consensus estimates for their first quarter 2022 earnings a revenue outlook.
Meanwhile, shares for Dollar Tree jumped 16% after the company announced higher priced merchandise is on the way. Dollar Tree stock has fallen 7.1% year to date while the benchmark S&P 500 index for Dollar Tree has improved 16.3% for the period.
In the energy sector, global benchmark Brent crude oil dropped 1% to $78.33 per barrel Wednesday, after hitting a three-year intraday high on Tuesday.
Read more: Rolls-Royce announces its first fully electric car