Mid-day: US gauges mix in early trading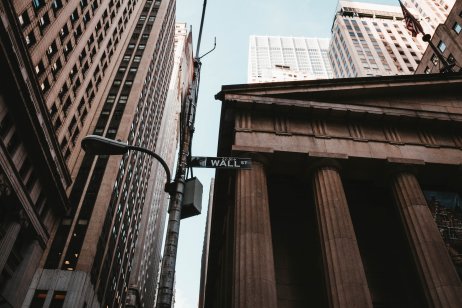 The major US indices are mixed on Thursday as retail earnings remain a hot topic on Wall Street.
By 12 pm EDT (UTC-5), the Dow Jones Industrial Average was down 103 points or 0.29%, the S&P 500 was up 0.23%, while the Nasdaq Composite was 0.4% higher.
Despite the dip in recent sessions, both the S&P and Nasdaq remain on pace for a positive week and are sitting less than 1% from their records. The Dow is just 2% from its record.
Winners and losers: retail earnings keep winning
Shares of Macy's are up over 18% to a price of $36.50 per share at market open as the company beat third-quarter earnings estimates and pitched investors on its growth in e-commerce.
Shares of Kohl's went up 7.4%, after the retailer released earnings that beat analysts' estimates and raised their full-year guidance.
Shares of Nvidia are up almost 10% following the company's report showing 'wins' on the top and bottom lines.
Advanced Micro Devices jumped 4% on Thursday, while shares for Qualcomm and Micron Technology both improved by 2%.
GlobalFoundries popped 4% after a partnership with Ford to boost its chip supply.
What is your sentiment on M?
Vote to see Traders sentiment!
Oil today: Crude hits 6-week low in early trading
Oil futures were falling early on Thursday, as prices hovered near six-week lows.
As the session continues, oil prices are beginning to find small gains.
January Brent crude, the global benchmark, was down six cents, or nearly 0.1%, at $80.22 a barrel. By 12:15 pm EDT, the prices were up 0.60% to $80.75.
Gold today: precious metal falls after Wednesday's big win
On Thursday, gold retreated from its high-water mark since the summer.
December gold was off $9.80, or 0.5%, at $1,860.40 an ounce, following a 0.9% win yesterday, sending the metal to the highest close since 11 June.
December silver was trading 18 cents, or 0.8%, lower at $24.95 an ounce, following a 0.9% gain on Wednesday.
Forex today: US dollar outworks krone and ruble
The yield on the 10-year Treasury note sank 2.9 basis points to 1.577%, while the ICE US Dollar Index, a measure of the currency against a basket of six major rivals, was down 0.2%.
Compares to the US dollar, the Norwegian krone (NOK) was down 0.2%, the Russian ruble (RUB) lost 0.7%, while the USD/CAD is largely the same.
Sterling benefitted from both strong labour and inflation data this week, gaining ground against its peers. Cable (GBP/USD) is up 0.1% from previous close, while EUR/GBP is flat after falling to 0.8385 yesterday.
Read more: Oil-currencies weaken as crude falls, NZD rallies while TRY sinks