Mid-day: US benchmarks mixed amid surging oil, bond yields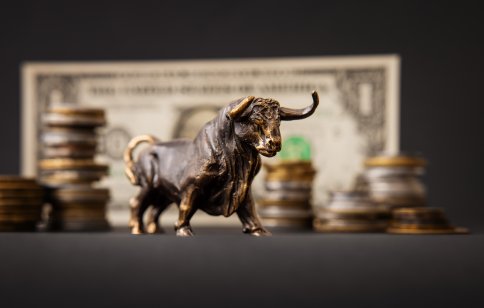 The Dow is up over 100 points on Monday as both oil and bond yields reach their highest mark in nearly three years.
By mid-day, the Dow Jones Industrial Average was up 133 points or 0.4%, the S&P 500 was 0.3% lower, and the Nasdaq Composite was trading 0.85% lower.
On the month, the S&P 500 is down 1.5%, while the Dow is off 1.6% and the Nasdaq is 1.4% lower.
Meanwhile, the Nasdaq 100 is trading in the red on Monday as shares for Atlassian, Moderna and CrowdStrike drive the index lower.
Oil and bonds' three-year highs
The yield on the 10-year benchmark US Treasury note improved to 1.484% Monday from 1.459% Friday, reaching the highest intraday level since June, while Global benchmark Brent crude jumped 1.8% and traded at $78.65 per barrel, posting the highest level since October 2018.
In the energy sector, Exxon Mobil and Occidental Petroleum are leading the way as WTI crude continued its September run, topping out at $74 a barrel.
Monday gains and losses
Shares for Rolls Royce were up nearly 11% following the company's deal to supply the US Air Force with a fleet of B-52 bombers.
Shares for Facebook are down 0.3% while shares for Google's Alphabet are down by 0.6%.
Meanwhile, shares of Carnival were up 4.5%, shares for United Airlines were1.8% better in early trading, as shares of Boeing traded 2% higher.Global markets
The pan-continental Stoxx Europe 600 sank less than 0.1%, and the Shanghai Composite Index slipped 0.8%, while Hong Kong's Hang Seng Index ticked up less than 0.1%.