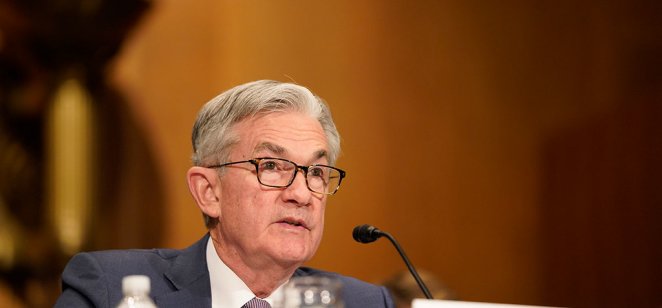 US shares are mixed in early trading on Monday as the Blue-chip Dow surged more than 200 points and President Joe Biden selected Jerome Powell for another term as chair of the Federal Reserve.
By mid-day, the Dow Jones Industrial Average was up 252 points, or 0.7%, the S&P 500 was up 0.3% to a new intraday record, while the Nasdaq Composite was 0.6% lower, despite a higher start to the session.
On Friday, the Dow dipped 268 points to close at 35,601.
Biden picks Powell for another term
In a statement issued by the White House today, President Biden nominated Jerome Powell for a second term as chair of the Board of Governors of the Federal Reserve System and nominated Dr. Lael Brainard to serve as vice chair.
According to the White House, Powell has provided steady leadership during an unprecedently challenging period, including the biggest economic downturn in modern history and attacks on the independence of the Federal Reserve.
Winners and losers: Rivian and Ford back out of deal
Shares for Adobe jumped 1.2% after being upgraded to Overweight from Neutral by Atlantic Equities.
Shares for Tesla are up 5% following an Elon Musk tweet stating the Model S Plaid might come to China 'around March.'
Shares for Astra Space took off 32% after the space transportation company successfully completed its first commercial orbital launch for the US Space Force.
Shares for Rivian Automotive are 14% lower after the firm and Ford Motor pulled away from an electric vehicle deal last week.
Shares for Ericsson sank 6.1% after the Finnish telecom group announced it had agreed to buy Vonage, a US provider of cloud-based communications for $6.2bn. Shares for Vonage are up 25%.
Oil: Crude rebounds after early slump
After beginning the session in decline, oil prices are rebounding halfway through the session.
West Texas Intermediate crude for January delivery is up 0.91% on the New York Mercantile Exchange, while January Brent crude, the global benchmark, is 0.85% higher.
Both benchmarks fell sharply last week, logging a fourth straight week of declines to end at a low of seven weeks.
Gold: Losing skid extended
On Monday, gold futures dropped lower for a third straight session.
December gold was trading down $9.10, or 0.5%, pushing the precious metal near the lowest level since 10 November.
Forex: US dollar outpaces Canadian
The yield on the 10-year Treasury note is up six basis points to 1.594%, while the ICE US Dollar Index, a measure of the currency against a basket of six major rivals, was up 0.3%.
On Monday, one US dollar equals 0.89 of the euro, 0.75 to pound sterling, and 1.27 of the Canadian dollar.