Microvast (MVST) stock falls on larger loss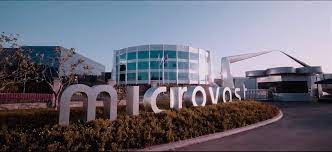 US electric-vehicle battery maker Microvast's stock price dropped more than 5% in after-hours trading Monday after the company reported far greater losses than expected.
Stafford, Texas-based Microvast posted a net loss of $116m (about €102m) in the third quarter, up more than tenfold from a loss of $10.1m a year earlier, the company said in its quarterly earnings report.
Losses per share were more than double those from a year earlier at $0.49. Analysts polled by Dow Jones had expected an adjusted per-share loss of $0.04.
Company cites legacy-product costs
The firm blamed a $34.1m one-time product warranty accrual and a $6.6m inventory write-down – both related to legacy products, the company said – as well as increased raw-material prices and a $2.3m share-based compensation expense accrued following a merger in July with special-purpose acquisition company Tuscan Holdings.
The merger enabled Microvast to go public.
The widening loss contrasted with a 19.8% year-over-year revenue increase to $36.9bn from $30.8bn. Microvast attributed the revenue boost to increased battery sales to new and existing customers.
"As an established battery-technology company with proven products and a robust pipeline of new technologies, we are excited by the industry demand and validation of our battery solutions," said president and CEO Yang Wu in a news release accompanying the earnings report.
He said the company has won several new multi-year contracts with leading manufacturers, driving substantial growth in forecasted contracted revenue since the business combination was announced in February.
Microvast reaffirmed its full-year revenue forecast of $145m to $155m. But some capital expenditures will move into 2022, bringing 2021 capital spending to between $120m and $150m.
Wu said the company expects to announce two new products in the first quarter of 2022.
Read More: Lithium boom takes shape in Latin America