Microsoft's Activision Blizzard acquisition: In-depth EU competition watchdog's MSFT-ATVI probe timing and details in full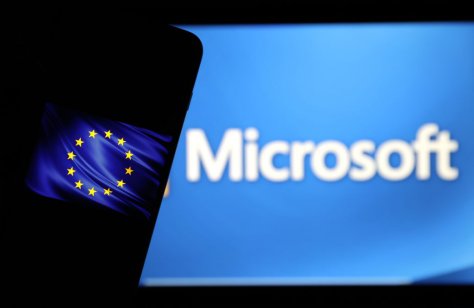 It's crunch time for Microsoft (MSFT) and Activision Blizzard (ATVI), as the biggest gaming takeover of the year really starts to heat up. The European Union competition watchdog announced on Tuesday that it will pursue an in-depth investigation in MSFT's $68.7bn (£56bn) acquisition of ATVI.
The ATVI stock price has been up 7% since the takeover was announced in January, whereas MSFT's share price has plummeted by 33%.
The takeover saga has faced many twists and turns and now there is growing fear that, almost a year later, it may not happen.
What is your sentiment on MSFT?
Vote to see Traders sentiment!
Microsoft (

MSFT

) share price chart
MSFT takeover being looked at with a fine-tooth comb
Regulators have been closely scrutinising Microsoft's takeover of gaming giant Activision Blizzard and it was announced last week that the tech company had not offered any remedies to the European Commission (EC), which is looking into the legality of the takeover.
As a result of Microsoft not offering any concessions to the EC, the commission has decided conduct a Phase 2 investigation.
Microsoft only commented in a statement that it was continuing to work with the European Commission to address valid market concerns.
The EC, which opened its initial probe back in September, believed it may reduce competition in the markets for gaming console users, personal computer distribution, videogames, and PC operating systems.
It added that it is concerned that Microsoft may foreclose access to Activision Blizzard games to other game distributors, especially the publisher's most successful franchises such as Call of Duty.
"We must ensure that opportunities remain for future and existing distributors of PC and console videogames, as well as for rival suppliers of PC operating systems," the Commission said.
"The point is to ensure that the gaming ecosystem remains vibrant to the benefit of users in a sector that is evolving at a fast pace."
The move to an in-depth phase 2 investigation is a more lengthy probe and is a sign that the regulator is concerned the deal could restrict competition within the bloc.
The EC said it has 90 working days, until March 23, to decide.
Rising tide of uncertainty
Meanwhile, the UK's Competition and Markets Authority (CMA) has also launched its Phase 2 investigation into Microsoft and on 15 September the group said:
"The CMA has referred the anticipated acquisition by Microsoft Corporation of Activision Blizzard, Inc. for an in-depth investigation."
MSFT has until 1 March to reply to the CMA's concerns.
Microsoft hopes the acquisition of ATVI will help drive better competition in the market among some of its heavyweight peers such as Sony (SNE).
But Sony is far from happy about the deal, and it has already voiced concern over rights to the popular war game Call of Duty (CoD), which is produced by ATVI.
For Sony, the manufacturer and owner of PlayStation - the main rival to Microsoft's X-Box - the key conflict is whether MSFT makes CoD an X-Box exclusive, once the takeover happens.
Back in September MSFT offered to allow Sony to keep the game on PlayStation for three years - an offer that Sony said was "inadequate on many levels".
MSFT Gaming CEO Phil Spencer revealed to the Verge, that the company is committed to keeping Call of Duty on PlayStation for "several more years" beyond the current marketing deal Sony has with ATVI.
This move has not been welcomed by Sony, which believes it is not a long enough commitment and in fact several years, will more than likely mean three.
Activision Blizzard (ATVI) share price chart
ATVI investor off-loads shares
Despite this rising tide of uncertainty, Microsoft Gaming CEO, Phil Spencer is upbeat about the takeover and in a recent Wall Street Journal Tech Live conference, Spencer said regulators investigating the deal have been "fair and honest" and he is confident the takeover will go through.
With that said, investors are becoming uneasy.
Firstly, ATVI shares remain below MSFT's proposed $95-a-share offer, as investors price in the risk that the takeover may never happen.
Secondly, some investors believe the regulatory questions will scupper the deal and as a result some are fleeing and selling their ATVI stock.
Reports emerged last month that a seller unloaded 3.7 million shares in ATVI, in a move that could indicate a lack of confidence that Microsoft's buyout of Activision Blizzard will go through.
With the deadline to the takeover completing drawing nearer and regulators launching further investigations into the deal, time will tell what happens next and where this acquistion is heading.