McDonald's (MCD) claws back $105m in cash, stock from ex-CEO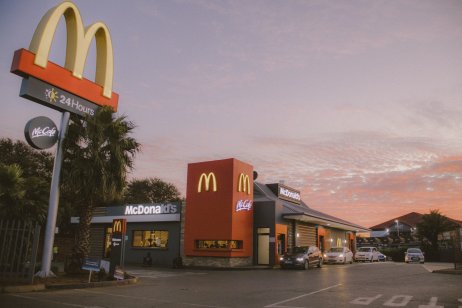 A settlement announced on Thursday represents one of largest corporate clawbacks in US history, with former McDonald's CEO Steve Easterbrook agreeing to return $105m (£78.8m) to the company in cash and stock.

Easterbrook was fired in 2019 for having an inappropriate relationship with a subordinate and, soon after, he and his former employer began a contentious legal battle. Though he was initially fired without cause, a subsequent investigation uncovered what McDonald's alleged were further misdeeds that would have led him to be dismissed with cause, resulting in potential forfeiture of severance benefits.
Legal action began
That opened the door to seeking the recuperation of compensation through civil action, which began in 2020, in a case that featured no shortage of acrimony. The company agreed to discontinue the lawsuit in light of the settlement, and the clawback appeared to be the third-largest on record from an individual.

"This settlement holds Steve Easterbrook accountable for his clear misconduct, including the way in which he exploited his position as CEO," said Enrique Hernandez, Jr., chairman of the board of directors of McDonald's Corp. "The resolution avoids a protracted court process and allows us to move forward. It also affirms the Board's initial judgment to pursue this case."
Easterbrook also spoke in the statement, saying "During my tenure as CEO, I failed at times to uphold McDonald's values and fulfill certain of my responsibilities as a leader of the company. I apologise to my former co-workers, the Board, and the company's franchisees and suppliers for doing so."  
Juicy details, lean efficiency
Following a whistleblower tip and further probe, McDonald's alleged that Easterbrook had inappropriate relationships with at least three employees, that he awarded significant stock options to one of those employees and that he took various steps to obfuscate the company's investigation.
The company found nude and partially nude photographs exchanged between the employees and CEO that further substantiated the relationships. McDonald's argument was that Easterbrook would not have been entitled to any severance package had he been fired with cause, and that the language of his contract enabled them to re-assess their decision.
Performance viewed favourably
While his conduct disgraced his exit from the company, Easterbrook's tenure as CEO had been viewed favourably to that point. Over the span of four years, he increased cost efficiency, bolstered stock prices, introduced touch-screen ordering and shifted to offering breakfast all day, a practice from the Jack In The Box playbook that few other major chains had adopted. The chain's stock has continued to perform well since his departure, including during the pandemic, and it has gained 23% in 2021, elevating its market capitalisation above $200bn.
Easterbrook's firing and compensation were the subject of ire from investors. Some of them suggested that board members should not have been reelected for having not investigated the matter more thoroughly and from a union that sued the company for dereliction of fiduciary duty.
Rare clawback
Even in an era where the "me too" movement and other social undercurrents have heightened awareness of sexual misconduct while social media has heightened scrutiny of executives overall, clawbacks remain rare and scarcer still in relation to harassment, relationships with subordinates and other such transgressions.
CBS executive Les Moonves forfeited some $120m in severance, which he pursued in civil action before the two parties reached an agreement. Thursday's settlement appears to be the largest clawback on record related to sexual misconduct.

Most instances of clawbacks relate to encroachments on regulatory policy. The largest of those were in the 2000s. In 2007, UnitedHealthGroup CEO William McGuire ran afoul of shareholders and the SEC in a stock options backdating scandal. After repricing and penalties, McGuire forfeited $618m in cash and stock options to resolve the complaints. In 2012, Tyco CEO Dennis Kozlowski, who had been imprisoned on fraud charges, settled a demand by his former employee that sought to recuperate more than $500m for an undisclosed sum.
Read more: McDoanld's Q3 beats on stronger world appetite