Marston's (MARS) shares down 6% as it posts £100m losses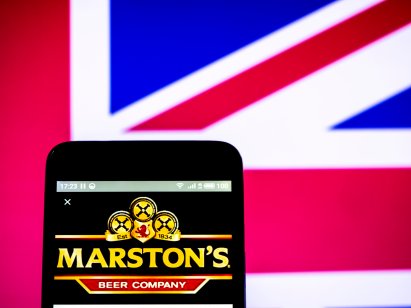 Marston's (MARS) pub chain saw its share price fall 5.8% as it posted an annual loss of £100m – but is optimistic about Christmas trading.
The figure compares with a pre-tax loss of just £22m in 2020. Total revenues were also down, from £821m in 2020 to £423.8m this year.
The company blamed the poorer financial performance on disruption from both the pandemic and the sale of Marston's Beer Company to the new Carlsberg Marston's Brewing Company joint venture, in which Marston's retains a 40% stake.
Total profit, including the sale income of £291m and an £84m impairment charge on property, came to £119.3m.
The news came as fears were sparked of a clampdown on Christmas parties after a UK public health expert today discouraged socialisation in the run-up to Christmas.
The comments by Dr Jenny Harries, chief executive of the UK Health Security Agency, were slapped down by Number 10, however. An official spokesman told the Daily Telegraph: "It's not our advice to the public currently."
Christmas bookings 'encouraging'
The pub group says its Christmas bookings are encouraging and in line with 2019 bookings. The company said it has been less affected by labour challenges as its pubs are predominately located in suburban areas.
Marston's CEO Andrew Andrea said: "Our debt-reduction plans remain on track and our well-invested, predominantly freehold, suburban pub estate is well placed to benefit from many of the positive consumer dynamics and drivers post-pandemic.
"Whilst still early days, Christmas bookings look encouraging, and we look to the future with renewed optimism."
Marston, which operates roughly 1,500 pubs and employs around 12,000 people, was able to reduce its debt by £97m to £1.23bn. It aims to bring debt below £1bn by 2025, which it says requires roughly £200m in sales growth from pre-pandemic levels.
During the period, Marston's took on the operation of more than 150 SA Brain pubs in Wales.
Andrea said: "Marston's enters the year ahead as a focused pub business with a clear strategic plan, a profitable and cash generative business, a strong balance sheet and a 40% share in CMBC, our partnership with Carlsberg, which has such exciting potential."
Worst of pandemic 'now behind us'
He added: "Whilst there are still some challenges to navigate over the months ahead, we believe the worst of the pandemic is now behind us and Marston's has emerged a stronger, more focused business, which is in great shape.
"Importantly, consumer demand for the pub and the role which this great British institution plays, at the heart of communities up and down the country, has never been stronger.
He welcomed the government's support during the pandemic, adding: "We urge them to continue to assist the sector as it continues its recovery by maintaining VAT at 12.5%."
Read more: Omicron scare pushes global risk assets lower