Marqeta hungry for bigger share of card-payment market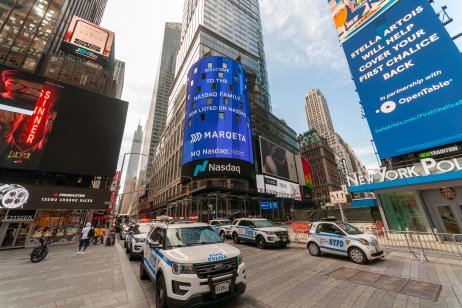 Marqeta, the Oakland, California-based fintech company that is shaking up the business card-payment market, has come a long way since its 2009 inception.
With a recent IPO under its belt and a strong vision for the future, the fintech company is certainly making waves in the industry.
Marqeta allows firms to offer Visa or Mastercard payment products to customers without the need to deal with a bank directly. Marqeta itself manages the interaction with banks.
The group uses an open application programming interface (API) system that allows it to offer faster and cheaper payment products.
In 2009, the company's CEO, Jason Gardner started his vision to simplify payments and it evolved into the world's first open-API modern card issuing platform.
Klarna partnership
Marqeta has formed several business partnerships around the world, one of which is with Swedish fintech company, Klarna, which offers a 'buy now, pay later' service to consumers who purchase online goods.
Klarna partnered with Marqeta because it needed a solution to safely pay online retailers. The API Marqeta uses allows Klarna to create instant virtual cards that pay for goods, and distributes the payments over time.
Another partnership launched in August with San Francisco-based Synctera will allow the fintech-as-a-service firm to offer payment cards to fintech firms and community banks.
Global money movement will exceed $74trn
Euromonitor has projected that global money movement will exceed $74trn this year, so the opportunities for Marqeta appear to be endless.
Capital.com caught up with Stacey Finerman, vice-president of investor relations at Marqeta, to discuss the company's success, its recent IPO and future growth drivers.
"We saw strong growth in Q2, showing that the rapid adoption of digital payments during the pandemic wasn't just a fad but rather something we believe is here to stay," Finerman told Capital.com.
"We noted in our earnings that we saw 350% growth in revenue in our buy now, pay later product vertical, which is one sector that consumers clearly have a lot of interest in.
"We processed $60bn in 2020, and in 2021 to date we've processed more than $50bn in payments."
Marqeta, which now expects its third-quarter revenue to reach $119m, has seen growth from partnering with companies such as Square, a digital-payments company based in San Francisco.
"Square is a great example of the potential of modern card issuing and comprises a large part of our revenue. We power core product experiences for Square and we have a long-term partnership with Square Card through to December 2024 and Square Cash App through March 2024," Finerman said.
IPO success
The payment-processing company, made its stockmarket debut on the Nasdaq in June, trading under the ticker symbol MQ – its stock price traded at $32.50 apiece, higher than its forecasted price of $27.
"The goal is to build a generational company and the IPO was one event that is helping us get us there," Finerman added.
"The IPO proceeds will provide us with financial flexibility and liquidity to attack a massive global opportunity that lies in front of us: global money movement is projected to exceed $74trn this year.
"From a regulatory and transparency standpoint, it provides our customers with even more insight into our business and trust for what we do."
The opportunities for payment-processing companies such as Marqeta are huge. The fintech industry has experienced large-scale investment over recent years.
"We're focused on a $74trn global money-movement market, of which $30trn is exchanged across global card networks. With the growing shift to digital payments, the market is ever-expanding. Marqeta processed $60.1bn in 2020, which is less than 1% of the card-issuing opportunity," Finerman added.
Marqeta has also been sought out by large banks, such as Goldman Sachs and JP Morgan, and financial institutions that are looking to modernise and stay competitive with newer market entrants.
M&A opportunities
When it comes to mergers and acquisitions, Finerman said Marqeta is "opportunistic".
She said the company sees growth and expansion driven by the success of customers on its platform and its ability to launch new products and expand its international footprint.
"We're continuing to see opportunities for modern card issuing across multiple industries as well as helping existing customers grow and scale," she said.
"We're also helping our existing customers expand globally and are working to bring the Marqeta platform to new markets internationally.
"In addition, we anticipate launching new products to help round out our vision for Marqeta as a modern card-issuing platform and facilitator of global money movement."
Global expansion
Marqeta's key growth markets are the United States, Canada, Europe and Australia, where it has seen strong growth and continued expansion, coupled with a high demand for modern card issuing.
"We're always looking to innovate to meet the needs of our customers and the increased demand for digital payment solutions we see broadly, but there's nothing we can talk about at this time," Finerman said.
So, with its current growth plans remaining ambitious, what does the future of the industry look for them?
Acceleration of digital payments
"We believe that the shift to digital payments accelerated by the pandemic is here to stay and will be a huge driver for the fintech industry," added Finerman.
"McKinsey has said that a half-decade of change in payments happened in a few months during the pandemic, and looking at our own platform, we can see this initial shift hasn't fallen away.
"How Americans fed themselves, shopped, paid at the point of sale, and interacted with their money became almost entirely digital overnight.
"The length of the pandemic gave consumers a long time to get used to new and more convenient methods of buying online or paying at the point of sale, and we don't see these trends slowing down any time soon.
"We're proud to support the new generation of card issuing that expands beyond simply physical cards to keep up with the demand of digital commerce and mobile wallets."
Marqeta's stock price was up 2.16% at $25.97 at close of trading on Wednesday.
Read more: Marqeta IPO a 'wake-up moment' for investors