Marks Electrical announces AIM listing following online sales boom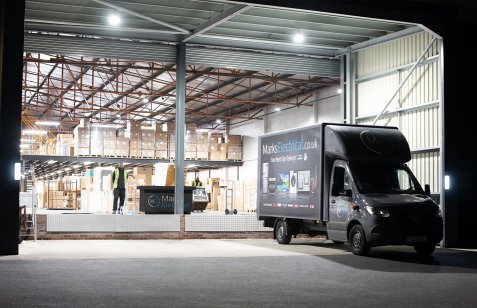 Marks Electrical has announced plans to launch on the Alternative Investment Market (AIM) following an online sales boom, which was in part fuelled by the Covid-19 pandemic.
The electrical goods retailer said its revenues rose by 78% to £56m (€65.8, $76.3m) in the year to 31 March 2021, while its EBITDA (earnings before interest, taxes, depreciation, and amortisation) increased to £7.45m, with growth of 47% in the half year of financial year 2021.
"I am delighted to announce our intention to list on AIM. This is an important step in our growth journey as we continue to scale the business and deliver premium electrical items to the growing number of consumers buying electricals online," said Marks Electrical founder and CEO Mark Smithson.
"We see significant opportunities to continue to grow our market share, improve our brand awareness and further build on our strong trading momentum," he added.
Future growth
The company said it has developed a strategic growth that will focus on improving sales and gaining market share, of which it has around 1.22% in FY2021 – up from the 0.76% the company recorded in FY2020.
The retailer is aware of the consumer's lack of awareness of the brand, but said this was an opportunity for it to improve its brand awareness and gain greater market penetration.
Marks Electricals pointed out that it operates within the UK major domestic appliances (MDA) market, which is estimated to be worth £5.3bn in FY2021.
Board appointments
The AIM-listing announcement comes as the company appoints former Nichols CEO, Marnie Millard, as its non-executive chair. Dave Wilkinson and Alyson Fadil also join the board as independent non-executive directors.
"I am also looking forward to Marnie, David and Alyson joining the board. Their experience is already proving invaluable as we move forward to our listing," said Smithson.
On joining, Millard commented: "Mark and his team have built a high-quality, innovative business over the past three decades, and I am delighted to be joining the board as chair at this exciting time.
"As one of the first electrical retailers to move to selling goods online, Marks Electrical has a deep market knowledge and understanding of its customers that has been key to its sustained growth.
"With a scalable platform underpinned by proprietary technology, a simple distribution network and a vertically integrated delivery model, the business has many growth opportunities ahead, and I look forward to working with Mark and the Board."
Read more: Eurozone manufacturing growth cools down in September