Market close: US indices end day mixed, close week with gains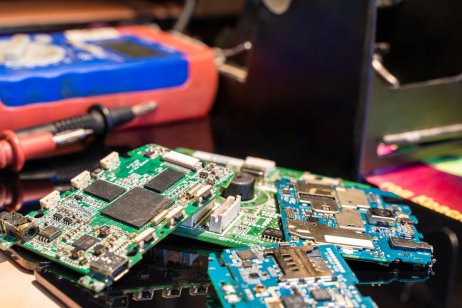 The major US gauges wobbled during trading on Friday as the Nasdaq scored a big-win halfway through the session on rising tech shares and as the market readies for a new Federal Reserve chair.
The Dow Jones Industrial Average dropped 266 points, or 0.6%, to 35,602.18, the S&P slipped 0.1% lower to 4,697.98, while the Nasdaq Composite went up 0.4% to 16,057.44.
By mid-day, the Nasdaq Composite Index was 0.6% higher, jumping nearly 92 points to almost 16,085. The tech-heavy index established a new intraday record at 16,102.72.
The Nasdaq 100 also made a new milestone by mid-day, powered by a strong start in tech shares. The larger-cap index was 0.7% higher.
For the week, the Dow tumbled 1.3% for the week, while the Nasdaq Composite improved 1.2% and the S&P popped 0.3%.
White House seeks climate-focussed Fed chair
Economic adviser to US President Joe Biden, Heather Boushey, says climate-related policies are a major priority as the White House considers who it would like to next serve in the top job at the Federal Reserve.
Boushey, a member of the White House's Council of Economic Advisers, said the Biden administration broadly saw a link between economic policies and risks that come from climate change, in an interview with Yahoo Finance.
Late Friday afternoon, White House spokesperson Jen Psaki says there would be no news on the Fed Chair till "early next week."
What is your sentiment on WMT?
Vote to see Traders sentiment!
Winners and losers: Tech shares send Nasdaq high
As US Treasury yields sank further during Friday trading, tech stocks surged and sent both the Nasdaq and Nasdaq 100 into new heights.
Shares for Micron Technology jumped 0.6% and shares for Facebook parent Meta improved 0.3%.
Shares for Nvidia are up 0.6% higher, while shares for Apple increased by 0.14%.
In retail stock, shares for financial software company Intuit surged almost 10% after showing quarterly results that beat Wall Street's predictions.
Shares for FootLocker sank 12% despite reporting third quarter adjusted profit and sales that rose above expectations, while shares for Walmart scratched out a 0.1% gain on Friday, after the company received a bullish boost from MKM Partners' analyst Bill Kirk.
Home retailer Williams Sonoma saw its stock drop by more than 5% to $210.94 before recovering to $219.30 on the day by 15:00 UTC, representing a climb of 0.22%.
Oil: Crude prices drop amid US, China strategy
Oil prices are down to a six-week low on Friday as countries such as Australia and Austria announce new pandemic lockdowns amid a surge of Covid-19 cases.
West Texas Intermediate crude for December delivery lost 3.7%, or $2.91, to settle at $76.10 a barrel on the contract's New York Mercantile Exchange expiration day, while January WTI crude dropped 3.2% to settle at $75.94.
January Brent crude slipped 2.9%, or $2.35, to settle at $78.89 a barrel on ICE Futures Europe.
Gold: Gold is down, other metals record weekly losses
On Friday, gold futures settled at their lowest in over a week as the US dollar returns to its highest level in about 16 months.
December gold lost $9.80, or 0.5%, to settle at $1,851.60 an ounce, representing the lowest most-active contract settlement since 10 November.
In other metals, December copper added 2.4% to nearly $4.408 a pound, but still ended 0.9% lower for the week, while January platinum fell 1.9% to $1,036 an ounce.
December palladium went down 3% to $2,073.20 an ounce, notching a 2.1% decline for the week.
Forex: Euro, sterling outperforms US Dollar
The 10-year Treasury yield fell to 1.54% from yesterday's 1.61%, while Safe-haven currencies strengthened and the WSJ Dollar Index went up 0.4%.
On Friday, one US dollar equals 0.89 of the euro, 0.74 of the pound sterling, and 1.26 of the Canadian dollar.
Read more: Advanced Human Imaging (AHI) deflates 60% on debut