Market close: Stocks fall despite strong retail earnings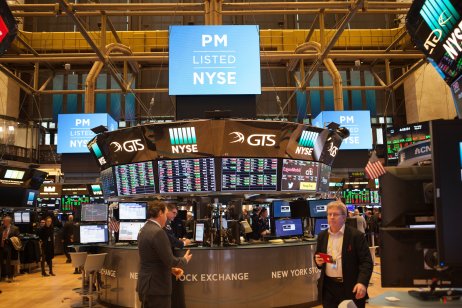 US indices were down across the board on Wednesday as the market reacted to a series of better-than-expected earnings reports from big-box retailers.
The Dow Jones Industrial Average dropped around 211 points, or 0.6%, to close around 35,932, the S&P 500 went down around 12 points, or 0.3%, to close around 4,689, while the Nasdaq Composite sank nearly 52 points, or 0.3%, to around 15,922.
On Tuesday, the Dow added 54.77 points, or 0.15%, the S&P 500 improved 0.39%, while the Nasdaq Composite jumped 0.76%.
Winners and losers:

Visa stock aids Dow drop
Shares of Visa took a 4.43% hit during trading on Wednesday, helping to drag down the Blue-Chip Dow to its session loss.
Shares for Cisco are down more than 6% after their third-quarter report revealed IT spending and supply chain issues.
Shares of Tesla jumped 3.25% after CEO Elon Musk sold another 934,000 of his shares on Tuesday for approximately $973m.
Shares of Target closed 4.7% lower despite the company taking on more staff as the US retailer reported third-quarter earnings that beat analysts' expectations. For the third-quarter ending on 30 October, net income rose 47% to $1.49bn from $1.01bn a year earlier, according to a press release.
Shares of Lowe's closed 1.2% after the retailer showed both profit and revenue from the third quarter exceeding expectations. The store also reported an increase in same-store sales and raised its full-year outlook.
Shares of TJX improved 5.8% after the retailer reported a quarterly earnings 'win' on the top and bottom lines. The store also reported a same-store sales increase of 14% year-over-year.
What is your sentiment on TJX?
Vote to see Traders sentiment!
Oil today: Crude drops, Biden weighs in
Oil futures fell Wednesday afternoon as investors waited to see if the Biden administration taps emergency reserves in a coordinated move with nations such as China, and a report shows a smaller than anticipated increase in oil inventories.
West Texas Intermediate (WTI) was down 3.3% to $78.13 a barrel at 14:00 ET (UTC-5). European Brent crude dropped to $80.14, down 2.8%. Natural gas continued the downward trend by slumping more than 6% to $4.84 per million cubic feet.
US motorists will not be seeing relief at the pump soon, even as gasoline dropped more than 2.6% to $2.28 a gallon. As wintry weather descends on North America heating oil was down more than 2.6% to $2.37 per gallon.
Gold today: Precious metal ends losing skid
Gold futures are up on Wednesday following a drop in each of the last two trading sessions.
December gold went up $16.10, or 0.9%, to close at $1,870.20 an ounce, representing the highest settlement for a most-active contract since 11 June.
In other metals, silver for December delivery on Comex spiked 22 cents, or 0.9%, at $25.167 an ounce, after a 0.6% fall during yesterday's session.
December copper dropped 2% at $4.266 a pound, while January platinum lost 0.5% to $1,069.10 an ounce, and December palladium closed 0.8% higher at $2,184.50 an ounce.
Forex today: US dollar trails Euro
The yield on the benchmark 10-year Treasury note was 1.604% Wednesday, down from 1.632% Tuesday.
On Wednesday, the US Dollar is down 0.2% at 114.61 versus the Japanese Yen, while one Euro equals 1.13 of the US Dollar and a 1 Pound sterling comes to 1.35 of the American currency.
Read more: Fed chair nominations 'imminent', down to Powell, Brainard