Market close: Dow, S&P hit new intra-day highs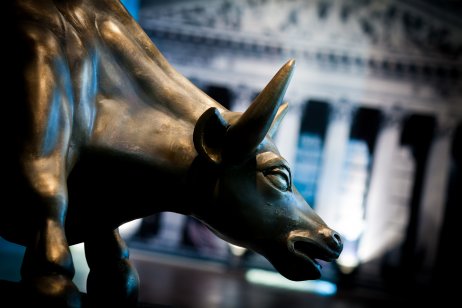 The Dow Jones Industrial Average and S&P 500 each reached new intraday highs as the momentum from strong corporate earnings persists and optimism for new US Congressional infrastructure and social spending bill builds.
The Dow closed up just 0.18% to 35,741, but mid-day hit a new 52-week high of 35,787. Likewise, the S&P 500 closed up 0.47% to 4,566 and hit a new intra-day high of 4,572.
The tech-heavy Nasdaq climbed by 0.90% to 15,226 on the back of a stellar day for Tesla in which the US electric vehicle maker's shares climbed by 12.6% on the day following the announcement that car rental company Hertz will buy 100,000 Tesla vehicles by the end of 2022.
Tesla hit a new $1trn valuation with shares up by 115 points on the day to a price of $1,024 per share – some 249 points higher since the start of the month.
Congressional progress
The markets are also responding to a flurry of activity out of US Congress as Democrats scramble to pull together a framework for American president Joe Biden's "Build Back Better" bill ahead of the president's week-long trip to Europe that departs on Thursday.
The lawmakers have made cuts to the original plan including free community college, penalties to utilities that don't meet clean energy standards and reducing the time horizon on funding for new child tax credits and expanded Medicaid.
Other programs such as a Medicare expansion for dental and vision coverage and paid family leave could be on the chopping block as moderate Democrats seek to cut the price tag from $3.5trn to $1.5trn–$2trn while also avoiding certain tax increases on the wealthy. However, a new wealth tax on assets of the ultra-wealthy could be on the table.
Should a framework for the "Build Back Better" bill come together this week, it could fast-track the final passage of the bipartisan infrastructure bill for later this week.
Movers
Tesla was the biggest winner on the day while oil companies Coterra Energy and Occidental Petroleum gained nearly 6% and 4%, respectively, amid a rise in oil prices. Goldman Sachs is predicting Brent crude could reach $90 a barrel soon, up from $85.77 per barrel today.
Shares in the image sharing site Pinterest fell 12.7% on the day after PayPal squashed rumours that it was in late-stage talks to buy the social media site at a $39bn valuation.
Kimberly Clark shares were also down 2.2% after reporting an earnings miss that will have the company passing higher prices of its Huggies, Kleenex, Scott and Kotex brands on to consumers.
Global markets
The pan-continental Stoxx Europe 600 rose 0.07%, while in Asia, Japan's Nikkei 225 rose 0.71%, and the Hong Kong-based Hang Seng Index rose 0.2%.
On mainland China, the Shanghai Composite Index rose 0.76%.
Read more: Tesla shares swell to new Read more: Tesla shares swell to new $1trn valuation hightrn valuation high
The difference between stocks and CFDs:
The main difference between CFD trading and stock trading is that you don't own the underlying stock when you trade on an individual stock CFD.
With CFDs, you never actually buy or sell the underlying asset that you've chosen to trade. You can still benefit if the market moves in your favour, or make a loss if it moves against you. However, with traditional stock trading you enter a contract to exchange the legal ownership of the individual shares for money, and you own this equity.
CFDs are leveraged products, which means that you only need to deposit a percentage of the full value of the CFD trade in order to open a position. But with traditional stock trading, you buy the shares for the full amount. In the UK, there is no stamp duty on CFD trading, but there is when you buy stocks.
CFDs attract overnight costs to hold the trades, (unless you use 1-1 leverage) which makes them more suited to short-term trading opportunities. Stocks are more normally bought and held for longer. You might also pay a stockbroker commission or fees when buying and selling stocks.