ASEAN manufacturing numbers rebound in September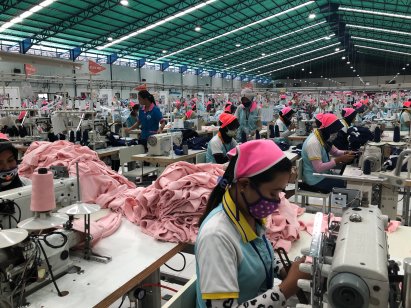 Factory activities in Southeast Asia improved in September, rebounding from 14-month low recorded in August. Yet, the recovery was uneven with manufacturing activities in four countries remaining in negative territory.
Singapore, the country with highest vaccination rate in the region, showed biggest rebound, followed by Indonesia and the Philippines. Readings from Thailand, the region's second-largest economy, Malaysia, Vietnam, and Myanmar still showing contractionary mode.
As an aggregate, the region's manufacturing purchasing managers' index (PMI) was at neutral 50 in September, rising from 44.5 in August, data from IHS Markit showed on Friday. Value below 50 indicates contraction in manufacturing activities.
Singapore, Indonesia, Philippine above 50-mark
"The closing month of the third quarter saw ASEAN (Association of Southeast Asian Nations) manufacturing conditions stabilise following a three-month long downturn," Lewis Cooper, economist at IHS Markit, said in the statement.
The headline PMI for Singapore jumped by over nine points to 53.4 in September against 44.3 in the previous month. The second-most improved was Indonesia, improving by 8.5 points to 52.2 following two straight months of declines.
Gradual easing of Covid-related restrictions helped lift PMI in the Philippines to a six-month high of 50.9 against 46.4 in August.
Sub-50 score
Manufacturing PMI in Malaysia, Thailand, Vietnam and Myanmar remained below the 50-mark due to low vaccination rate or stricter restrictions compared with their neighbours.
Thailand's index was at 48.9 in September, while that of Malaysia was at 48.1, both improving from the month prior but yet to leap beyond the 50-mark.
Vietnam's reading for September was at 40.2, unchanged from August, and marked the lowest since April 2020. Myanmar's manufacturing PMI was at 41.1, marking the thirteenth straight month that the index in the contraction zone.
Covid still grip the region
"Overall, the sector remains on an uneven footing in September. Inflationary pressures add to downside risks, with the latest data highlighting the steepest increase in cost burdens for nearly eight years," said Cooper.
"COVID-19 restrictions and rising cases in parts of the region continue to adversely impact goods producers, and until this subsides, it's unlikely we will see a meaningful return to growth for the manufacturing sector," he added.
Earlier this week, Toyota Motor reported its car production in August fell for the first time in a year, partly due to lower output from parts factories in Southeast Asia.
Read more: Power cuts pull China manufacturing PMI into contraction zone