Manchester United sale: How much are MANU outstanding shares worth?
Subscribe to Weekly Highlights
The major market events for the week ahead right in your inbox.
Subscribe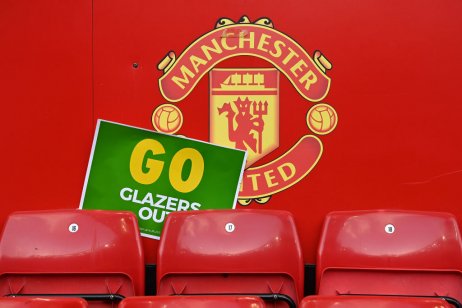 Content
It seems that Elon Musk's tweet saying he plans to buy the troubled football club, Manchester United (MANU) has sparked some fresh interest from another billionaire. Sir Jim Ratcliffe is said to be keen to buy a stake in the Premier League club. But how much are the outstanding MANU shares worth?
The total number of outstanding MANU shares represent just 10% of the value of the club and on news that Ratcliffe may purchase MANU, Manchester United's share price surged by 7% on Thursday.
What is your sentiment on MANU?
Vote to see Traders sentiment!
Manchester United (MANU) share price chart
MANU share price and debt
Nealy 17 million MANU shares were listed on the New York Stock Exchange (NYSE) on 10 August 2012 at $14 per share. Fast forward to 2022, and MANU shares are currently trading at $13.69 per share.
"The good news is that this will give fans some hope that there are people rich enough to help bring the team back out of this slump. Jim Ratcliffe has a $12.9bn (£9.7bn) net worth and could buy the club 20 times over with his riches, whereas Elon Musk could purchase the club a staggering 426 times over," Michael Throckmorton, Business Success Manager and Data Protection Officer at Merchant Cash Advance told Capital.com.
Throckmorton stresses that the club's debt has continued to rise since the Glazer family took over the club in 2004 and that Manchester United's shocking decline under the Glazers has been revealed through staggeringly slow growth of its shares on the stock exchange.
"By the time Malcolm Glazer had completed his hostile takeover at Manchester United, the club was plagued with £660million of debt. Financially for the club, the Glazers have caused a negative effect which would be passed on to any suitor willing to buy the club," Throckmorton said.
"No Premier League owners have taken out more money than the Glazers have done with Manchester United. The Glazers have not put any of the money earned from the clubs' revenue back into the club to pay for refurbishment, better recruitment or paying off any debts Manchester United has. Instead the have invested money into other assets such as the NFL team Tampa Bay Buccaneers," he added.
Ratcliffe rumours
Manchester United (MANU), which has declined to comment on the Ratcliffe rumour, has not had the greatest start to the season and is currently at the bottom of the Premier League after two defeats. The club is also dealing with the fact its star player – Cristiano Ronaldo could leave.
Sir Jim Ratcliffe, who owns the $60bn (£45bn) chemical company Ineos, is not just one of the wealthiest people in the UK, but he is also familiar with the sporting world and already has a stake in a cycling team called the Ineos Grenadiers, Ligue 1 club Nice and FC Lausanne-Sport, a Swiss super league club.
"Manchester United (MANU) is currently occupying a historically low position at the bottom of the Premier League. Fans of the Red Devils are concerned about a variety of issues surrounding their beloved team, but it can't get any worse than this, can it?" Paul Kemp, Head of Content at SportingPedia told Capital.com.
Musk's tweet on Wednesday caused a stir on social media, with the tweet receiving more than 400,000 likes. But despite the furore Musk's post caused, MANU stock price remained unmoved on the day. Ahead of Wednesday's 7% rise following the Ratcliffe rumour, the football club's share price had been down by 10% this year.
"Sir Jim Ratcliffe is the latest name to be linked with acquiring United, and it appears to be a lot more plausible than Musk's speculation," Kemp added.
Ratcliffe, who is also a Manchester United supporter, was told by the bank overseeing the Chelsea's recent sale to "forget" his £4.25bn bid for the club, which was subsequently purchased by American businessman Todd Boehly.
Change needed
"Like the Tesla's owner, Britain's wealthiest man has been a Manchester United (MANU) fan since childhood. He is no stranger to sports or football. Jim Ratcliffe is said to have tried to buy a stake in Chelsea two times, and after the first failed attempt in 2019, he went on to take control of the French club Nice," Kemp said.
"Earlier this year, he witnessed yet another failed attempt to acquire Chelsea. His company, INEOS, sponsors the Mercedes F1 team and owns professional cycling and sailing teams."
Experts believe that the Red Devils need a change, and that the club's new manager, Eric Ten Hag cannot be held responsible for their poor current state.
"It is evident that the Dutchman has not been backed by the current owners when it comes to new signings. Allowing Harry Maguire to remain as club captain raised the question of whether Ten Hag is implementing his own ideas or following someone's instructions," Kemp said. "Very few, if any, of the club's business dealings and player transfers of the past decade have proved to be successful in time. If United are to return to their glory days, then an overhaul across the boardroom is a must."
Kemp points out that a spokesperson for Ratcliffe has revealed that the plans are to first acquire a minor stake with a view to taking full control. The process could be fuelled by the United supporters who are planning an anti-Glazer protest ahead of the match against Liverpool this coming Monday.
But Ratcliffe may not be the only one interested in Manchester United (MANU) and this could cause the price of the club to increase.
Related reading