SS&C's Bill Stone: M&A activity will be strong this year, but labour shortage a concern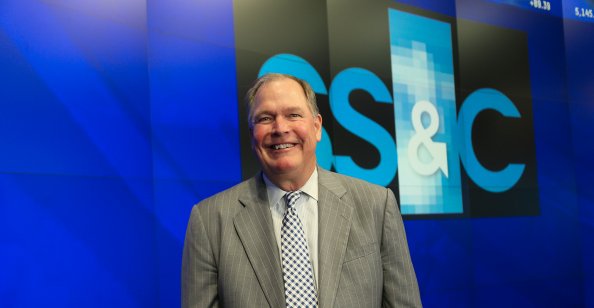 Global mergers & acquisitions activity is set to accelerate this year as economic growth recovers from the pandemic, according to Bill Stone, chief executive officer of SS&C Technologies Holdings, the world's largest hedge fund and private equity administrator that has conducted over 50 M&A deals.
Total deal value already jumped by 18% and volumes by 2% in the final quarter of 2020 from a year earlier, showing signs of a recovery from a slowdown that set in during late 2019 and worsened during the spread of COVID-19.
And the rebound is picking up momentum in 2021 as the world emerges from COVID-19, bringing fresh opportunities, according to SS&C's Stone. His company, which is also the largest mutual fund transfer agency, provides support to financial services and healthcare firms via software and solutions, and currently have a market cap of about $18.7bn.
Stone started the company back in 1986 out of his basement with $20K he had saved up from working at KPMG. Since then, he's led the company through an IPO, the dot-com crash, going private, and another IPO, as well as dozens of acquisitions, including Advent Software ($2.63bn) and DST Systems ($5.4bn).
Capital.com caught up with Stone to discuss his thoughts on M&A activity over the coming years, as well as his views on what awaits the post-pandemic financial sector.
M&A
Stone is very familiar with the world of M&A. Having conducted over 50 successful acquisitions, his company also has an algorithm, the SS&C Intralinks Deal Flow Predictor, which can predict up-and-coming M&A activity.
In 2018, SS&C acquired Intralinks Holdings, Inc, a financial technology provider for the global banking, deal-making and capital market communities. The company facilitates strategic initiatives, which include M&A, capital raising and investor reporting.
Last month, the Intralinks Deal Flow Predictor said M&A volume is expected to grow by more than 10% in the third quarter versus the same period last year.
"The marketplace for good assets is very active, and most of the central banks around the world are printing money to bolster economies around the world – and that means there is access to capital. Interest rates are low, and that's why you will see an increase in M&A in 2021 and 2022," Stone said.
IPOs and market attractiveness
But it's not just M&A activity we expect to see activity in. Having a strong pipeline of IPOs does offer an alternative to M&A deals as an exit path.
For Stone, the future IPO pipeline is strong. However, there is one sector he believes will see a flurry of activity over the coming years.
"I think one of the biggest things in the tech space is cyber security. You have companies that have built algorithms and defences that I think will remain attractive for the next few decades," Stone explained.
When it comes to specific markets and those that offer the most attractive investment opportunities post-pandemic, according to the Venture Capital & Private Equity Country Attractiveness Index, Japan, the US and UK are very lucrative, yet Stone believes there are a few others to watch out for.
"I think India is poised to continue to grow. They will work through the challenges they are having with the pandemic. Mexico, Chile and Brazil are also good, as well as Eastern Europe, which has an attractive software development and analytics business," added Stone.
Additional concerns
The economy certainly took a hit in 2020. As the world begins to recover slowly, some still ask what is next – will we be struck with another COVID outbreak that renders the world useless, or are there other factors we should be concerned about post-pandemic?
"People don't want to commute to central locations to work. They want to work from home, hybrid. Some may decide they don't want to work, which will be bad for the world economy.

"These are the types of issues that corporations, small business, governments, everyone will have to deal with. Those are the concerns I have," Stone said.
Read more: Four pandemic-related factors linked to US job shortages