Lowe's (LOW) trades 10% higher on earnings beat, raises full-year outlook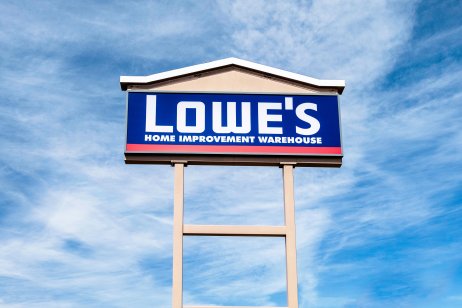 Lowe's beat both per-share earnings and revenue estimates in third-quarter results on Wednesday, on continued strong demand for home improvements.
The company reported net earnings of $1.9bn and diluted earnings per share of $2.73, beating analysts' estimates of $2.35.
Total sales came in at $22.9bn – topping revenue estimates of $22.1bn.
The stock moved 10% higher in pre-market trading to $254.01, from Tuesday's $244.78 closing share price, after closing up 4.20% Tuesday. Lowe's trades on the NYSE under the ticker LOW.
The North Carolina-based home improvement retailer also increased its full-year 2021 outlook on continued sales momentum to begin the fourth quarter.
Lowe's now expects $95bn in revenue for 2021 versus previous estimates of $92bn, a 33% increase over the past two years.
"Our momentum continued this quarter, with US sales comps up nearly 34% on a two-year basis, as our Total Home strategy is resonating with the Pro and DIY customer alike," said Lowe's Marvin R. Ellison in a prepared statement. "In the quarter, we drove over 16% growth in Pro and 25% on Lowes.com."
Transition to multi-channel structure
In the post-earnings conference call, Ellison noted Lowe's planned transition away from its traditional retail channels to a more regional, multi-channel structure. Calling the traditional retail sales model inefficient, Ellison noted Lowe's plans to complete the transition nationwide in 18 months.
"We are expanding our fulfilment capabilities to meet the increasing demand for omni-channel shopping solutions," Ellison said, noting the conversion of its second market-based delivery model in the Ohio Valley region.
The transition allows Lowe's to bypass retail locations and deliver directly to consumers. "This replaces the legacy store-delivery model, which is highly inefficient and allows each store to function as its own distribution node," Ellison added.
Focus on Boomers
Driving this shift is growing demand for do-it-yourself home renovations among the Baby Boomer generation. "After Labour Day there was a 16% DIY sales increase as kids returned to school and weekend home improvement projects increased."
Ellison then announced a new initiative aimed at the Baby Boomer generation, who increasingly want to age at home. Dubbed Lowe's Livable Home Product, the collaboration with retirees association AARP will educate the Baby Boomer generation to retrofit their homes with fixtures such as walk-in bathtubs.
Managing the supply chain
On the same call, CFO Dave Denton said of global supply-chain disruptions and higher operating costs in general: "We are not immune from these higher costs but we are in a good position to absorb higher costs."
Noting Lowe's size and national presence he added: "We are fortunate to leverage scale to secure shipping and inventory supply to flow products quickly to the right areas."
Read more: Walmart up on results and guidance upgrade