There are many reasons why a person's trading performance can suffer. Many are beyond our control, as they are external, such as political and economic events. However, by developing a greater understanding of the internal factors that affect decision making a person can improve their trading ability. Loss aversion is one such important cognitive factor.
Keep reading to find out what loss aversion bias really is and how to avoid it when trading.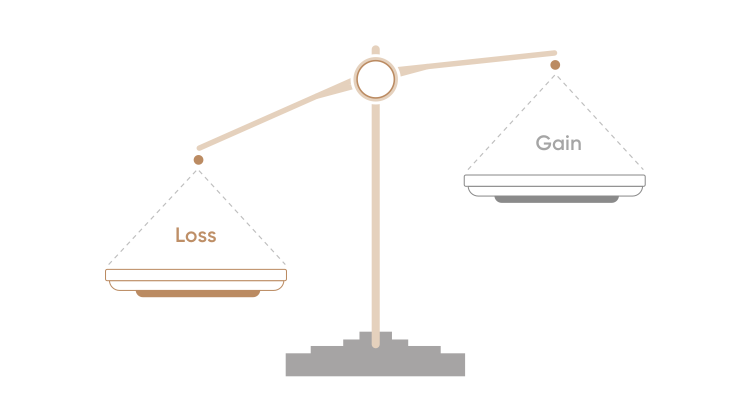 What is loss aversion?
Loss aversion bias is the irrational belief that losses are bigger than similar-sized winnings. Simply put, loss aversion is when a person would rather avoid losses than to achieve gains. We commonly tend to believe that even if the odds are the same for either scenario, it is better not to lose $100 than to find $100. Many studies have shown that most people tend to feel the pain of loss more intensely than we do the pleasure of a gain. The emotional value attached to a loss prevents a person from making logical decisions.
Loss aversion is a natural human tendency, but it can bring havoc to your trading account if you do not learn how to manage this psychological issue. This bias affects all decision making but is often more pronounced when your personal hard-earned cash is at stake. Let us take a look at one such example.
A trader has invested in a market, believing it will soon rise. Eventually, it falls. He keeps waiting for the situation to turn around in his favour, meanwhile, the market continues to tumble.
Instead of closing the trade and cutting his losses, the trader continues to wait it out, afraid of losing the money he has already invested. He tells himself he will get out once he loses a certain amount of money, but instead of that happening, he holds the trade and let the loss grow.
It is believed that the reason behind this behaviour is that once the trade is closed, the loss is realised, and the trader understands there is no chance to get the money back on that particular trade. The result not only means the trader has lost what he has already invested, but he also continues to lose more.
As a matter of fact, loss aversion causes you to deviate from your initial trading strategy. The problem with it is that while not adhering to risk management rules, you let your losses become bigger than originally calculated. Those unforeseen additional losses can quickly turn a profitable system into a mess. Truth be told, none of us likes to lose. But by falling victim to loss aversion, your trading method is no longer based on cold-blooded calculations, causing the results to be rather inconsistent and poor.
Loss aversion bias in trading and investing
As human beings, it is very natural for us to feel a loss. And as traders or investors, a bad experience with money can make us even more cautious. Unfortunately, some handle loss rather more badly than others.
Often, many will stay obsessively focused on one investment that is losing money, even if the rest of the portfolio is in the black. In his book Common Stocks and Uncommon Profits, Philip Fisher shared his opinion about loss aversion in behavioural finance: "More money has probably been lost by investors holding a stock they really did not want until they could, 'at least come out even' than from any other single reason." Typically, the best response to a losing trade is to sell and cut your losses directly. However, a loss aversion bias might prevent you from doing so as the loss is always a shock.
Loss aversion can cause huge pressure not to sell, or to cling onto a stock that is falling in value. Because of this bias, you might start thinking that the stock or trade will improve in the long-term, even when there is no rational reason to believe this. This cognitive bias is rooted in the hope of a turnaround.
This bias can be quite dangerous as it forces you to make decisions driven by your emotions and limits the chance to move on to the next opportunity. In its core, loss aversion does not accept that losses are just another normal part of a trader's everyday life. Therefore, it is, in fact, a powerful force in stock market psychology.
In trading, loss aversion suppresses the trader's ability to move on and seek new achievements, or at least prevent further losses. It also causes traders to deviate from their original trading strategy, which can mean exiting potentially successful trades early, afraid of possible losses. Loss-averse traders tend to set stop-losses too tightly or change previously set stop levels when the wider price is on the horizon.
Causes of loss aversion in trading
We fear loss because our brain does not give the same weight to $100 gain as it does to a $100 loss. According to Kahneman and Tversky's studies conducted in 1979, our brain typically assigns 2.5 times the weight to a loss, as it does to a gain. In their research, participants were asked if they preferred a $7,500 loss, or they could "roll the dice" for a 75 per cent chance of losing $10,000 and a 25 per cent chance of losing $0. As a matter of fact, most chosen to gamble.
When it comes to trading, you can either accept your loss and quit, or let it continuously grow. If you choose the latter, there is a possibility that you may get back on track, but there is also a good chance you will end up losing even more.
The real problem is if you get back to "even" after this kind of gambling, your irrational behaviour is rewarded. You know that you have done the wrong thing by going against your stop-loss rules and trading plan, however, it still worked out. It is a trap that lures in many new traders.
The psychology behind this behavioural bias is extensive. However, there are three main loss aversion biases that you should be aware of when trading:
Status quo bias. This bias leaks complacency. It is highly biased towards not being on the ball and simply going with the flow. While doing very little is often a good idea, it can not be an excellent idea sometimes, especially when events are changing fast. Remember, when investing or trading, you have to respond to these moves. So, pay attention to everything and be prepared to change your view at any time.
Disposition bias. This is a tendency to sell good performing assets early and hang on to losing ones. This bias has its roots in an inability to accept our daily mistakes. It also has strong links to timidity and pride.
Prospect theory bias. This theory states that some people tend to value gains and losses in different ways. Once again referring to Tversky and Kahneman's studies, when presented with the same option in two different ways, there is a greater chance of someone choosing the offering with greater certainty. In other words, if offered $100 or the chance of $150 with a 10 per cent possibility of losing it, the $100 is typically chosen.
How to avoid loss aversion bias?
First of all, keep in mind that a good trader needs volatility and risk. Without these two, trading would not exist. Therefore, losing is just a part of the plan. Once you master this psychological trap, you will be able to cope with most trading situations.
Like all emotional biases, loss aversion is closely tied to human feelings and that makes it particularly tricky to break. You need to not only understand and accept it but also practice dealing with these emotions on a daily basis. The best way to overcome the feeling of loss aversion and build discipline is to stay in a trade for a longer time, allowing the price to hit a stop level or target, which you defined in the beginning. Stay patient and learn to deal with your emotions, knowing that your target is set, your risk is under control and your plan is in progress. As you become more disciplined, and the loss aversion gradually disappears, you can finally consider more advanced trading strategies, such as actively participating in and managing your trades.
Knowing when to quit is a life skill. With trading and investing, a clean exit is mostly a combination of judgement and luck.
Here are some friendly reminders:
Trading is an emotional exercise. If you let emotions and innate cognitive biases take over your rationality and logic, your trading performance is likely to suffer. Good trading management is about protecting and managing losses, which is why stop-loss tools are essential if you have long-term goals.
Losses and winnings are like the Yin and Yang of everyday trading. One cannot exist without the other. Every professional trader makes losses, learns from his mistakes and moves on to another opportunity.
Always follow your plan and have an exit strategy hidden up your sleeve.
And keep in mind: getting things wrong is normal.