Lordstown Motors, Foxconn shares tumble on factory sale news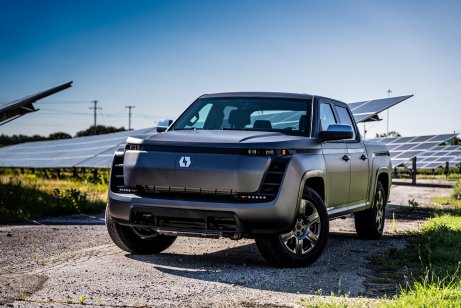 Electric vehicle (EV) startup Lordstown Motors announced that it entered into an agreement in principle with Foxconn that could include the sale of its name-sake automotive factory for $230m (£169.7m).
Lordstown Motors was trading up as much as 9% in the pre-market Friday. But that momentum reversed at the New York open with shares now down nearly 14%, or 1.12 points, to less than $7 per share.
Taiwan-based Hon Hai Precision Industry, better known as Foxconn Technology, is trading down by some 3.8% on the Taiwan Stock Exchange.
Setbacks
The EV startup has struggled to get its much-hyped electric pick-up truck, called the Endurance, onto roads as it burns through the $700m it raised from investors when it went public through a merger with special-purpose acquisition company DiamondPeak Holdings a year ago.
Through the agreement, Lordstown Motors hopes to utilize Foxconn's expertise as a contract manufacturer of iPhones and its supply chain management skills to push forward the mass production of the Endurance, the EV maker said in a press release.
"The partnership would allow Lordstown Motors to take advantage of Foxconn's extensive manufacturing expertise and cost-efficient supply chain, while freeing up Lordstown Motors to focus on bringing the Endurance to market, developing service offerings for our fleet customers and designing and developing innovative new vehicle models," Daniel Ninivaggi, CEO of Lordstown Motors, said in the release.
Endurance endures
Lordstown Motors said the agreement, which is non-binding and subject to negotiation, would still allow the company to use the factory to make the Endurance by leasing back space from Foxconn if the sale was completed.
The agreement also states that Foxconn would essentially manufacture the Endurance at the Lordstown factory. While Foxconn does have a track record of manufacturing expertise, in recent years it has been mired by its failures to build a $10bn electronics manufacturing hub in Wisconsin.
Lordstown Motors has consistently pushed back the release of its electric truck ever since buying the automotive plant located just outside of Youngstown, Ohio, for some $20m from General Motors in 2019. The plant itself became a political flashpoint for former US President Donald Trump who had publicly criticized GM over its closure.
At a media event in June, the company promised it was on track to produce 1,000 trucks by year-end, but by its second-quarter earnings report in August that commitment was lowered to beginning limited production at the end of September. In a filing with the US Securities and Exchange Commission on Thursday the company said for the rest of the year and into next year it plans to build a "limited number of vehicles" that will not be made available to customers and instead will be used for testing, validation, verification and regulatory approvals.
Financial agreements
As part of the agreement, Foxconn purchased $50m of common stock at a price of $6.8983 per share and agreed to hold it for an undisclosed amount of time.
Upon closing the deal, Lordstown Motors also agreed to issue warrants to Foxconn for the purchase of 1.7 million shares of common stock at an exercise price of $10.50 per share redeemable until the third anniversary of the closing, according to the press release.
Lordstown Motors also made some financial updates including an increase to its expenses not directly tied to making its product. Those costs, known as selling, general and administrative expenses, are set to rise to $105m-$120m, up from $95m­-$105m, primarily due to higher legal and professional fees. Research and development expenditures are also on the rise to $320m-$340m, up from $310m-$320m.
The company's cash balance sits at $210m–$240m as of Thursday, which includes $20m of proceeds from the issuance of common stock in August and September. The balance excludes proceeds from Foxconn's purchase of $50m of the company's common stock.
Read more: Lordstown misses EPS target, reports 8.2m Q2 loss