Lockdown effect on energy prices offset by vaccine protection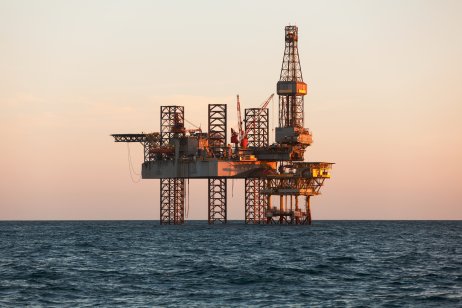 New lockdown measures across Europe continue to dampen demand prospects. Many countries such as Germany have strict holiday travel restrictions in place, while the Netherlands is coming into its fourth week of nationwide lockdown.
The downward effect of these restrictions appears to be limited for the moment, partially due to the benefits of vaccines.
Moderna and Pfizer have both said studies show their booster shots are protective against the new Covid variant, Omicron. Europe now also has additional supplies of vaccines now that Novavax has been approved by the European Union.
Oil price decline
The price of oil has declined about 3% since the end of last week, with Brent crude and US WTI crude trading at $72.61 and $69.74 per barrel respectively. US natural gas traded at $3.68 per million British thermal units, also roughly a 3% drop from last week.
The US Energy Information Administration (EIA) published a report on crude oil investments being low despite the high oil prices. The decline has been in motion since 2019 and accelerated in 2020.
Historically, the ratio of capital expenditure to cash flow has been more than 100%, highlighting the capital-intensive aspect of oil exploration. However the third quarter of 2021 has seen this ratio fall to 41% due to higher growth in cash than capital input.
What is your sentiment on Natural Gas?
Vote to see Traders sentiment!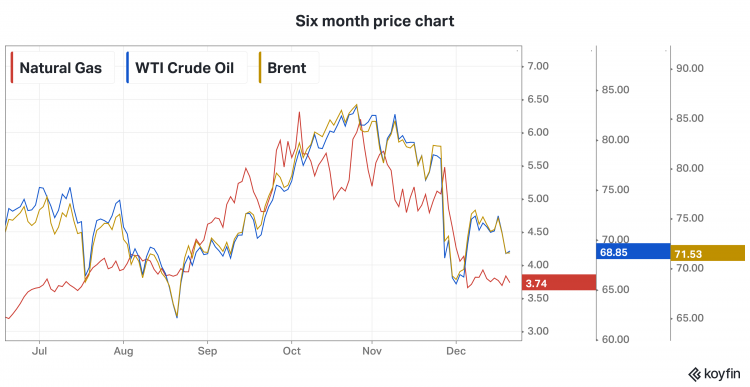 Six-month energy commodity spot price as of 21 December 2021 – Credit: Koyfin
Performance
Day range: $71.25 - $72.50
52-week range: $49.13 - $86.70
52-week price change: 41.39%
10-day exponential moving average (EMA): $73.32
14-day relative strength index (RSI): 38.13
Day range: $68.56 - $69.78
52-week range: $46.16 - £83.83
52-week price change: 42.92%
10-day exponential moving average (EMA): $70.34
14-day relative strength index (RSI): 40.03
Day range: $3.71 - $3.86
52-week range: $2.26 - $6.47
52-week price change: 42.55%
10-day exponential moving average (EMA): $3.85
14-day relative strength index (RSI): 37.51
Read more: Fed tightening means Aussie will stay weak versus the dollar