LNG exports 'bright spot' in struggling natural gas sector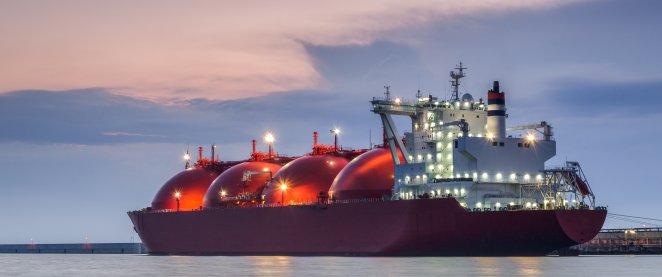 US Senator Elizabeth Warren is leading a small chorus in Washington who want to ban US producers from exporting natural gas, which is the basis of liquified natural gas, or LNG.
Warren has questioned why so much of the heating fuel is being exported heading into winter as Americans face rising utility bills. The Massachusetts' Democrat has accused natural gas producers of raising prices, reaping record profits and "gaming the system" by keeping production low and increasing exports, instead of ensuring that there is enough domestic supply.
When LNG is returned to its gaseous state, it is used as a major heating source for residential, commercial and industrial buildings, generating electricity and manufacturing a wide variety of products.
For the natural gas industry, after the recent nosedive of prices, LNG exports are a silver lining in an otherwise cloudy immediate outlook. Recent prices have whiplashed from a high of $6.47 MMBtu on 6 October to a low of below $3 MMBtu earlier this month.
As of 14:30 EST Monday (UTC-5) natural gas prices, the base stock of LNG, were up nearly 3.7%, to $3.83 MMBtu.
Future demand
LNG's demand is expected to climb next year above 12 billion cubic feet per day. The US Energy Information Administration forecasts exports to average 8.5 billion cubic feet daily this year, increasing to 9.2 Bcf/d next year compared with average gross pipeline exports of 8.8 Bcf/d in 2021 and 8.9 Bcf/d in 2022.
Eli Ruben, senior energy analyst at EBW AnalyticsGroup, told Capital.com LNG exports are the "bright spot" in the natural gas market now.
Since November of last year, all six domestic LNG export facilities are operating at near capacity, according to the EIA.
What is your sentiment on Natural Gas?
Vote to see Traders sentiment!
Bad for business
Curtailing US exports of LNG would be harmful for the natural gas industry, already struggling given the mild winter.
An "imposed disruption of LNG supply at a time of extreme stress in global gas markets would have a highly destabilising effect both politically and commercially. Such a move risks higher prices for US consumers while undermining United States interests and emissions-reduction goals abroad," according to an IHS Markit report.
LNG exports are also a vital component of the energy trade between the United States and China, the report noted. Recognition that energy trade could help offset the trade imbalance between the two nations was a key driver behind their 2020 economic and trade agreement. In the agreement, China committed to spending at least $200 billion more on US imports during 2020-2021 compared to 2017, $52bn of which was designated for energy products, including LNG.
The onset of a ban on US LNG exports would also be a major hindrance to carbon-reduction efforts in several countries, particularly in Asia where burning coal for power generation remains the default option. Withholding supply of US LNG from the global market would make it more difficult for countries like China, India and many others to transition to gas and other lower-emission sources, according to the IHS Markit report.
Severe dislocation
A stoppage of US LNG exports would create a severe dislocation between supply and demand in the US natural gas market that would stifle investments in the supply, the report said. The likely result would be greater volatility and higher prices, not lower ones, said Matthew Palmer, senior director of global gas for IHS Markit. Indeed, such a stoppage would recreate conditions of the Covid-induced cycle that caused prices to rise to their current levels in the first place, the report said.
"We have already learned from the Covid-19 crisis the harmful impacts of suppressed upstream investment," Palmer told Capital.com. "Demand has emerged sprinting while supply is limping to catch up. Increasing supply, not muffling demand, is the right response to meet the needs of consumers in a recovering economy and to support economic growth. Otherwise, the cycle repeats itself".
The imposition of an exports ban would also exacerbate the current energy crisis in Europe and Asia, undermining the global interests of the United States, the report said.
The US is the third-largest exporter of LNG globally, delivering supplies to more than 35 countries, according to the EIA.
"You cannot engineer a stoppage—even a partial one—without dealing a major blow to investor confidence and undermining relations with key partners who would see such a move as an arbitrary and damaging change to the rules of the game, as well as a negative shock to their economies," said Palmer.
Roadblocks in Appalachia
The Appalachian Basin, which includes southwestern Pennsylvania, southeastern Ohio and northern and central West Virginia, produces about a third of US natural gas supplies. However, political and legal roadblocks have prevented construction of new pipelines. That is having an impact on LNG development and in turn having a negative effect on exports.
Asia is the US's biggest customer, but according to the EIA, the region is well stocked for winter. However, producers have found large customers in energy-starved Europe.
An industry veteran, who asked not to be identified to speak more freely, confirmed to Capital.com that cargo ships loaded with LNG are being rerouted from Asia to Europe.
"Europe is simply bidding gas away from Asia to not run out of electricity," Goldman Sachs energy analyst Damien Courvalin said in a call with reporters Friday. Temperatures in Europe are dipping, but so far it has been a warm winter in Asia, he said.
Read more: US sees natural gas exports steadily increase