Lira continues to fall on Erdogan's push for lower interest rates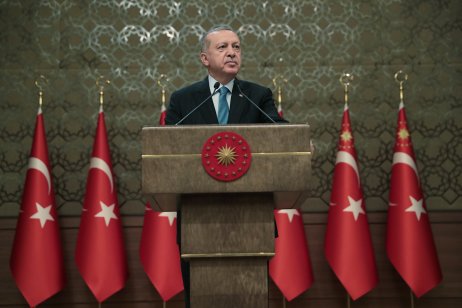 The Turkish lira continued its slide in early morning hours in Asia on Wednesday as President Recep Tayyip Erdogan continued to defend the sharp interest rate cuts by the central bank last week.
The USD/TRY was trading at 12.7066, 0.91% lower than yesterday's close of 12.8238. On Tuesday, the Lira sank 15% during intraday trading as the USD/TRY hit a record high of 13.45, before recovering later in the day.
Last week, the Central Bank of the Republic of Turkey (CBRT) reduced interest rates by a further 100 basis points, its third rate cut in as many months. Since September, the CBRT has cut rates by 400 basis points to 15%, despite rising inflation, contrary to typical economic theory.
Rate cuts even as inflation rises
The CBRT's moves have been encouraged by Erdogan, who is confident that the Turkish economy will recover with lower interest rates. The combination has had a devastating effect on the currency.
Ever since the CBRT started cutting rates in September, the Lira has weakened by more than 30% against the US dollar.
"USD/TRY is surging on comments by President Erdogan yesterday that Turkey has abandoned old policies of high interest rates in the name of slowing inflation. In a nutshell, Erdogan believes that he can achieve higher growth, rising investments and lower unemployment by lowering borrowing costs. He is ok with a weaker TRY because it will help keep the current account in check. He intends to keep inflation low through regulatory crackdowns on 'inexplicable' price increases," Per Hammarlund, chief EM strategist at Skandinaviska Enskilda Banken, wrote in a note.
What is your sentiment on USD/TRY?
Vote to see Traders sentiment!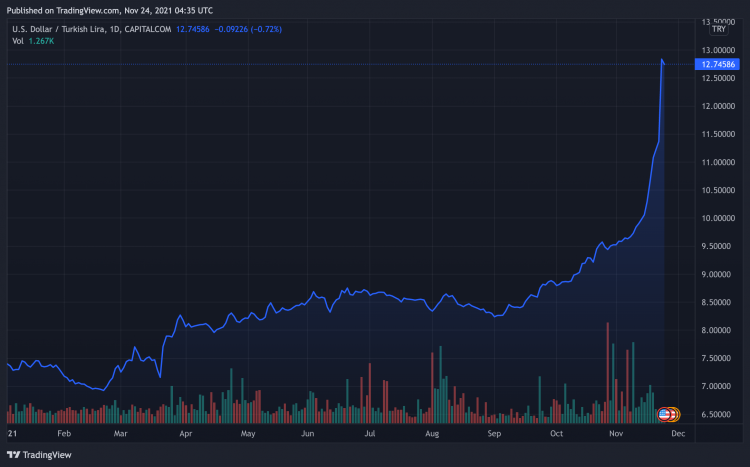 USD/TRY exchange rate movement in 2021 - Credit: TradingView
No sign of change
Hammarlund added that he does not "bet upon" the central bank or Erdogan signalling a change in policy.
The Turkish president's rigid policies have come in for criticism from all quarters. Soon after the CBRT's latest cut last week, former central bank deputy governor Semih Tumen wrote on Twitter that the "irrational experiment" should be abandoned and the central bank should return to policies that will protect the value of the Turkish lira.
Jonas Goltermann, senior markets economist at Capital Economics, said that usually falls as large as the lira's current slide are corrected through interest rate hikes and central banks' intervention in the currency market.
Worse is yet to come
However, with the CBRT unwilling to raise rates, the Turkish lira is now "far below any plausible estimate of its fair value".
According to Goltermann, things may still get worse for the lira before they start to get any better.
Read more: Turkish lira hits record low as Erdogan expels 10 ambassadors