Lab-grown meat: Can investors have their meat and eat it?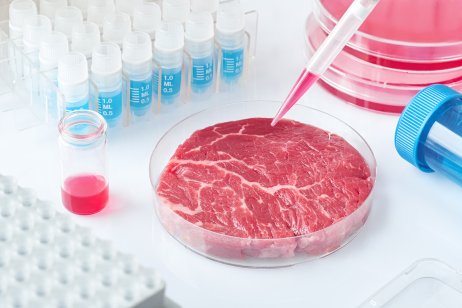 Bill Gates believes in it, Richard Branson swears by it and both billionaires have invested in it.
What are we talking about? Lab-grown meat. And it's coming to a shop, restaurant, supermarket and stock exchange near you – very soon.
Population growth
Lab-grown meat (also known as cultured meat) is meat grown in laboratories from animal cells, and experts believe it will be a regular part of our diet in the not-too-distant future.
As the population continues to grow, the need to source enough food for everyone also rises. Investors such as Bill Gates have said that it's not possible to produce enough meat for nine billion people.
According to data from Facts and Factors market research, the global cultured meat market size and share revenue is expected to grow from $103m in 2020 to $248m by 2026, with a compound annual growth rate of 15.7%.
With a growing market and endorsement from Branson and Gates, companies are certainly capitalising on this new trend. In April 2021, Israeli start-up MeaTech raised $25m through its listing on the Nasdaq and was the first lab-grown meat company listed on a US stock exchange. And MeaTech is not the only one looking to disrupt the market.
Worthy investment or fad?
CULT Food Science is an innovative investment platform with an exclusive focus on clean, lab-grown food.
The group is preparing for its initial public offering (IPO) and it follows in the footsteps of similar companies starting to float on the stock market.
With ambitious plans to acquire more organisations and tap into the clean meat sector, CULT is looking to expand, but how ready are the industry, consumers and stock market for such a revolutionary idea?
Capital.com caught up with the company's senior advisor, Rob Harris, to talk about where it is heading and why.
Why are you in the business of clean or lab-grown meat?
We are in the business of investing and supporting companies across the cellular agriculture industry. These companies work to solve all sorts of issues around our traditional food system. Mainly by applying new and innovative ways to create proteins, fats, sugars and other key components in a sustainable way. The need for this new food system is to alleviate the unsustainable pressures we have built up in our traditional food system and move towards providing the same taste, texture and nutrients we have all become accustomed to, but in a much more sustainable way.

You are about to head to an initial public offering (IPO). What will you use the investment money for and why?
CULT is doing what is called a direct listing. This means we are not actually taking on more money at the time of our listing. The use of these funds is to continue to invest in new and emerging verticals within the cellular agriculture space and help nurture research to foster intellectual property creation.
Why have you decided to become listed now?
We saw a huge void in the market where many of the future consumers of clean meat, Generation Z, do not have the ability to invest in these early-stage companies. This is largely due to investor protection laws and the requirement to be accredited. We felt that it was important to democratise this ownership and allow the early adopters of this technology the ability to also own and participate in the maturing of this industry.
What country markets are key for you and why?
From a listing standpoint, we will first trade in Canada. From there we will likely consider moving to a potential US listing.

Any mergers and acquisitions on the horizon?
Our sole business is predicated around making key investments in companies we see value in. So yes, we absolutely will continue to add exciting companies to our portfolio and hopefully will remain doing so for many years to come.
What does the future of the industry look like to you and why?
I believe over the next few years the industry will be on a steep educational curve. The pains it is facing revolve around the technology finding scale and price parity with traditional products. This is also a time in which, as an industry, we work to shape health standards, best practices and legal frameworks with policy makers. Once it matures past this stage of its lifecycle, I believe it will enter a very exciting phase, which will see increasingly sophisticated product developments and a broader commercialisation at a consumer level. Clean meat alternatives will no longer be hard to find and difficult to purchase at local grocery stores.

Any forecasts for revenue and growth?
Our investment thesis is predicated around gaining early exposure to a very promising growth market. In the near term, many of our portfolio companies are in research and development (R&D) mode. We shouldn't expect revenue generation to occur until we transition from R&D to scale up. Some of our investments are closer than others but, at this time, I can't comment on exactly when we aim to see revenue generation. Our core focus remains on building our investment portfolio in a very exciting industry that is highly underrepresented at a public level.
Read more: Brazil coffee exports drain, while Honduras is brewing