Kraft Heinz sustains sales momentum from pandemic demand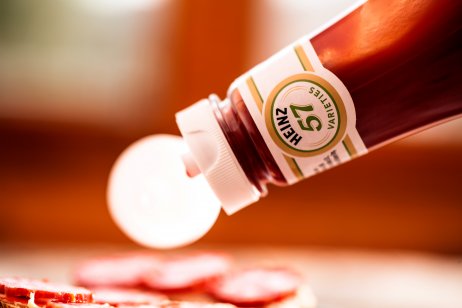 Packaged foods maker Kraft Heinz increased its earnings per share in its latest third-quarter earnings report, reflecting higher prices and sustained demand for quick at-home meal options even as consumers emerge from pandemic lockdowns.
Overall net sales declined by 1.8% to $6.3bn (£4.5bn) driven by a 4% decline in US sales. However, organic sales – which excludes sales from acquisitions within the last year – were up 1.3%.
Diluted earnings per share increased 20.4% to 59 cents per share while net income increased 23% to $736m.
Inflation
Inflationary pressures and supply chain constraints have caused Kraft and several other food companies to raise prices in recent months as the companies work through these bottlenecks.
Kraft, which owns brands such as Jell-O, Oscar Myer and Velveeta, said it raised prices across its various product categories by 1.5% year over year. Management expects gross inflation effects on its basket of products to accelerate to the mid-to-high single digit range by year end 2021 and that inflation will persist at least through the first half of next year.
"When we shared Q2 results in August, the world had felt some optimism around the pandemic as vaccines continued to roll out. But supply chain disruptions, labour issues, and raw material inflation had begun to take root," Miguel Patricio, CEO of Kraft Heinz, said in prepared remarks. "Today, all of those issues remain, and they have evolved to be more challenging not only for us, but for every company in our industry."
What is your sentiment on KHC?
Vote to see Traders sentiment!
Pandemic consumption
Kraft's sales soared during the worst of the pandemic as consumers stocked up on shelf-stable foods amid lockdowns.
Company management is now saying it was able to sustain the vast majority of those sales resulting in a 10% bigger business overall versus 2019.
Those gains come despite Kraft Heinz losing its partnership with McDonald's to manufacture and distribute its McCafe coffee brand in retail stores.
At the same time, the company's food service channel sales grew by more than 20% as restaurants return to regular business and Kraft Heinz makes inroads with new players such as ghost kitchens.
"(Our profile) shows that several pandemic-inspired cooking and eating behaviours are sticking even as mobility increases and restrictions lift," Patricio said.
Expansion and the future
Kraft Heinz continues to be hotly debated among forecasters and analysts, and while it played up its confidence and durability amid some encouraging developments, Tuesday's events seemed to do little to move the needle long-term.

One aspect of a conference call with investors today that offered some specificity and promise was the potential of two recent acquisitions, Turkish brand Assan and Brazilian label Hemmer. The company's International Zone president Rafael Olveira said both entities operated in strong-margin categories, and, at a cost of around $100m each, could be solid values as means to expand consumer reach globally.
Olveira said Hemmer would strengthen distribution in Brazil and that its portfolio could be leveraged to build scale in the region more quickly in both the retail and food service sectors.
"With Assan, we will not only be able to build Heinz as a bigger brand in Turkey, but we'll have capacity to grow much faster across the Middle East," Olveira said.
Executives from the company spoke largely in broad terms on the call, but noted that some key indicators were positive. They also said post-pandemic recovery in western Europe was strong and that they felt confident moving forward with the company's core tenets and breadth of brands.
"Over the long term, the fact that we are driving household penetrations and repeat rates shows the strength of our portfolio and the strength of our business," US Zone president Carlos Abrams-Rivera said on the call.
Read more: Kraft Heinz stock forecast: Through the pandemic and beyond
The difference between stocks and CFDs:
The main difference between CFD trading and stock trading is that you don't own the underlying stock when you trade on an individual stock CFD.
With CFDs, you never actually buy or sell the underlying asset that you've chosen to trade. You can still benefit if the market moves in your favour, or make a loss if it moves against you. However, with traditional stock trading you enter a contract to exchange the legal ownership of the individual shares for money, and you own this equity.
CFDs are leveraged products, which means that you only need to deposit a percentage of the full value of the CFD trade in order to open a position. But with traditional stock trading, you buy the shares for the full amount. In the UK, there is no stamp duty on CFD trading, but there is when you buy stocks.
CFDs attract overnight costs to hold the trades, (unless you use 1-1 leverage) which makes them more suited to short-term trading opportunities. Stocks are more normally bought and held for longer. You might also pay a stockbroker commission or fees when buying and selling stocks.