Kingfisher sees profits soar 70% on DIY boom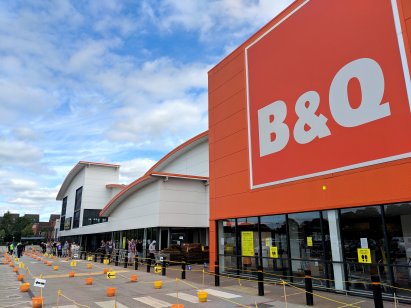 Kingfisher, the UK home improvement retailer, saw its profits soar 70% after Covid-19 triggered a do-it-yourself boom.
The owner of B&Q and Screwfix revealed statutory pre-tax profits of £677m ($926.5m) on sales of £7.1bn for the six months to the end of July 2021.
It also increased its interim dividend by almost 40% to 3.8p per share and announced a £300m share buyback programme, reflecting its confidence in the outlook.
Strong first half
CEO Thierry Garnier branded it a "very strong first half of the year," with growth across all categories and channels, particularly e-commerce.
"This is a testament to the rapid progress being made against our strategic priorities which continue to drive customer engagement and an improved competitive position in our key markets," Garnier said.
He said the business had navigated well through the challenging operational impacts of the pandemic, retaining good product availability at competitive prices and operating safely.
Financial highlights
In a statement to the London Stock Exchange, Kingfisher said sales were up 22.2% in constant currency, driven by strong demand for home improvement in retail and trade channels.
It also said the fall-off in sales during the second half wouldn't be as bad as previously feared, with a decline of up to 7% now predicted, down from the previous 5% to 15% range.
However, the company's share price had still slipped 5% to 349p by mid-morning on the London markets.
Tough act to follow
According to Russ Mould, investment director at AJ Bell, the company has a really tough act to follow in the second half of its financial year.
"In the latter part of lockdown, it was one of the few retailers able to operate which gave it an obvious advantage which no longer exists with consumers now able to spend on things like going out and socialising," he said.
While Kingfisher is expecting something of a drop-off, Mould suggests the decline is looking shallower than previously expected which is significant.
"The company seems still to be benefiting from the home improvement drive as the work from home trend and being stuck indoors caused many people to have a rethink about their living space," he added.
Beneficial trends
Looking ahead, Kingfisher's Garnier identified new trends that he believes will be supportive to the industry over the longer-term.
"These include people spending more time working from home, the emergence of a new generation of DIYers, the need for greener homes, and a strong housing market," he said.
Kingfisher, he pointed out, was well placed to capitalise on these trends and deliver sustained outperformance.
Growth plans
Garnier also highlighted plans to accelerate investments to capitalise on attractive growth opportunities, with the business in a strong position.
"We are accelerating Screwfix's expansion in the UK and Ireland, and will open our first Screwfix stores in France in 2022," he said.
It is also accelerating its digital investments, with new initiatives to provide broader choice, as well as "moving faster" with expansion plans for its Castorama Poland subsidiary.
Read more: Kingfisher shares fall as investors turn sour on the stock