Kingfisher (KGF) sales slip as spending normalises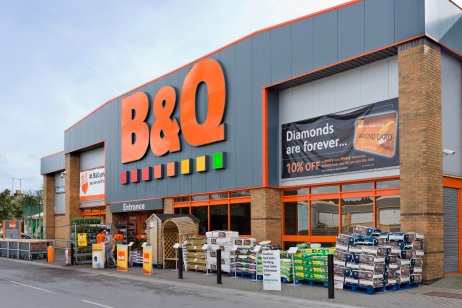 Kingfisher Group pointed to a strong sales performance on a two-year basis across both retail and trade channels In its third-quarter trading statement released today.
The British-based DIY retail group, which owns brands such as B&Q and Screwfix in the UK and Ireland as well as Castorama and Brico Depot in France, also highlighted a good start to the fourth quarter. It said that as a result of this positive momentum, it expected second-half like-for-like sales and full-year adjusted pre-tax profit to be towards the higher end of previously guided ranges – £910m to £950m ($1.22bn to $1.27bn).
In the short term, however, total group sales have slipped, falling by 6.3% year on year in the three months to the end of October, from £3.46bn to £3.24bn.
The company pointed out that this represents "resilient demand against very strong prior-year comparatives," an allusion to its stellar retail figures in 2020 when lockdowns resulted in a DIY boom. It was keen to highlight that the figures compare favourably with pre-pandemic sales – they were up 15% compared to the same period in 2019.
Normalised consumer spending
Commenting on the latest numbers CEO Thierry Garnier said he was encouraged by the two-year like-for-like sales growth of 15% and sales trends generally given the backdrop of an increasingly "normalised" consumer spending environment.
He added: "We continue to grow our market share, driven by strong execution of our new strategy. We are pushing forward with investments in key areas of the business to drive long-term growth, including further enhancements to our e-commerce proposition and Screwfix's launch in France. And we are progressing with our clear plans to deliver on our carbon reduction targets, aligned to 1.5°C to 2025, and to become 'forest positive' by the same year".
Garnier concluded: "We have entered our final quarter with positive momentum and now expect sales and profits to be towards the higher end of our previously guided ranges. Overall, with strong execution and supportive new long-term trends for our industry, we remain confident of continued outperformance of our markets."
Kingfisher's stock rose modestly when the market opened in London – it was up by 0.6% at 337.20p.
Read more: UK house prices fall in a bid to find buyers