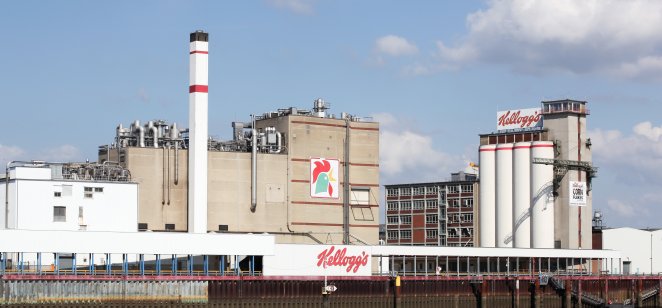 Kellogg's decision to split into three separate companies, each focusing on a different core strength, is viewed as a positive divesture for the consumer staple company – acting as sort of a stock split, with some suggesting it serves as an opportunity to separate the wheat of its snacks unit from the chaff of its underperforming cereal and plant-based foods unit.
Kellogg Co. (NYSE: K) price chart
"The decision has been taken to allow the company – or companies – to focus squarely on their key products and at least provides a change in strategy that appears to have been given the market seal of approval," said IG Chief Market Analyst Chris Beauchamp. "Its earnings reliability and relative stickiness make it a haven of calm. Further volatility over the summer will only boost its appeal."
Kellogg stock is largely unchanged Wednesday, after gaining roughly 2% after the initial announcement Tuesday. After opening the session at $68.50, Kellogg was trading down 0.76% at $68.10 per share in mid-day trading. Kellogg stock trades on the NYSE under the ticker K.
Kellogg Co. (NYSE: K) 1-wk price chart
Kellogg Co. (NYSE: K) 1-wk price chart - Photo: TradingView
Transaction details
Battle Creek, Michigan-based Kellogg announced it would split off its North American cereal brand from its global snacking and plant-based food unit into three independent public companies. The three new companies have not yet been named but are expected to be spun off by year end 2023.
"[T]he Company expects to maintain a strong aggregate dividend and return-on-capital profile across the three businesses," Kellogg said in a statement. "The independent dividend and capital structure policies for each business are expected to be competitive relative to their relevant peer sets."
Capital structures, dividends and corporate management teams were not disclosed, although current CEO Steve Cahillane will be CEO of the snacking company. Additionally, the snacking company will be spun off with an investment-grade debt rating.
Upon completion, shareholders in the North American cereal company will receive shares in both the snacking and plant-based food companies on a pro-rata basis relative to Kellogg holdings.
Like a stock split
With a stock price that traditionally trades under $100 per share, a stock split is not an option for a company like Kellogg, and spinning off its units allows it to, in effect, do the same thing.
"I think retail traders can think about spinoffs much like they do splits," added tastyworks CEO Scott Sheridan. "That's one way companies try and create value in hopes the lower share price will generate greater demand. Breaking up a company with multiple product lines is also an oldie but goodie."
The leading unit of the three is the global snacking company, with $11.4bn (£9.28bn) in revenue last fiscal year, nearly half of which comes from North America. The cereal division contributed $2.40bn of revenue, but has seen sales disrupted by supply-chain disruptions which have hurt its inventory and cost it market share. The plant-based food unit, consisting primarily of the Morningstar Farms brand, contributed $340m in revenue.
What is your sentiment on K?
Vote to see Traders sentiment!
"When business slows and stock prices suffer, management starts looking for ways to 'extract' value" added Sheridan. "Oftentimes, it acts much like a [stock] split with one company being split into multiple companies. The spinoff company may cite something like creating increased efficiency."
Snacks splits from underperforming cereal, plant-based foods
The move will allow Kellog to remove the lagging cereal and plant-based food units from the growing snack-foods division. "This business is expected to be a higher-growth company than today's Kellogg Company, featuring a more growth-oriented portfolio and aided by more focused resources and attention to brand building, innovation, and international expansion of world-class brands, and to building scale in emerging markets" Kellogg added.
"The truth of the matter is that one of these businesses is not like the others," noted daily newsletter the Water Coolest. "Snacks has put asses in the seats, as America's insatiable appetite for pre-gaming meals with sweet or salty treats continues its exponential growth. The cereal biz is flatlining after a pandemic bump. And the plant-based division is doing its best Beyond Meat (BYND) impression."
Beyond Meat Inc. (Nasdaq: BYND) price chart
Rival plant-based food company Beyond Meat, the main comparison in the sector, is currently trading at $24.68 per share, 62% lower year-to-date and off 85% from its $160.28 52-week high.
Further reading: