KC Holdco IPO: KinderCare goes public to repay debt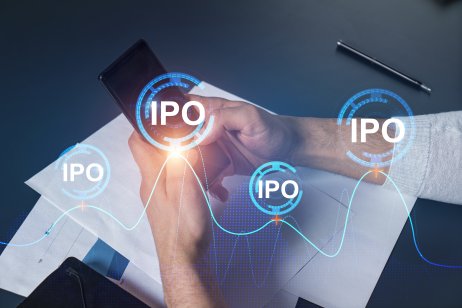 The largest early childhood education provider in the US, KinderCare Education (KC Holdco), will be going public this week. It plans to raise $503m to repay loans.
KC Holdco has filed for an initial public offering (IPO) on the New York Stock Exchange (NYSE). The company will be listed under the ticker symbol 'KLC'.
The KC Holdco (KLC) stock price range is at $18-$21. It plans to offer 25.8 million common shares in the offering.
So, when will KC Holdco go public? The IPO date is scheduled for 18 November.
KC Holdco is planning to use the proceeds raised to repay the $361.9m outstanding loan under its first and second lien facilities. The company also plans to redeem $42.6m of the share of common stock received by members of management from vested Class B units of KC Parent LLC in connection with the reorganisation and to pay fees and expenses related to this offering. The remainder of the proceeds, if any, will be used for general corporate purposes.
After the KinderCare IPO, there will be 140.88 shares outstanding, and the underwriters will have an option to purchase an additional 3,866 million shares.
KC Holdco valuation is expected between $2.5bn to $2.95bn if the outstanding 140.88 million shares were sold at its targeted range. If the underwriters exercise their option to purchase the additional shares in full, the valuation will rise to $3.03bn.
Kindercare going public could be an opportunity for investors looking into the early childhood education space as the area is set to grow with 20% of the 17.5 million American workforce relying on childcare.
"Given KLC's strong rebound from the 2020 pandemic period, large market position and reasonable IPO valuation expectations, the IPO is worth consideration," said analyst Donovan Jones on Seeking Alpha.
Ahead of the KC Holdco IPO date, let's look at the company's business model, revenue and growth strategy to help you navigate the launch. We will also look at the KC Holdco's IPO news affecting the public markets' response.
KC Holdco IPO: what you need to know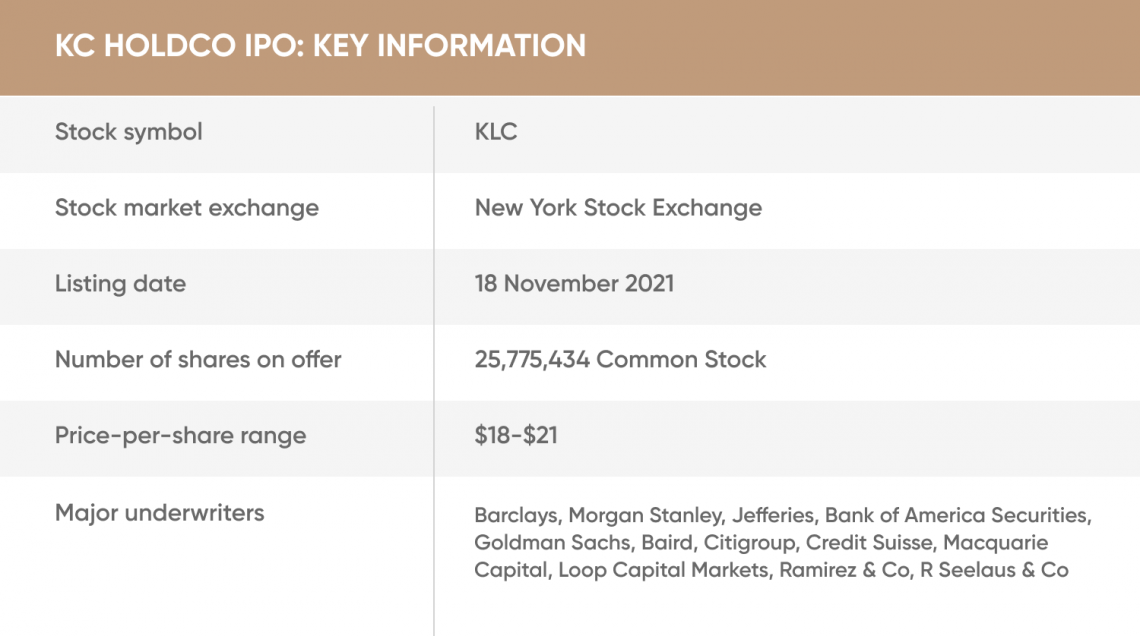 KC Holdco business model
KC Holdco set up its first early childhood education centre in 1969 and has been providing early childhood education for more than 50 years.
According to the company's SEC filing, KC Holdco is the largest private provider of high-quality early childhood education in the US by centre capacity and it provides care for children ranging from 6 weeks old to 12 years.
KC Holdco operates 1,490 early childhood education centres with a capacity of more than 195,000 children. In addition, it provides contracts for more than 650 before- and-after-school sites located in the District of Columbia and 40 states as of 2 October 2021.
The company provides early childhood education and care across three channels: KinderCare Learning Centers (KCLC), KinderCare Education (KCE) at Work and Champions.
KinderCare Learning Centers (KCLC)
KCLC is the largest private provider of community-based early childhood education centers in the US by centre capacity. As of 2 October 2021, KCLC operates approximately 1,400 KCLC centres providing care to children between six weeks and 12 years of age.
According to KC Holdco, most of its KC centres are accredited by accrediting bodies such as the US-based National Association for the Education of Young Children (NAEYC). The accreditation process evaluates curriculum, evidence of learning, operating practices and health and safety protocols.
The unaccredited centres are either new-built or as acquisitions and are currently in various stages of the two-year accreditation process.
"Families typically become aware of KCLC through our strong brand recognition, public relations campaigns, digital and direct marketing efforts and word of mouth references before enrolling directly in a centre," said KC Holdco.
This segment of the business accounts for the largest Kindercare revenue; 79.2% in 2020 and 77.2% in 2019.
KinderCare Education (KCE) at work
According to KC Holdco, KCE at work is a leading provider of employer-sponsored childcare programs. As of 2 October 2021, KCLC operates 72 onsite employer-sponsored centres.
KCE "works closely with employers to design programs that effectively address the childcare needs of their employees," said the company.
This segment of the business currently serves more than 600 employers through onsite programs and tuition discount benefit programmes for employees. KCE at Work generated 17.8% and 18.1% of the company's 2020 and 2019 revenue, respectively.
This segment of the business provides before-and-after onsite school programs in the US. As part of the outsourced model of supplemental education and care, Champions provides staff, teachers and curriculum. It currently has contracts for more than 650 sites, as of 2 October 2021.
Revenue from this division represented 3.0% and 4.7% of KC Holdco's 2020 and 2019 revenue, respectively.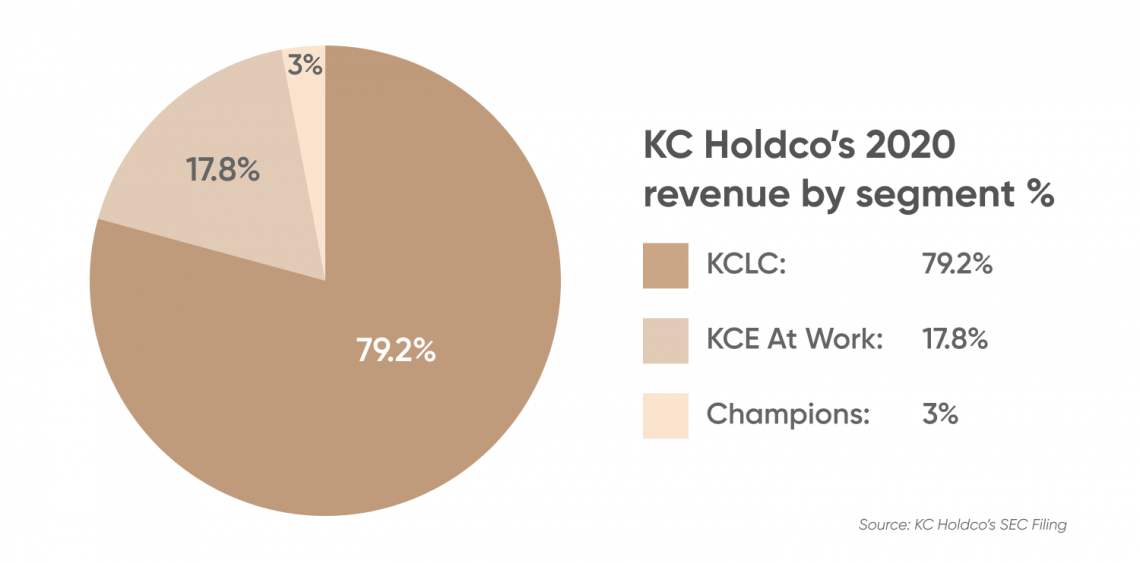 KC Holdco's revenue: post-Covid outlook
Covid pandemic hit KC Holdco's revenue in 2020. Like other onsite service providers, KC Holdco was particularly hard-hit last year when the US government imposed lockdown measures in March 2020 across the country to slow the spread of Covid-19.
In response to the lockdown measures, KC Holdco temporarily shut 1,074 centres and 547 before and after-school sites at the end of Q1 2020 to focus operations on providing childcare to first responders, critical health care providers and families in essential services.
As a result of the lower operating level, KC Holdco reduced the corporate workforce in the second half of 2020. It also curtailed all non-critical business spend, including capital expenditures, and negotiated rent and benefit holidays or deferrals where possible.
The company furloughed employees at temporarily closed centers. It furloughed or put on job share a significant portion of corporate employees and implemented salary reductions.
Although the company reopened 1,021 temporarily closed early childhood education and care centres and 320 before and after-school sites in the second half of 2020, it incurred additional expenses related to the Covid-19 pandemic.
The temporary shutdown of locations incurred respective costs of $81.1m and $5.9m for additional cleaning and health and safety training expenses related to precautionary measures taken while operating in the Covid-19 environment.
As part of the Covid support and stimulus policy, the US government provided funding for early childcare education (ECE) through the Coronavirus Aid, Relief and Economic Security Act (the "CARES Act"), which was signed into law on 27 March 2020.
As a result, KC Holdco recognised $101.1m in incremental revenue and $33.7m for the reimbursement of centre operating expenses from government stimulus during the nine months ended 26 September 2020.
Despite the governmental stimulus, KC Holdco plunged into a $97m net loss for the fiscal year ended 26 September 2020.
Revenue rebounds in 2021 as COVID lockdown eases
According to KC Holdco, enrolment at its network of education centres has increased significantly since reopening. For the three months ended 2 October 2021, KC Holdco's same centre occupancy rate increased to 64%, which represents 90% of the company's occupancy level prior to the pandemic, well above the industry average of 79% of pre-Covid-19 occupancy levels.
The company believes one of the main reasons for higher enrolment rate is because of transfers from other centres that permanently shut following Covid lockdowns.
According to KC Holdco, approximately 13,000 centres, representing an estimated 20% to 25% of industry capacity, closed between September 2019 and September 2021 and have not reopened.
During the nine months ended 2 October 2021, the company recognised $45.1m in incremental revenue and $76.5m for reimbursement of centre operating expenses from government stimulus.
The company's revenue for the nine months ended on 2 October 2021 increased by 35% year-on-year to $1.3bn, and has generated a net income of $41.5m, compared with last year's heavy losses.

Opportunities and growth strategies
KC Holdco claims it is one of the top three ECE providers in the US, and the industry is highly fragmented. The top three providers account for approximately 5% of total industry capacity as of 1 January 2020.
"We estimate that the market for private expenditures on education-focused care is expected to grow at a compound annual growth rate of 6.4% between 2021 and 2026, excluding any impact from Governmental Stimulus," said the company.
KC Holdco plans to extend its position as the largest ECE provider in the US by the following growth strategies:
Increase enrolments and occupancy at existing centers

Leverage dedicated teams and data-driven research to open new greenfield centers

Continue to expand flexible employer-sponsored program offerings

Re-invest revenue from consistent price increases

Increase the number of on-school sites and programs served by Champions
Risk factors to consider
The company also outlined several important risk factors that might prevent it from achieving its business goals and adversely impact its operations:
• The Covid-19 pandemic will continue to adversely impact KC Holdco business.
• Changes in the demand for childcare and workplace solutions, influenced by a permanent shift in workforce demographics, economic conditions, office environments, unemployment rates, and the failure to anticipate and respond to changing preferences and expectations, may affect KC Holdco operating results.
• Ability to hire and retain qualified teachers, key management, key employees and maintain strong employee engagement.
• Adverse publicity could impact demand for KC Holdco's services, as well as the value of its brands and reputation as a provider of choice.
• Ability to offset increased costs through tuition increases.
• Governmental universal childcare benefit programs and changes in the spending policies or budget priorities for government funding of childcare and education could impact demand for ECE services.
• Risks related to KC Holdco's indebtedness including the terms of its Credit Facilities, which impose operating and financial restrictions that may impair KC Holdco's ability to respond to changing barriers and economic conditions.
Investing in KC Holdco's shares after the IPO
Is it worth considering KC Holdco's shares as an investment option once it goes live? According to the company's estimates the market for private expenditures on education-focused care is expected to grow at a compound annual growth rate of 6.4% from 2021 to 2026, excluding impact from the government stimulus.
With the world reopening after the Covid-19 pandemic, the demand for flexible education-focused care for children might grow, the company believes. However, as the pandemic's trajectory remains uncertain, children's return into KC Holdco's centers might be slowed down.
While we are waiting for KC Holdco shares to go live, you can check other companies that have gone through an IPO recently. They include payment processing operator Marqeta, sports-shoe and clothing manufacturer On Holding, online gaming platform Roblox, and Seoul-based ecommerce company Coupang.
Note that it is important to do your own research before considering any investment. Always remember your decision to trade depends on your attitude to risk, your expertise in the market, the spread of your investment portfolio and how comfortable you feel about losing money. You should never invest money that you cannot afford to lose.
Read more: Udemy IPO: A guide to the online learning platform's listing