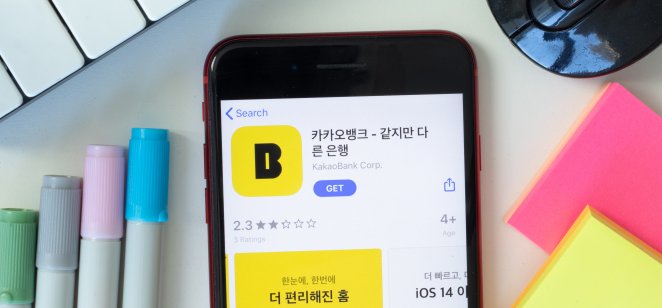 Content
South Korean online lender Kakao Bank has filed its prospectus to launch an initial public offering (IPO) on the Korea Exchange (KRX) in August.
The $2.2bn listing could make the company the third most valuable lender in South Korea, after KB Financial Group (105560) and Shinhan Financial Group (055550). The IPO is the latest in a string of South Korea companies going public, following e-commerce firm Coupang's (CPNG) listing in New York in March and ahead of several large shipping and technology firms.
This Kakao IPO analysis provides an overview of the company's background and all the details you need to know about the listing to decide whether to invest when the stock starts trading next month.
Kakao Bank profits from shift to online banking
Formed in 2016, Kakao Bank is owned by South Korean Internet company Kakao Corp. (035720), which holds a 31.62% stake. Korea Investment Value Asset Management holds a 26.97% stake, KB Kookmin Bank holds 9.30%, and Korea Investment Holdings owns a 4.65% share.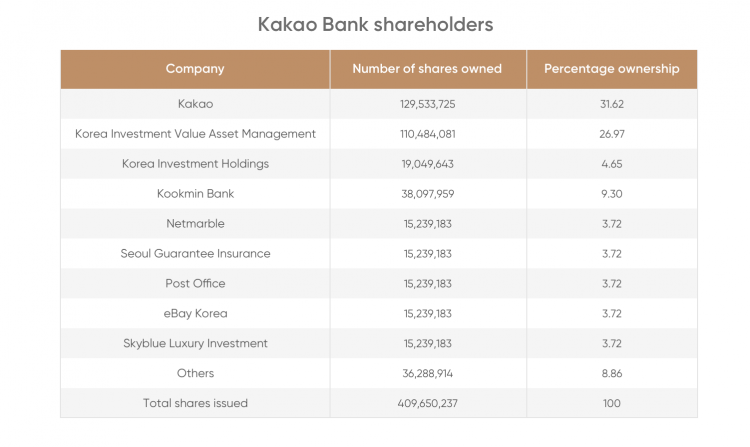 Kakao Bank launched its mobile-owning banking service in July 2017, and had signed up 1 million accounts within its first five days of operations, the company said in an official statement on its website. It surpassed 10 million customer accounts in July 2019 and had 16.53 million at the end of May 2021.
The company is now expanding its demographic to older customers, as 30% of customers opening a new account in the past year were over the age of 50.
The number of monthly active users (MAUs) for the company's mobile application reached 13.35 million at the end of March 2021.
The company has been profitable since 2019, generating a net profit of KRW 113.6bn (Korean won) ($98.4m) in 2020. The company's operating income grew at an average compound annual growth rate (CAGR) of at least 120% over the four-year period from 2017 to 2020.
According to its IPO filing with the Korea Exchange, Kakao revenue totalled KRW 224.91bn in the first quarter of 2021, up from KRW 192.64bn in the first quarter of 2020. The company's annual revenue climbed to KRW 804.16bn in 2020, from KRW 664.94bn in 2019 and KRW 375.58 in 2018.
Kakao Bank reported an operating profit of KRW 53.98bn for the first quarter of 2021, up from KRW 18.38bn in the same period of 2020. Its net income more than doubled to KRW 46.66bn during the quarter, up from KRW 18.47bn in the first three months of 2020.
The company's cash and deposits stood at KRW 858.68bn at the end of the first quarter. That was down from KRW 1.2trn at the end of 2020.
As of the first quarter of 2021, Kakao Bank's profit-to-income ratio was 48.3%, which is lower than the average of the major domestic South Korean banks, the company said in its statement.
At the end of the quarter, the balance of deposits was KRW 25.39trn and the balance of loans was KRW 21.65trn, reflecting a CAGR of 67.1% and 63.8%, respectively from the end of 2017 to the end of last year.
Over the same period, the deposit and loan growth rates for the domestic South Korean banks were 9.0% and 8.0%, respectively.
| | |
| --- | --- |
| Long position overnight fee | -0.0138% |
| Short position overnight fee | 0.0041% |
| Overnight fee time | 21:00 (UTC) |
| Spread | 1.5 |
| | |
| --- | --- |
| Long position overnight fee | 0.0235% |
| Short position overnight fee | -0.0428% |
| Overnight fee time | 21:00 (UTC) |
| Spread | 0.03 |
| | |
| --- | --- |
| Long position overnight fee | -0.0500% |
| Short position overnight fee | 0.0140% |
| Overnight fee time | 21:00 (UTC) |
| Spread | 60.00 |
| | |
| --- | --- |
| Long position overnight fee | -0.0500% |
| Short position overnight fee | 0.0140% |
| Overnight fee time | 21:00 (UTC) |
| Spread | 0.00600 |
Kakao Bank is the latest of the Kakao Corp subsidiaries to go public. Its gaming division Kakao Games (293490) went public in September 2020, while its mobile payments business Kakao Pay has received preliminary approval from the Korean financial regulator for its upcoming listing.
Online transportation services firm Kakao Mobility and media company Kakao Entertainment are also considering public offerings.
Kakao IPO: everything you need to know

Unlike fellow South Korean Internet-based company Coupang, which is listed in the US, Kakao is going public on the Korea Exchange. The Kakao IPO date is scheduled for the first week of August, with the stock debuting on 6 August. The business announced on 28 June that it had submitted its securities declaration to the Financial Services Commission for the share listing.
The company is offering a total of 65.45 million shares. The Kakao IPO price was announced on 22 July to be KRW 39,000 a share, the high end of the KRW 33,000–KRW 39,000 range that it previously suggested, which is equivalent in US dollar terms to $33.86 a share. That would give the IPO a value of KRW 2.55trn, equivalent to $2.22bn.
KB Securities, Credit Suisse and Citigroup Global Market Securities are the financial institutions that are organising the listing.
Kakao Bank was last valued at around KRW 8.6trn in November 2020, when it issued 31.9 million new shares at a price of KRW 23,500 a share to investors for a total of KRW 749.65bn.
That included an investment of KRW 250bn from US hedge fund TPG Capital, which also holds stakes in China's Ant Financial, US-based ride sharing service Uber (UBER) and music streaming service Spotify (SPOT).
Based on Kakao Bank's current share issuance of 409.65 million shares, with the additional 65.45 million shares, the IPO more than doubles the Kakao valuation to KRW 18.5trn.
Valuation concerns
The Financial Times reported earlier this month that there were concerns about Kakao Bank's high valuation. The South Korean Financial Supervisory Service (FSS) has probed the IPO valuations of several companies – including gaming firm Krafton and COVID-19 testing kit maker SD Biosensor – and requested they refile their prospectuses with lower offering prices.
Kakao Pay, which is South Korea's largest online payment company, was also required by the regulator to revise its IPO prospectus.
Use of proceeds
Kakao Bank said it plans to use the proceeds from the IPO to provide capital support for new products and services, such as expanding credit loans for low- to mid-credit customers and mortgage loans. It plans to invest KRW 350bn in the following areas:

In the medium to long term, the company said it plans to expand into international markets through joint ventures.
Read more: Robinhood IPO: is the upcoming listing worth the hype?