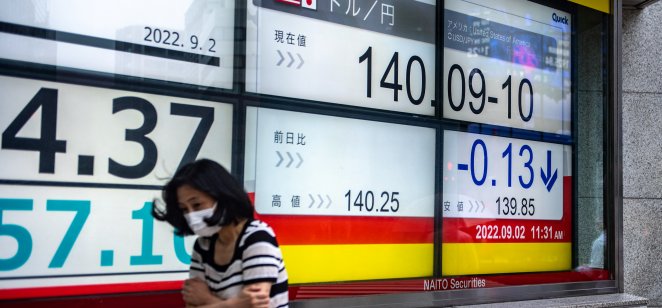 Content
The Japanese economic bad news deteriorated again today after a core consumer price index (CPI) 2.8% August core inflation figure landed, the highest in almost eight years.
The nose-diving yen – USD/JPD was 0.32% higher at 143.70 mid morning – inflicting runaway cost pressures on the spending power of Japanese consumers, highly unused to rampant bad price news – has parked policymakers in an extremely tight spot.
What is your sentiment on USD/JPY?
Vote to see Traders sentiment!
Hotter than July
Even if a weak yen is positive for the profits of large companies and their supply chains, the cost of energy, materials and food is the master blaster, crushing Japanese households and smaller businesses.
But it's the doggedness of the yen dumping that must alarm. Yet Bank of Japan (BoJ) governor Haruhiko Kuroda has continually talked up the advantages of a weaker currency – even if ordinary Japanese are paying for it.
Meanwhile, Japan's ultra-easy monetary stimulus – which totally failed to address the economic stagnation that so frustrated Shinzo Abe, Japan's former prime minister, shot dead in early July – sails on.
USD/JPY tearstrip:
FX strategist and finance consultant at Keirstone, Francis Fabrizi
JXY fell below 70.0 support level last week he says and has unsuccessfully attempted to retest and hold above this level.
We could "potentially see price reach 70.0 today however it's likely the price will continue to be bearish for the rest of the month, therefore this would only be a temporary pullback before sellers take control again". He goes on: "If [the] price falls below 69.0, I believe price will look to target 67.75."
He anticipates Thursday's BoJ interest rate decision announcement and press conference speech will push the yen south towards this target. "However, if price breaks and holds above 70.0, we could see an attempt to reach 71.20." For now USD/JPY remains in a range between 141.610 and 144.885.
"We are likely to see price reach 144.885 resistance level this week. If we see a break and hold above this level, I believe price will push higher towards 147.290."
But "if [the] price is rejected from the resistance level, we could potentially see a short term bearish move towards 141.610 once again".
Not temporary
The grim reality, thinks Capital.com FX analyst Piero Cingari, is that inflation is increasingly stitched deeper into the Japanese economy. "Until now, both the Minister of Finance, Shunichi Suzuki, and the Governor of the Bank of Japan, Haruhiko Kurando, have only issued strong verbal warnings about the yen's rapid depreciation."
"In essence, Japanese policymakers are well aware of the depreciation trend against the yen, but they have made it clear that they will intervene in the event of rapid movements."
"There has been no mention of rate hikes or the end of QE," he adds, "and I do not expect the BoJ to reverse course now in September."
So what next? Cingari believes the BoJ may be sowing the ground to flog foreign exchange reserves "to increase the supply of USD and thus strengthen the yen, if we [were to] observe a spike in the USD/JPY rate above 147.5, the resistance provided by the highs of August 1998".
'Powerless to act'
This is a policy approach that major central banks have largely swerved, preferring instead to hike rates.
Cingari adds that while the BoJ's verbal interventions are a warning shot to speculators "it [BoJ] risks being powerless to prevent the inevitable widening of rate divergences with the Federal Reserve, which continues to support an upward trend in the USD/JPY exchange rate".
Upshot? It's unlikely USD/JPY will drop below 140 in the near future. Japan continues to battle its demographics – there is simply not enough labour in the country to sustain a serious return of Japanese manufacturing, previously reliant on high volume products.
| | |
| --- | --- |
| Long position overnight fee | 0.0036% |
| Short position overnight fee | -0.0106% |
| Overnight fee time | 21:00 (UTC) |
| Spread | 0.040 |
| | |
| --- | --- |
| Long position overnight fee | 0.0000% |
| Short position overnight fee | -0.0000% |
| Overnight fee time | 21:00 (UTC) |
| Spread | 0.100 |
| | |
| --- | --- |
| Long position overnight fee | -0.0086% |
| Short position overnight fee | 0.0025% |
| Overnight fee time | 21:00 (UTC) |
| Spread | 0.00024 |
| | |
| --- | --- |
| Long position overnight fee | -0.0033% |
| Short position overnight fee | -0.0011% |
| Overnight fee time | 21:00 (UTC) |
| Spread | 0.00040 |
Shoyu leave?
Also, many Japanese companies have outsourced to China to lower costs. And rising recession risk is hardly helping. So Japan's options are getting smaller.
Yasumune Kano, visiting fellow, Global Economy and Finance Programme at Chatham House pointed out last month that Japan's overall economic recovery from the Covid-19 pandemic has been delayed compared to other G7 members.
Restrictions on economic activity have lifted more slowly. "This has also helped limit [our emphasis] inflation by delaying the post-pandemic increase in demand that many other countries have seen."
Go nuclear – again?
But not as much as policy makers would like. Kano points out that many of Japan's nuclear reactors have been idle since the Fukushima nuclear accident in 2011, cutting the nuclear share of the country's power generation from 25% in 2010 to 7%.
"But the combined effect of the cost of living crisis and the urgent need to decarbonize the economy may prove powerful enough to overcome the public's trauma arising from the nuclear accident, leading to restarting more nuclear reactors.
All three factors would be positive for the long-term functioning of the Japanese economy, "[so] there is a possibility there may be, after all, a silver lining to the country's current inflation surge."
Perhaps.
Fed pressure back
In the meantime, attention swivels to the Fed's position on Wednesday evening. While 0.75% is expected "markets are pricing in an outside chance of a 1% hike as well," says Equals Money market strategist Thanim Islam.
"Should the Fed only hike by 0.75% then we could see the dollar weaken slightly, given the pricing and consideration of a 1% hike.
"But, should the accompanying statement continue to be of a hawkish tone, then we will likely see continued support for the dollar, and it will keep up its recent strength."
Today, keep an eye on the building permits and housing starts data for August. Around lunchtime EUR/USD was 0.31% lower at 0.9991 while GBD/USD was flat at 1.1432; today's a public holiday in Japan.
Further reading