Johnson Matthey (JMAT) warns of exiting electric battery business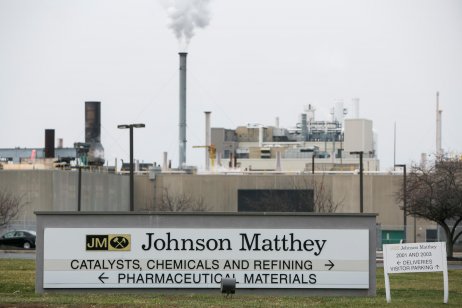 Shares in Johnson Matthey were down 1.51% on the London Stock Exchange on Wednesday, after it posted a loss in its latest half year results.
The British chemicals company also warned investors about the cost of exiting its electric battery business.
"Following the announcement of our intention to exit Battery Materials, the assets have been impaired by £314 million ($418m)," stated Johnson Matthey.
Breakdown of results
The company posted a pretax loss of £9m in the six months to 30 September this year, compared to a profit of £26m a year earlier.
It reported a loss per share of 14.8 pence - and also said in the results update that it had approved a £200m share buyback, after sales in the first half of its financial year benefited from higher average precious metal prices.
However, it posted sales of £1.9bn, up 21%, driven by a strong recovery in Clean Air and Efficient Natural Resources.
Key developments
The company also said in the update that it had agreed the sale of Advanced Glass Technologies for £178m and was in discussions about a potential sale of Health.
It also reported good momentum across its hydrogen businesses of Fuel Cells and Green Hydrogen, noting a new five-year framework contract with EKPO (ElringKlinger Plastic Omnium JV) to supply fuel cell components into commercial vehicle applications.
Moreover, it highlighted the completion of its hydrogen technologies capacity expansion in the UK and China - and said it was planning further expansion across the regions.
The company is increasing a pipeline of opportunities in blue hydrogen with over 20 projects - including HyNet which continues to move towards commercialisation in 2025, it added.
Chief executive comments
Robert MacLeod, chief executive of the company said it was a resilient trading performance in what has been a challenging environment, given the supply chain volatility which has affected a number of its end markets.
"Looking forward, the changing world around us means that Johnson Matthey has never been more relevant. Our metal expertise and process technologies are critical to many new markets focused on climate change solutions and give us a strong competitive advantage. We have strong foundations in Clean Air and in Efficient Natural Resources and exciting opportunities to drive our future growth in circularity, hydrogen and decarbonisation," he said.
"To ensure we are focusing our resources on these core growth opportunities we have taken some strategic decisions around our portfolio. In particular, we announced our intention to exit Battery Materials as we concluded that this business would not generate adequate returns for us. In addition, today we are announcing that we have agreed the sale of Advanced Glass Technologies and are in discussions about the potential sale of our Health business," he added.
Robert MacLeod also announced at the end of the statement that after eight years in the role, he was stepping down as Chief Executive, with Liam Condon joining as his successor from 1 March 2022.
Read more: UK's CBI president calls for a COBRA for Recovery