Japan shares rebound as index heavyweights boost benchmark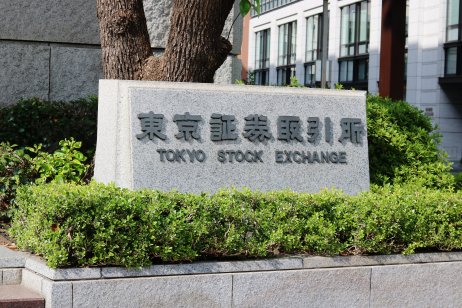 Japan's Nikkei 225 index tracked overnight gains on Wall Street to rise nearly 2% on Tuesday as index heavyweight stocks led gains.
Benchmark Nikkei 225 index rose 1.8% to 29,117 points by Tuesday afternoon. The index lost 0.7% on Monday.
Uniqlo-owner Fast Retailing was among the top intraday percentage gainers on the benchmark on Tuesday, up 5.3%. Vision Fund manager SoftBank Group climbed 1.8% while semiconductor production equipment maker Tokyo Electron rose 2.2%.
Panasonic and Sony Group up
Diversified electronics manufacturer Panasonic advanced over 5.5% and was among the most heavily traded stock on the benchmark index on Tuesday with over 18.8 million shares changing hands compared to three-month average volume of about 5.6 million.
Tokyo-listed shares in entertainment-to-electronics giant Sony Group advanced over 2% ahead of its earnings results due later this week.
Meanwhile, Hong Kong's Hang Seng index fell 0.5% by Tuesday afternoon as property stock fell on tax and default concerns.
What is your sentiment on AU200?
Vote to see Traders sentiment!
Modern Land latest to default
"Any short-term impact of the pilot property tax scheme to contracted sales and cash collection may also exacerbate short-term liquidity stress on the highly leveraged developers with low cash to short term debt coverage, which is already under strain," said Cheng Tan, senior equity analyst at Morningstar.
On Tuesday, the Hang Seng Properties index fell 1.9% after Modern Land became the latest property developer to default a bond due 25 October.
Real estates peers Longfor Group Holdings and China Resources Land were among the top three worst performers on the benchmark Hang Seng index, down 4.6% and 7%, respectively.
South Korea's KOSPI extends gains
Alibaba Health Information Technology was the worst performer on the Hong Kong benchmark on Tuesday, slumping over 11% after the company flagged interim loss of CNY320m ($50.1m).
Neighbouring South Korea's KOSPI index rose for a second day on Tuesday amid peak quarterly earning season. Data showed that the nation's economy decelerated in the third quarter on the back of slowing private consumption and investment.
Battery manufacturer LG Chem trimmed early gains to rise 1% late on Tuesday despite posting a 20% drop in quarterly profit. Carmaker Hyundai Motor rose 1.4% after swinging to profit in the September quarter.
Aussie shares end flat
Elsewhere, Australia's S&P/ASX 200 index remained flat on Tuesday as tech gains offset energy losses.
Casino operator Crown Resorts jumped 8.7% after the company was allowed to hold on to its casino licence in Victoria under a two-year supervision period following a Royal Commission inquiry.
Oil and gas company Origin Energy erased early gains to close 2% lower after announcing plans to sell a stake in an LNG asset. Meanwhile, lithium miner Pilbara Minerals surged over 8% after the company set up a up a joint venture with South Korean steelmaker POSCO to produce chemicals used in lithium-ion batteries.
Read more: Pilbara Minerals and POSCO in lithium chemical tie up
The difference between stocks and CFDs
The main difference between CFD trading and stock trading is that you don't own the underlying stock when you trade on an individual stock CFD.
With CFDs, you never actually buy or sell the underlying asset that you've chosen to trade. You can still benefit if the market moves in your favour or make a loss if it moves against you. However, with traditional stock trading you enter a contract to exchange the legal ownership of the individual shares for money, and you own this equity.
CFDs are leveraged products, which means that you only need to deposit a percentage of the full value of the CFD trade to open a position. But with traditional stock trading, you buy the shares for the full amount. In the UK, there is no stamp duty on CFD trading, but there is when you buy stocks.
CFDs attract overnight costs to hold the trades, (unless you use 1-1 leverage) which makes them more suited to short-term trading opportunities. Stocks are more normally bought and held for longer. You might also pay a stockbroker commission or fees when buying and selling stocks.