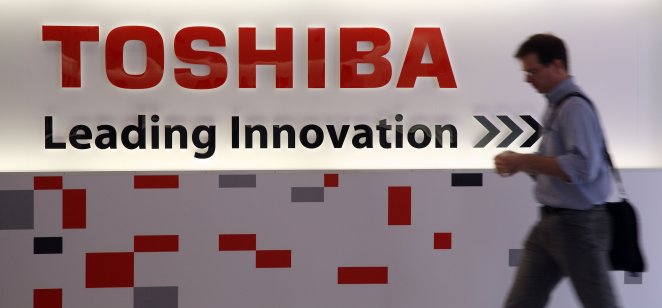 Japanese electronics-to-nuclear power conglomerate Toshiba unveiled plans to split into three – a holding company, an infrastructure services company and a semiconductors and other electronic devices company.
The announcement comes just days after US-based conglomerate GE revealed a similar plan to split its business into three companies.
Toshiba's plan has been under development by a strategic review committee formed five months ago. The committee included five of its independent board members supported by independent financial and legal advisors.
Long-term value creation
"For Toshiba, its shareholders, employees and customers, the separation plan also represents a significant inflection point in its evolution – a new initiative that capitalises on the government's recent actions and looks beyond the confines of past Japanese business practices," Toshiba said in a statement on Friday.

"It utilises a tax-qualified spin-off structure permitted under recent legislation and represents a first for a major Japanese company of such size and importance. This approach reflects Toshiba's determination to follow a course that will enhance long-term value for shareholders and it advances the intent of the recent legislation to further open up and revitalise Japan's economy," the statement added.
As part of the plan, Toshiba Corporation, currently the listed company will spin-off its energy systems and solutions, infrastructure systems and solutions, building solutions, digital solutions and battery businesses into an as yet unnamed infrastructure services company.
Separation to conclude by 2023
Further, it will spin-off its electronic devices and storage management solutions business, which manufactures semiconductors, high-capacity hard disk drives for data centres and equipment for semiconductor manufacturing, into an as yet unnamed device company.
Toshiba will become a holding company of sorts and retain a shareholding in memory chipmaker Kioxia Holdings and Toshiba Tec.

Toshiba expects to complete the split by 2023 by which time the infrastructure company is expected to have net sales of JPY2.230trn ($19.55bn) while the device company is expected to have net sales of JPY880bn.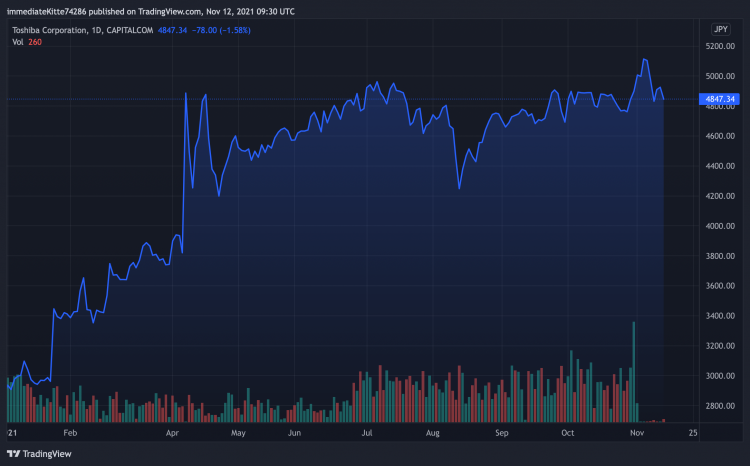 Toshiba's stock price movements over 2021 - Credit: TradingView
"Enhancing competitive positioning"
"Over our more than 140 year history, Toshiba has constantly evolved to stay ahead of the times. Today's announcement is no different. In order to enhance our competitive positioning, each business now needs greater flexibility to address its own market opportunities and challenges," said Satoshi Tsunakawa, interim chair, president and CEO of Toshiba.

"Our board and management team firmly believe that this strategic reorganisation is the right step for sustainable profitable growth of each business," he added.
Toshiba's plans for splitting were published by global media earlier this week, following which its stock price climbed 2% before shedding gains over the week and closed 1.32% lower on Friday at JPY4,872.
Better corporate governance
The conglomerate, which faced a major corporate governance scandal in June this year, also expects the split will improve governance.
"Toshiba is committed to improving its corporate governance and regaining trust of its shareholders. The board, which is oversaw today's announcement is comprised of 75% independent outside directors, all of whom were appointed in the past two and half years," the company said in a statement.
"The boards of the new companies are expected to be majority independent and comprised of a diverse set of directors with the skills and experience to set strategy and hold management accountable. Separation of the leadership structures for these businesses will facilitate more agile decision-making," the statement added.
Profits rise
Separately, Toshiba also announced its earnings for the quarter ended 30 September. The company reported a net profit of JPY46.21bn for the quarter, almost trebling from JPY16.71bn in the same quarter last year. Net sales during the quarter was JPY818.53bn, roughly 6% higher than JPY771.56bn in the same quarter last year.