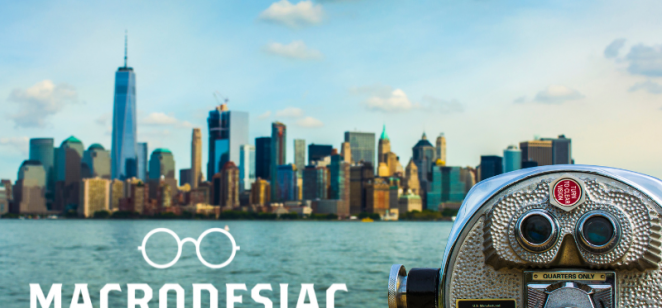 Content
With central banks sending interest rates ever higher, stocks will surely tumble further. It's a new regime. The end of the world as we know it. At least, that's what the commentators say.
While the Fed's clearly important, it's not the only show in town. Nothing was going to change the Fed''s decision this week, such was the hawkishness ahead of the meeting, but there's plenty that could influence its response in the near future, plus the state of the global economy, financial markets and the dollar (DXY).
First though, let's travel back in time. To June 2021. This was the Federal Reserve's view of future interest rates just 15 short months ago: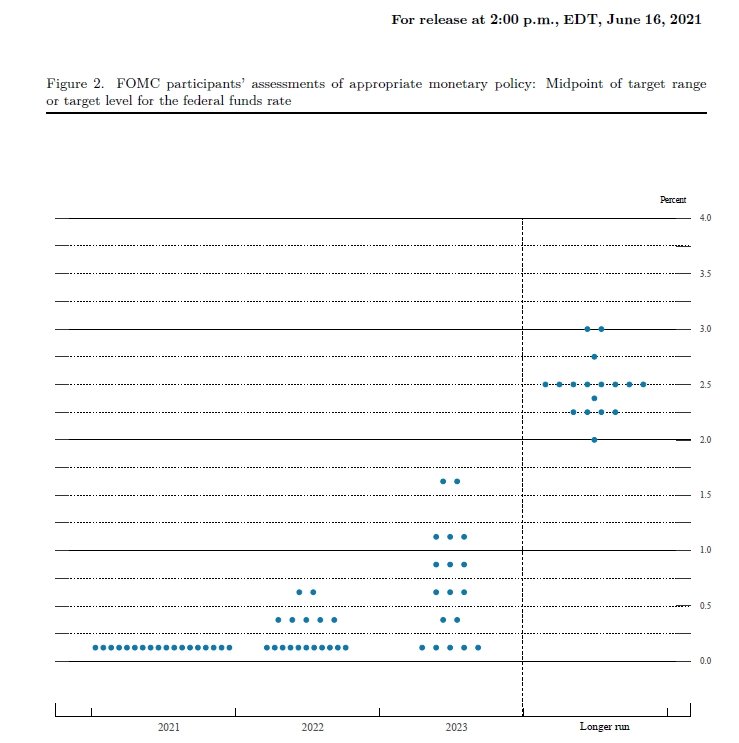 Fed dot plot
The famous 'dot plot' is part of the Fed's release of economic projections. Each dot represents where a Fed member believes interest rates will be by the end of the calendar year. For 2022, there would be no rate hikes according to the majority of Fed members. Seven saw two or three 25bps rate hikes as most likely.
None of them saw rates anywhere near 3% (where they're likely to be after this next meeting), and the idea of a 4% interest rate or higher was unthinkable, even over the longer term. Yet that's precisely what interest rate markets are showing by the end of this year.
Fed Fund (interest rate) Futures tell the story of what the market is currently pricing. Check out this chart: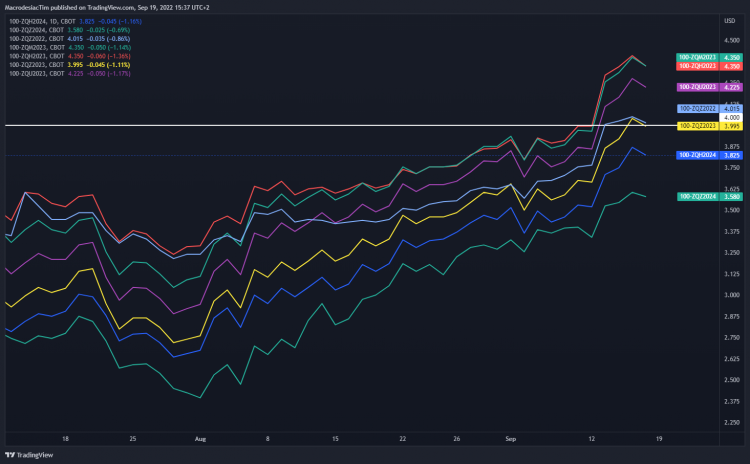 futures contracts
The light blue line is the December 2022 contract. The Fed should hit 4% by the December 2022 meeting. By March 2023, rates top out at 4.35% (red line ZQH2023), and stay there until June (ZQM2023 top green line).
Then, small odds of cuts are being priced in by September 2023 (Purple line ZQU2023), with the yellow line pricing cuts back to 4% by December 2023, with 3.82% by June 2023 (blue line ZQH2024), and 3.58% by the end of 2024 (bottom green line).
This pricing is the crux of the bearish outlook for stocks, as mentioned here:
After the June meeting, markets responded with relief to the news that Chair Powell believed the Fed was approaching the neutral rate (interest rate that is neither stimulative nor restrictive to the economy), and he then had to reinforce the hawkish messaging in his August Jackson Hole speech.
Tina approach
But markets tend to misbehave. They don't just do what the Fed (or anyone else tells them). Amid the uncertainty, stocks could still sell off further. With interest rates at these levels, the old TINA approach is dead and buried.
There
Is
No
Alternative (to stocks, because rates were so low).
TINA. But… There IS an alternative now. If you think the investing landscape's looking a bit dodgy, you don't have to be in the riskiest assets to earn a return any more. You can hide out in US short term bonds. US 1-3 year bonds currently yield 3.9 to 4.05%.
Or TLT, the longer duration (20+year) bond ETF. It's currently down by 25% YTD. But 20 Year US bonds now yield 3.78%, while the 30 year offers 3.5%. That's a juicy yield relative to recent years. The last time the 30 year bond offered this sort of return was back in November 2018.
What is your sentiment on TLT?
Vote to see Traders sentiment!
iShares 20+ Year Treasury Bond ETF (TLT) price chart
What if the Fed gets it wrong again?
The Fed stuck steadfastly to the view that inflation would be transitory, and now it's rushing to catch up. Wednesday's dot plots are likely to show that Fed heads expect rates above 4% during all of 2023. Is this just an overshoot in the other direction? Too much, too fast, too soon?
If the market wants to believe in the Fed Pivot (regardless of what the central bankers say/do), we could see bonds rally (interest rates fall), and perhaps some flows into stocks as well. While it's probably too early to see the actual Fed pivot, markets seem to be itching to trade it.
| | |
| --- | --- |
| Long position overnight fee | -0.0064% |
| Short position overnight fee | -0.0059% |
| Overnight fee time | 21:00 (UTC) |
| Spread | 0.13 |
| | |
| --- | --- |
| Long position overnight fee | -0.0308% |
| Short position overnight fee | -0.0137% |
| Overnight fee time | 21:00 (UTC) |
| Spread | 0.14 |
| | |
| --- | --- |
| Long position overnight fee | -0.0064% |
| Short position overnight fee | -0.0059% |
| Overnight fee time | 21:00 (UTC) |
| Spread | 0.24 |
| | |
| --- | --- |
| Long position overnight fee | -0.0064% |
| Short position overnight fee | -0.0059% |
| Overnight fee time | 21:00 (UTC) |
| Spread | 0.05 |
Falling interest rates could put a dent in dollar strength too. USDJPY has the widest interest rate differentials and there's a clear correlation between US and Japan interest rate differentials and USD/JPY.
Perhaps USD/JPY isn't the best expression of an interest rate differential trade. The Bank of Japan remains committed to their low rates policy (backed by yield curve control). However, a reactionary drop in US yields could be enough to prompt a deeper pullback in USDJPY, maybe into the 137.70 to 139.38 zone.
Dollar vs yen (USD/JPY) exchange rate chart
The confluence of a return to the breakout zone and 50 day moving average could see dip buyers re-engage.
However, it remains to be seen if any relief rally in riskier assets will stick, or if current pricing will really match peak interest rates as some analysts seem to believe. The warnings are coming thick and fast.
Global trade is slowing. FedEx shocked the market with terrible guidance last week. CEO Raj Subramaniam cautioned on a sudden shift:
"Global volumes declined as macroeconomic trends significantly worsened later in the quarter, both internationally and in the US. We are swiftly addressing these headwinds, but given the speed at which conditions shifted, first-quarter results are below our expectations."
FedEx has its own problems (Subramaniam has only been CEO since June and was brought in to address the issues), so this slowdown could be exaggerated to cover the company's own issues.
But the Drewy world container index adds some credence to the claims. The index fell 8% in the week before FedEx gave its guidance.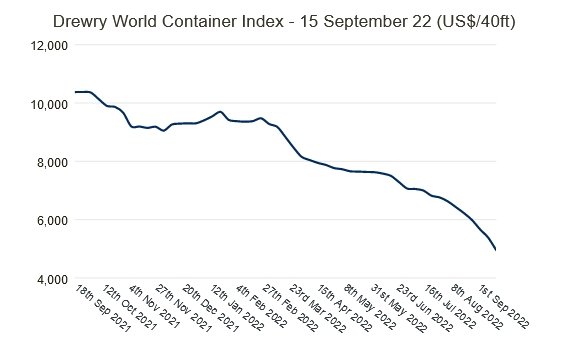 Drewy container index
The drop in shipping costs is accelerating, which is a pretty good indicator of slowing trade. This also comes on the back of slowing South Korean export growth reported at the start of September.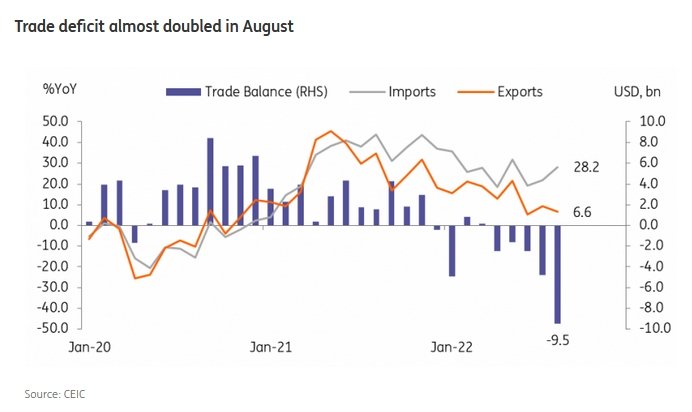 Korea exports
Plus the drastic plunge in South Korean chip exports that came through over the weekend. Dynamic Random Access Memory (DRAM) shipments fell by 24.7% compared to the same month last year. August was one of the strongest months in 2021 so some of this can be attributed to strong base effects. Once again though, this adds weight to earlier comments from Micron, Samsung, TSMC that all noted slowing chip demand.
The combination is hard to ignore. It's arguably too soon for the Fed to care about these leading indicators, but as mentioned at the start, it's not the only show in town and markets don't have to believe that the Fed will do what it says. The interest rate path the central bank saw in June 2021 was very different to the one it actually delivered.
So, as interest rates rise, the equation changes for investors. With recession concerns looming ever larger, do the odds favour more inflation and more aggressive central bank hikes? Or has the balance shifted now? Inflation fears are perhaps overdone and it's time to allocate defensively and wait for the 'inevitable' interest rate cuts?
What does the Fed think about the future? This meeting sees the publication of its economic projections, including the updated dot plot. If it forecasts a recession, but no rate cuts, will markets find that credible?
This week's events might bring some much needed clarity, at least temporarily. The next big inflation report, plus income and spending data will be published in 10 days time (30th of September).
Until then, markets will need to navigate the inevitable chorus of Fed speakers that always follows these meetings. The higher rates rise, the harder it is for them to credibly keep the hawkishness dial maxed out.
Further reading