It's all about podcasts and profits with Spotify (SPOT)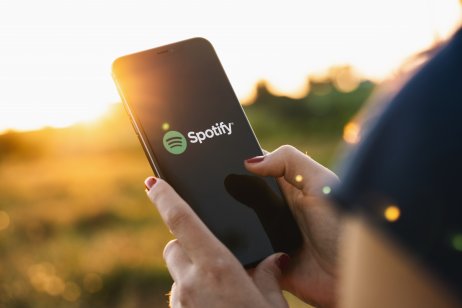 Spotify Technology's (SPOT) strategy to move beyond music in the audio industry appears to be finally paying off.
Following five quarters of operating losses, the digital music, podcast, and video service reported positive operating income this year for the first time in more than one consecutive quarter.
The Stockholm, Sweden-based company began its strategic shift by getting involved in podcasts. In 2019, it started acquiring podcasting networks and getting involved with other big content creators in the industry, moves which helped the Spotify create an exclusive catalogue. With an announcement last month to acquire audio book studio Findaway, the market waits to see whether this is the beginning of Spotify's second growth wave.
Turning around profits
The year began with the company reporting first quarter operating income of €14m, the first positive result since third quarter of 2019. The following two quarters saw further profits of €12m and €75m respectively.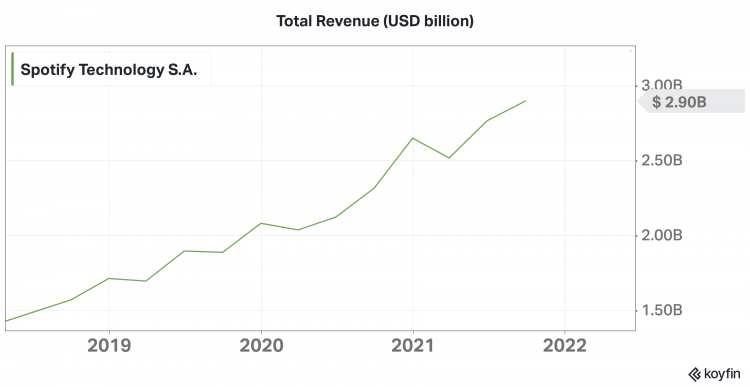 Total Revenue – Credit: Koyfin
The company currently has 172 million premium subscribers, up more than 19% from this time last year, while revenue for the three months ended 30 September grew 27% to €2.5bn year over year.
Despite steady growth in both revenue and subscriber count, Spotify's operating income and thus its EBIT has been sporadic. This has largely been due to the fact that much of its income had to be paid out in royalties and music licencing. Years of making losses gave rise to Spotify grabbing onto the next phase of growth opportunity – Podcasting.
What is your sentiment on SPOT?
Vote to see Traders sentiment!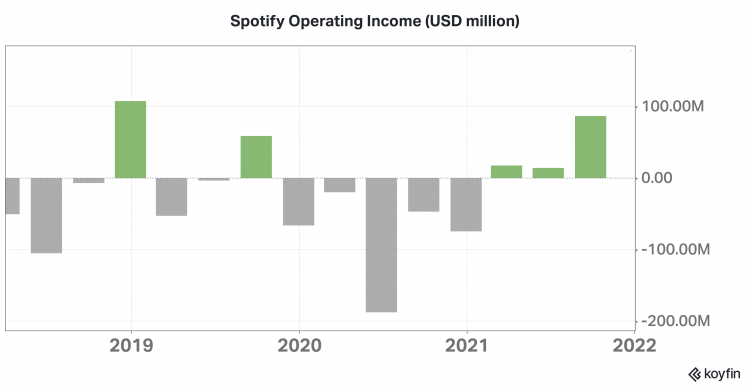 Operating Income – Credit: Koyfin
Podcast and chill
Spotify has shifted its focus to content which draws more listeners and doesn't involve licencing fees. In 2019, Spotify made its podcasting ambitions clear by acquiring Gimlet Media, Anchor and Parcast. In May 2020 news broke that comedian Joe Rogan would be taking his podcast and his millions of followers exclusively to Spotify.
In June 2020, Spotify announced an exclusive deal with Warner Bros to produce and distribute original scripted podcasts about DC comic characters. This is around the time Spotify stock started moving higher.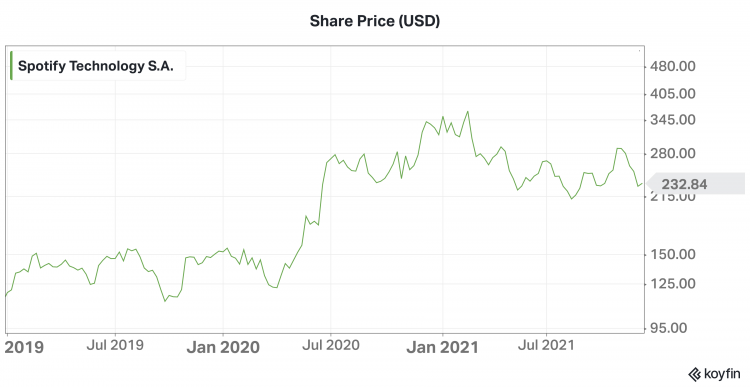 Stock Price – Credit: Koyfin
Since then podcast listeners heard many of their favourites, such as Armchair Expert with Dax Shephard and Call her Daddy, make similar statements about exclusive deals with Spotify.
The expansion in these sectors has meant that more time is being spent on the app. As Spotify co-founder and chief executive Daniel Ek said in a 2019 blog post: "Our podcast users spend almost twice the time on the platform, and spend even more time listening to music."
More time spent on the app gives Spotify more leverage to increase its ad revenues. By mid 2021, Spotify saw revenue growth from podcasting increase 627% year over year. This was followed by more positive reports. In the most recent quarter, Spotify said the number of podcasts grew by 50% since last year, resulting in a greater number of advertisers participating.
The growth coincides with industry trends. In their global entertainment and media outlook, PwC said the strategy of offering multiple types of entertainment on one platform is a common trend they have observed in the media industry, particularly podcasting. Their outlook predicts that by 2025 music and podcasting services will have the largest growth in advertising revenue compared to the rest of the sector.
This follows a pattern of increased interest in podcast listening. Edison Research found podcast listeners in the US increased by 17% in 2021. Similar trends have been seen in the UK, Canada and among other countries.
The growing world of audiobooks
Another part of the audio industry which has shown growth potential is the audio book sector. The Association of American Press showed revenue from audio book downloads increased 14.2% in 2021 with a total of $632m total revenue. The Audiobook market is expected to have a compound annual growth rate (CAGR) of 24.4% by year 2027 as per Grand View Research.
In a continued effort to build a large catalogue of audio entertainment for its listeners, Spotify acquired audiobook leader Findaway. In the announcement, Gustav Söderström, Spotify's Chief Research & Development Officer said: "It is Spotify's ambition to be the destination for all things audio both for listeners and creators. The acquisition of Findaway will accelerate Spotify's presence in the audiobook space and will help us more quickly meet that ambition."
Spotify appears to be trying to make the most of the expected growth trajectory of audio books.
How does Spotify stack against competition?
Spotify remains the top downloaded music app as per Statista. When it comes to specifically podcasting apps, Spotify was used by 30.7% of audiences, second only to Apple with 32.8%. However Spotify's early acquisition strategy and unmatched creator exclusivity is expected to allow them to surpass Apple by this year.
In the future, Spotify may have a hard time competing with the likes of Audible in audiobooks. Audible enjoys a reputation of having one of the best quality and variety of content and is relatively cheap. Other competitors often fall short. However, Spotify's existing 172 million premium subscribers may help them find success more easily.
Price Prediction
There remains uncertainty behind the future performance of Spotify. This doubt is seen in the varying forecasts made by analysts:
Spotify's operating profit has only lately turned positive and the payoff from investments in podcasting is just coming into focus. The fate of Spotify appears to be dependent on the future potential of the audio industry and whether the company is able to make most of fresh opportunities.
Spotify Technology trades on the New York Stock Exchange under the ticker symbol "SPOT". The stock closed Thursday at $233.42 per share.
Read more: Spotify eyes 400 monthly users by year-end