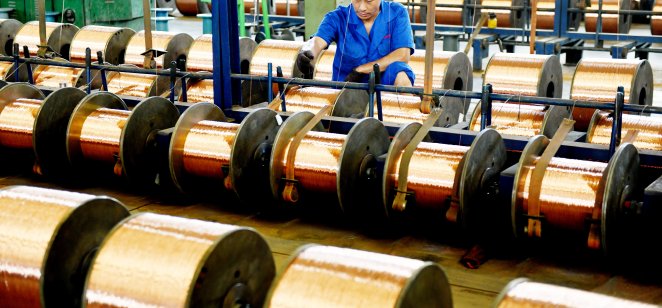 Content
Copper has plunged almost 4% today, with a weekly decline of about 5.5% and a monthly fall of almost 8%. This has largely been fuelled by rising recession risk in the advanced economies, as the focus shifts from China to Europe. Europe accounts for approximately 15% to 20% of copper demand.
Although China is still dealing with a struggling property sector as well as recurrent COVID-19 flare-ups, the Chinese government has recently announced a slew of new stimulus measures, which are likely to help support infrastructure, real estate and construction better. This has improved things for copper somewhat on the Chinese front, but not so much on the European front.
Copper prices are trading near 2-month lows
Why is copper falling so much lately?
Copper was trading at about $3.3 per pound at the time of writing, around 2-month lows, having valiantly clung on the $3.4 level for quite a few days previously. However, this slide was almost inevitable, since the industrial metal has been hit pretty hard by the energy crisis which has swept across China, Europe as well as other parts of the world.
This has led to umpteen smelter shutdowns across Europe, especially in parts of Eastern Europe where smaller manufacturers have not been able to afford the higher energy prices, on top of the prospect of a harsh winter and increased heating bills.
Due to closing smelters and falling demand from manufacturers, an excess of copper stockpiles has been building up in a number of Shanghai and London warehouses, also contributing to downward pressure on prices.
Furthermore, rising interest rates have also hit copper especially hard, as the US Federal Reserve recently announced another 75 basis-points rate hike at its September meeting. This is the third consecutive rate hike of this size by the central bank, and it has also hinted at several more large increases in the coming months.
Not only that, but global central banks are hiking interest rate simultaneously.
These multiple rate hikes have led investors to believe that a recession may well be on the way, and as such, have scared investors away from investing in copper. This could potentially backfire, as in the long run, copper is vital for the green transition and this reluctance to invest now, could possibly be contributing to dire market tightness down the line.
What is your sentiment on Copper?
Vote to see Traders sentiment!
| | |
| --- | --- |
| Long position overnight fee | -0.0107% |
| Short position overnight fee | 0.0019% |
| Overnight fee time | 21:00 (UTC) |
| Spread | 0.032 |
| | |
| --- | --- |
| Long position overnight fee | 0.0243% |
| Short position overnight fee | -0.0444% |
| Overnight fee time | 21:00 (UTC) |
| Spread | 0.04 |
| | |
| --- | --- |
| Long position overnight fee | -0.0157% |
| Short position overnight fee | 0.0054% |
| Overnight fee time | 21:00 (UTC) |
| Spread | 0.60 |
| | |
| --- | --- |
| Long position overnight fee | 0.0089% |
| Short position overnight fee | -0.0251% |
| Overnight fee time | 21:00 (UTC) |
| Spread | 0.03 |
Which are the main copper miners impacted?
Copper miners such as Anglo American (AALI) have dropped almost 13% since mid-September, on weakening copper prices, as well as declining investment in copper. Anglo American (AALI) last saw a death cross on the 18th July, when the stock's 50-day moving average moved below the 200-day moving average. This signified that the stock was moving into a downtrend.
Antofagasta (ANTO) another prominent copper miner also fell about 15% since mid-September, and experienced a death cross on the 27th June, following the energy crisis getting worse. The stock's last golden cross, on the other hand, when the 50-day moving average moved above the 200-day moving average, was on the 17th March.
Russia has been a major contributing factor to the energy crisis, by withholding energy exports and waging a kind of energy war with Europe, which has only made things worse. This has also caused a number of miners and other companies to pull out of Russia and boycott Russian raw materials, which have significantly added to costs.
What is the outlook for copper for the rest of 2022?
Copper prices are seeing slight support from China, from new energy sectors as well as power grids. This is going some way in helping provide a floor to prices and combating the declines caused by European manufacturing.
The copper market is also expected to be significantly tighter in the long run, as the last few months have seen an unprecedented surge in renewable energy demand, which has propelled the green transition faster. This has mostly been due to soaring energy prices making conventional energy options almost unaffordable for several manufacturers.
Due to the long timeframes involved in setting up new copper mines and expanding existing ones, which can often take years, copper supply is likely to be unable to catch up to demand in the short term. This will potentially lead to tightening inventories, once the current surplus is sold off and used and thus go a long way in boosting copper prices.
In the short to medium term however, until this energy crisis can be brought into control by implementing energy price caps or switching to other sustainable and renewable sources of energy wherever possible, copper prices are likely to remain subdued.
Read more