Is remote working the future for London financial market staff?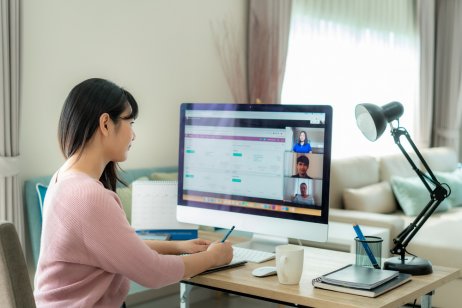 Before the coronavirus pandemic, financial employees in London were rarely offered the chance to work remotely, with 40% of respondents from a recent survey saying their firms had zero such provisions for it before the outbreak of Covid-19.
According to findings from an Accenture and Munich Re Specialty Group survey of the Lloyds and Companies Markets, nearly all respondents said they now expected their firms to retain the option to work remotely beyond official office-return dates.
Moreover, the survey found that the amount of time spent working remotely was also expected to rise.
"Pre-Covid, respondents estimated their firms worked, on average, 4.4 days in the office and 0.6 days remotely each week; going forward, they expected this figure to be around 2.75 days in the office and 2.25 days remote, an increase in remote work of 1.65 days per week," commented James Thomas and Alexander Cherry of Accenture.
Less time in office, but more face-to-face time
Cherry and Thomas pointed out that while these findings constituted a clear swing towards remote working, the situation was still one where the majority of the week is spent in the office: "For this reason, the future of work in the London Markets is better characterised as hybrid rather than remote, an evolution rather than a revolution."
Survey respondents working within the markets in London also highlighted the importance of in-person dealings.
The report revealed that 96% of brokers who responded believed that face-to-face contact was important for transacting with underwriters, with a significant portion (34%) terming it "very important".
Thomas and Cherry added: "We envisage a future where firms achieve shorter working weeks, not through the sacrifice of valuable in-person connections, but by facilitating – or even encouraging – remote completion of routine activities.
"This will require a sharper triaging of tasks to extract flexibility for staff wherever possible – as a recompense for continued in-person commitment when this is business-critical."
Pros and cons of remote or hybrid working
The survey findings concluded a better work-life balance for staff and higher employee satisfaction were the biggest benefits of remote working.
Moreover, remote work has also allowed employees to avoid long, costly commutes and facilitated increased productivity. Additionally, it has saved many companies money on office space while additionally reducing the overall carbon footprint through energy use and travel, and has thereby helped the environment.
However, it was also noted in an Accenture blog that there had been much discussion more widely of the technological hurdles of managing a remote workforce, especially around cybersecurity issues and access to remote systems.
Decreased staff interaction and creativity, difficulty instilling corporate culture and reduced career-development opportunities for staff were also noted as potential challenges of remote working.
The survey also found that respondents in the London Markets were relatively positive regarding mental health in the context of remote work, rating it in the bottom half of the eight threats to a hybrid future.
"However, the threats they ranked highest – loss of creativity, career development and culture – all have the potential to damage the mental health of the workforce in the longer term, so this must not be taken for granted," Thomas and Cherry added.
To summarise findings from the survey, the Accenture representatives said remote work is "absolutely part of the future of the London Markets" and noted that if firms choose to ignore the incremental staff benefits of home-working, they will likely do so at their peril.
"The same applies to firms that see remote work as a one-off fix and ignore its ongoing human implications," Thomas and Cherry concluded.
Global operational costs
More widely, Capgemini Research Institute undertook a survey of more than 500 organisations from various sectors around the world, which featured 5,000 employee responses and was supplemented by expert and academic interviews on remote-working trends.
It found that productivity can be just as high – if not higher – when employees work from home.
The institute said that once this was established and accepted, businesses had begun questioning the very purpose of an office.
"Ever since the lockdown measures were put in place, organisations have been looking at their real-estate infrastructure and revisiting ownership and leasing strategies," said Jerome Buvat, global head of research at Capgemini Research Institute.
Buvat added: "In our survey, 88% of organisations agree that they have realised real-estate cost savings with remote working in the last three to four months, and 92% expect savings in the next two to three years."
On average, organisations expect to save around a third of their operational costs, according to the institute's research.
"On the whole, it appears long-term remote working is the future for many an organisation – spurred on by cost savings and productivity gains," it said.
Read more: Newly formed energy company REV Renewables plans 0m IPO