Is IBM stock a good buy after a decade of underperformance?
Subscribe to Weekly Highlights
The major market events for the week ahead right in your inbox.
Subscribe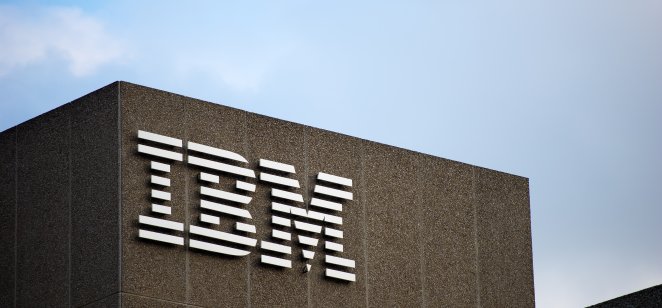 Content
Started in 1911, International Business Machines Corporation (IBM) is one of the most iconic technology behemoths in the United States. Over the years, the company has transitioned from a computer manufacturer to a leading player in cloud and cognitive industries.
IBM, a Dow Jones (US30) constituent, has a market capitalisation of more than $108 billion and annual revenue of more than $75 billion. It has divided its business into four segments: cloud and cognitive software, global business services (GBS), global technology services (GTS) and systems.
What is happening to IBM stock today?
While IBM is an iconic brand in the US, it has lost some of its lustre over the past few years. This is reflected in its revenue growth, valuation and stock performance.
At the current valuation, the firm has a forward price to earnings ratio of around 9.9. In comparison, the S&P 500 (US500) has an average forward PE ratio of around 15.2 while the company's peers like Microsoft (MSFT), Apple (AAPL), and Oracle (ORCL) have a PE of 29, 21, and 13 respectively.
This undervaluation is mostly because of the company's slow growth and worries about its future. For example, in the most recent quarter, IBM's revenue contracted by 3.3 per cent while that of MSFT, AAPL, and ORCL grew by 14.5 per cent, 0.51 per cent and 1.90 per cent respectively.
Additionally, the IBM stock performance has lagged well behind its peers over the past five years.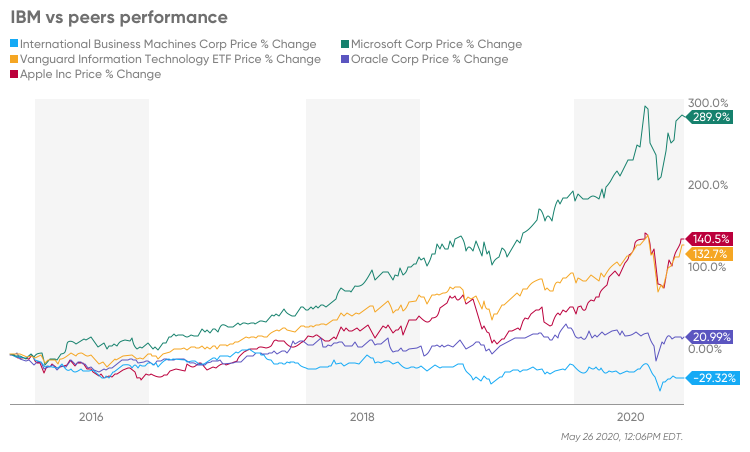 IBM stock has lagged for several reasons. First, the company had a leadership gap between 2012 and 2020 when Virginia Rometty was the CEO. In her tenure, she received more than $100 million while the stock price declined by about 21 per cent.
Second, the firm's multibillion-dollar investment in Watson failed to meet expectations. For example, a report published in 2018 showed that IBM Watson gave wrong recommendations in cancer treatment. The Watson technology has not been widely adopted in the sectors IBM envisioned.
Third, IBM missed the transition to the cloud despite its billions of investments in research and development. As a result, the company is now a laggard in the fast-growing sector, which is dominated by Microsoft Azure and Amazon AWS (AMZN). In the most recent quarter, while IBM's cloud segment grew by 14 per cent, Azure and AWS soared by 59 per cent and 33 per cent respectively.
Fourth, the company's revenue has been falling. The figure has declined from more than $110 billion in 2011 to $77 billion in 2019. Over the same period, even with all the share repurchases, earnings per share have dropped from $13.25 to $10.63.
So, what is IBM stock: buy or sell?
What is your sentiment on EA?
Vote to see Traders sentiment!
Latest IBM news: is IBM stock a good buy?
IBM, like all companies, has been affected by the ongoing coronavirus pandemic. In the most recent quarter, the business made more than $17.6 billion in revenue and earnings per share of $1.84. Most of this revenue came from the global technology segment, which delivered $6.5 billion at a 4 per cent YoY growth.
It was followed by the cloud and cognitive software segment, with its revenue growing by 7 per cent to $5.2 billion. In this segment, the cloud and data platforms revenue surged by 34 per cent, partly because of the Red Hat revenue. The transaction processing platforms sub-segment gained 15 per cent while cognitive applications had a modest 3 per cent growth.
The low-margin global business services (GBS) revenue rose by just 1 per cent to $4.1 billion. That was because of a 7 per cent and 5 per cent increase in global process services and consulting respectively. Finally, the systems segment grew by 4 per cent to $1.4 billion.
In the earnings call, the company blamed its relatively weak performance on the coronavirus pandemic, which affected its final month of the quarter. The management also decided to withdraw the forward guidance.
| | |
| --- | --- |
| Long position overnight fee | 0.0408% |
| Short position overnight fee | -0.0658% |
| Overnight fee time | 22:00 (UTC) |
| Spread | 0.005 |
| | |
| --- | --- |
| Long position overnight fee | -0.0500% |
| Short position overnight fee | 0.0140% |
| Overnight fee time | 22:00 (UTC) |
| Spread | 66.00 |
| | |
| --- | --- |
| Long position overnight fee | -0.0500% |
| Short position overnight fee | 0.0140% |
| Overnight fee time | 22:00 (UTC) |
| Spread | 0.00372 |
| | |
| --- | --- |
| Long position overnight fee | -0.0166% |
| Short position overnight fee | 0.0060% |
| Overnight fee time | 22:00 (UTC) |
| Spread | 3.3 |
The company, under the leadership of Arvind Krishna, is now preparing to lay off thousands of workers in response to the pandemic.
Many opportunities ahead, or why buy IBM stock in 2020
While IBM faces lots of challenges, there are a few reasons why people could still consider investing in it.
First, investors are learning from past management changes. Microsoft is a good example of a company that transitioned from a lagging technology giant into one of the biggest companies in the world under Satya Nadella. They believe that Krishna, who has decades of experience in cloud computing, will transition the company into a bigger player in the sector.
Second, IBM is a well-known dividend aristocrat, meaning it has increased its payouts for more than 25 years. The firm has a dividend yield of more than 5 per cent, which is higher than the S&P 500 average of 4.27 per cent. This dividend is covered well by the payout ratio of about 50 per cent. In comparison, Apple, Microsoft, and Oracle have a yield of 0.98 per cent, 1.09 per cent and 1.81 per cent respectively.
Third, most analysts with positive IBM stock recommendations cite its valuation. As mentioned above, it is trailing, and forward PE ratios are below the S&P 500 average and that of its peers. The same is true when you look at its price to free cash flow, which stands at about 9.47. MSFT, AAPL and ORCL have a ratio of around 32.50, 21, and 14.4 respectively. Similarly, a discounted cash flow (DCF) by Simply Wall Street shows that the current share price is 30 per cent below its fair value.

Finally, many people invest in the IBM stock because of the opportunity in the cloud segment. While the company has a small market share, they estimate that it will be worth billions of dollars as governments and companies move into the cloud. Most importantly, they cite IBM's strong position in the hybrid cloud, which incorporates on-promise and remote technologies.
The advantage of being a leading player in the cloud is that it provides recurring revenue and the rate of churn tends to be low, especially for mission-critical workloads.
The analysts' view: is IBM stock a good investment?
So, what are IBM shares: buy or sell? Most sell-side analysts believe that IBM is a good investment. After its earnings, analysts at Citi (C) increased their price target by $10 to $120.

Morgan Stanley (MS) also raised the target by $3 to $111, while Wedbush's analysts cut the target by $15. According to Marketbeat, the average price target for IBM is $134.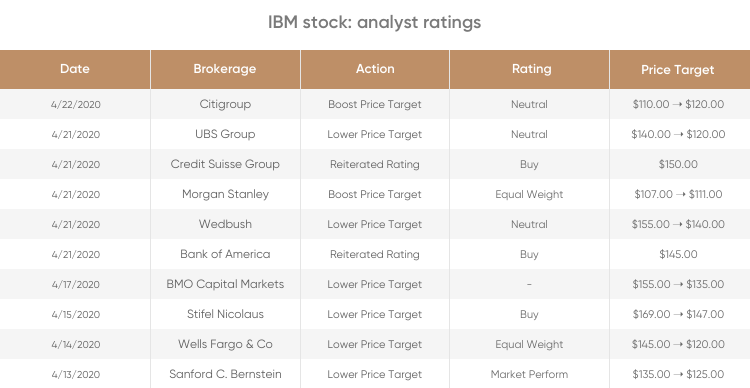 Another IBM share price forecast by Wallet Investor predicts that the stock will continue to lag. The estimate shows the stock will end the year at about $107 and drop to $97 in December 2021. It attributes this weakness partly to a sharp decline in earnings per share.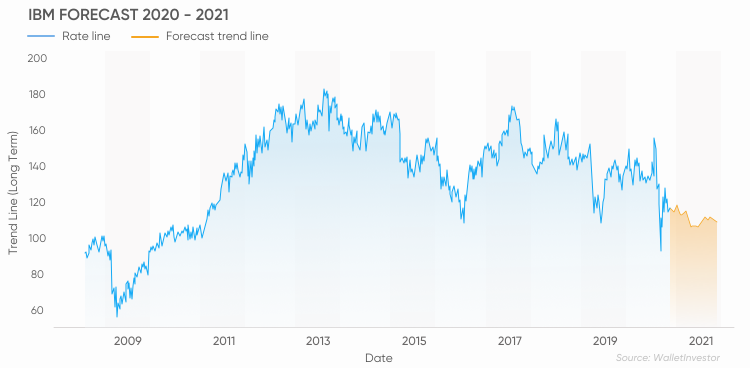 A technical outlook: should I buy IBM stock now?
IBM share price declined to a YTD low of $90.97 in March. The price recovered and reached a high of $129 on April 29. It is now stuck slightly below the 50 per cent Fibonacci retracement level. It is also along with the 50-day exponential moving average. Besides, it is forming a bullish pennant pattern, which is a sign that it will likely breakout to the upside. For this to happen, bulls will need to defend the previous resistance at $129.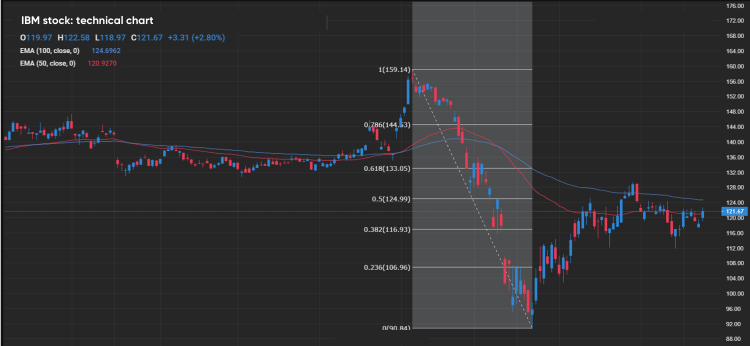 The bottom line: is IBM stock a good investment?
IBM is a company in transition, which makes it a risky investment. In fact, most investors who have invested in the company in the past decade have lost money. This includes Warren Buffett, who is widely regarded as the best investor of our time.