Investing in private equity: how does it work?
Subscribe to Weekly Highlights
The major market events for the week ahead right in your inbox.
Subscribe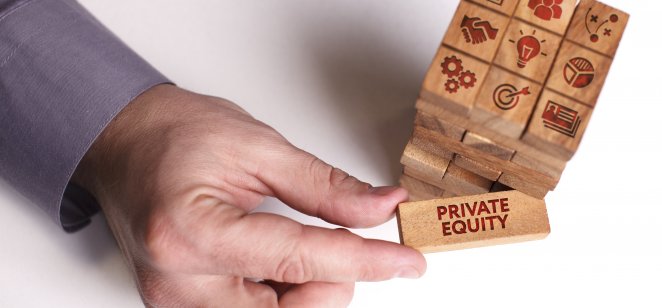 Content
Investing comes in different forms and shapes. Instead of buying stocks of publicly traded companies, commodities, currencies, bonds, ETFs or other traditional assets, you may think of private equity investment as a popular alternative to make your money work.
What is private equity?
Private equity is an alternative investment type, which involves capital that is not publicly listed on traditional stock exchanges. The private equity market works through investors and funds who directly invest in private companies, participate in buyouts of public companies or contribute venture capital.
When investing in private equity, retail and institutional investors provide money that can be used to fund the development of a new technology, to restructure business and improve its profitability, to conduct some effective acquisitions or converting a public company into private.
What is your sentiment on EA?
Vote to see Traders sentiment!
Introduction to private equity: advantages and disadvantages
Private equity offers a range of advantages for private companies and startups. It gives them an alternative source of liquidity instead of traditional financial mechanisms, including public listing or bank loans with high interest rates.
Particular forms of private equity – venture capital – could finance companies at the very early stages, often considered the 'seed stage'. In the case of unlisted companies, private equity helps them to adopt innovative growth strategies without the pressure of quarterly earnings inherent to the traditional public market scheme.
Still, there are also some difficulties related to private equity investments. Unlike with public markets, there are no buyers and sellers available in order to make private holdings liquid. Prices for shares are determined in the course of negotiations between buyers and sellers and not as a result of market forces. Moreover, the shareholders' rights in private equity are also decided during negotiations, and not regulated by an established framework of public markets.
Reasons to invest in private equity
Why should you consider investing in private equity? Let's point out some noteworthy factors.
Returns in private equity depend on absolutely different factors than in public equity markets, which makes private equity investments a great diversification instrument,
Instead of focusing on quarterly earnings as we usually do in public markets, private equity ownership provides the possibility to focus on long-term performance results. Eventually, it may help to generate larger returns.
Private equity vs. public equity
Private equity has some features that differentiate it from public equity, like private ownership. Private ownership more often presupposes active ownership, which contrasts with passive public equity investors. Pursuing greater profits, private investors can take greater risks and get involved deeper into the private equity business.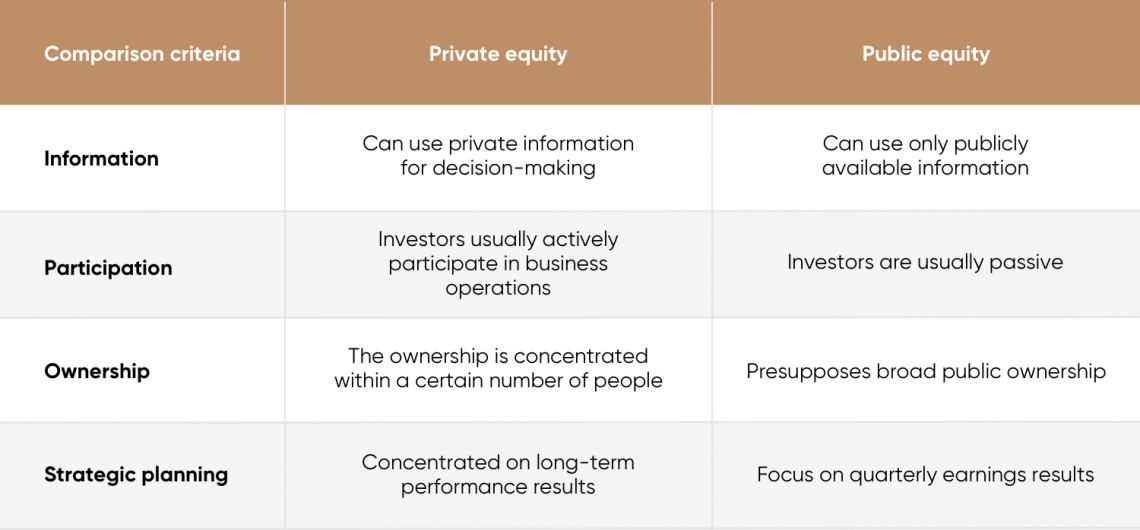 | | |
| --- | --- |
| Long position overnight fee | -0.0167% |
| Short position overnight fee | 0.0060% |
| Overnight fee time | 22:00 (UTC) |
| Spread | 3.0 |
| | |
| --- | --- |
| Long position overnight fee | -0.0500% |
| Short position overnight fee | 0.0140% |
| Overnight fee time | 22:00 (UTC) |
| Spread | 60.00 |
| | |
| --- | --- |
| Long position overnight fee | 0.0601% |
| Short position overnight fee | -0.0882% |
| Overnight fee time | 22:00 (UTC) |
| Spread | 0.006 |
| | |
| --- | --- |
| Long position overnight fee | -0.0500% |
| Short position overnight fee | 0.0140% |
| Overnight fee time | 22:00 (UTC) |
| Spread | 0.00329 |
How private equity works
Companies can attract private equity at different stages of their development in order to improve their performance. Private investments can play a major role in the company's development and growth.
Private equity is a highly effective alternative investment method, capable of progressing from early-stage venture capital to the business growth stage and beyond.
The major types of private equity investments:
Venture capital. Investing in startups and early-stage businesses.
Growth capital. Investing, which helps the company to grow and mature, to launch a new technology or product.
Buyout capital. Investing used to buy an existing company or its division.
Mezzanine capital. Debt financing.
Restructuring capital. Investing in distressed companies, which are in the process of reorganization.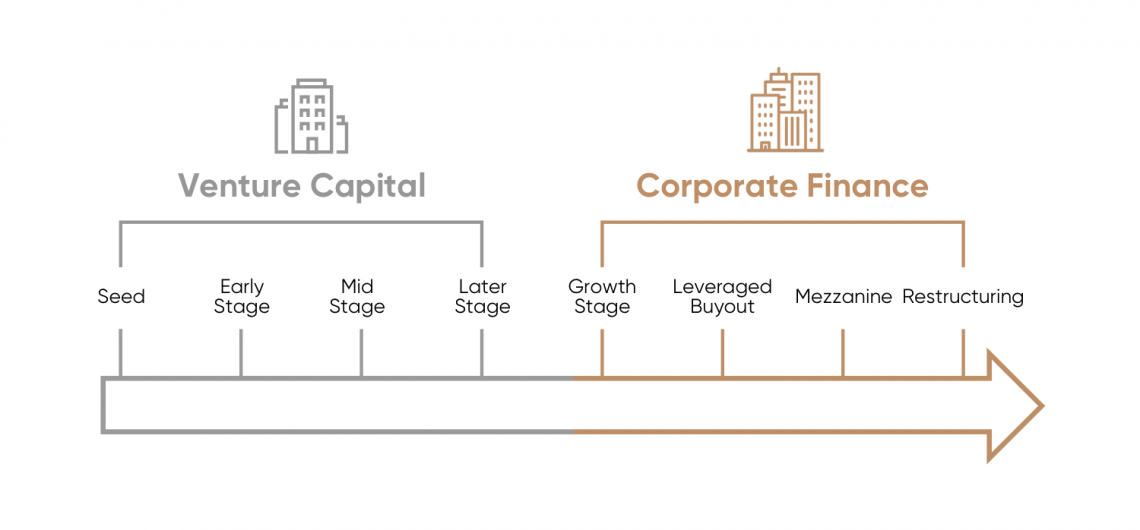 How to invest in private equity
Wealthy individuals and institutional traders are often interested in private equity investments. The money often goes to companies believed to make a difference in spheres such as software development, biotechnologies, telecommunications and healthcare. Investors try to contribute and add some value to the companies they invest in and improve their profitability.
However, the private equity market is not so easily accessible. The majority of private equity companies are looking for investors who can put in at least $25 million. Although there are companies that require only $250,000, this number is still beyond the reach of most ordinary investors.
The most common ways to invest in private equity are:
A fund of funds typically holds shares of various private partnerships, which invest in private equities. It provides investors with an efficient mechanism to reduce the initial required investment minimum. It also serves as a good diversification and hedging instrument as it may invest in hundreds of private companies from different sectors.
Private equity ETFs usually follow an index of publicly traded companies that invest in private equities. This type of private equity investing is pretty simple, as you can buy them on a stock exchange and there is no any required investment minimum. Still, private equity exchange-traded funds presuppose a management and a brokerage fee.
Public shares of companies managing private equity funds is another indirect way of private equity investment. Buying the shares or such companies you still get the benefits of investing in private equity. As private equity managers invest in a range of funds, it helps to spread the risk.