Intertek (ITRK) stock up 6% on higher revenues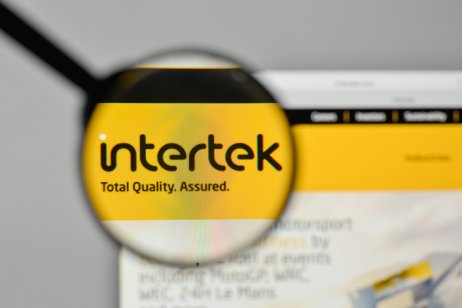 Intertek (ITRK) was the top riser amid FTSE 100 firms on Wednesday morning as the British assurance and product testing group posted a 10-month trading statement forecasting full-year-revenue growth.
ITRK stock rose 6.47% to 5,494p at midday on the London Stock Exchange, though it remains down 3.2% versus the year before.
The London-based group reported July-October revenue up 2.2% year over year to £961.5m (up 6.7% in constant currency). From January to October, revenue was up 0.3% to £2.28bn as reported and up 5.6% on a constant basis.
Group like-for-revenue was flat in both periods on a reported basis, up 0.5% for the four months and rising 0.2% for the 10-month period.
On a constant currency basis, like-for-like revenue increased 5% and 5.4%, respectively, for the four- and 10-month periods.
Revenue also grew on a constant basis across its product, trade and resources divisions.
Assurance needed
The group did not issue a profit update, but chief executive André Lacroix said Intertek is expected to deliver "robust like-for-like revenue growth at constant currency" for the full year, along with a "strong free cash flow performance".
Lacroix said this was despite Cobvid-19 lockdown restrictions continuing in some of its global markets and supply chain issues for its clients. Intertek operates in more than 1,000 locations in over 100 countries.
The CEO added that global supply chain disruption, the coronavirus pandemic and environmental concerns had increased the case for "comprehensive risk-based quality, safety and sustainability assurance" to give businesses greater resilience and safety.
The sprint to Net Zero emissions means that corporations are having to reinvent the way they reduce their carbon footprints across the entirety of their operations, through verified disclosures, transparency and greater accountability," he said.
Intertek reported an adjusted operating profit of £201.7m in half-year results published in July, though this fell short of expectations.
Read more: Intertek falls as results disappoint high expectations